Flagler County Administrator Craig Coffey opened his introductory budget presentation of the year to county commissioners Wednesday afternoon with what sounded like better news than on previous such occasions the last five years: "We're not in dire straits, we're not in crisis mode, we do have some challenges," Coffey said.
But he then outlined a budget picture for the county that resembles the bleakness of the last five years more than it suggests an improvement, especially when what Coffey called "challenges" are included—an estimated $5 million in potential charges the county could not, at its current level of funding, pay for. Some of those charges are optional. Many are not. And even the optional ones have been delayed year after year.
Commissioners are "walking in the door" with $3.3 million revenue gap ahead of next year's budget. That figure is identical to the one Coffey submitted to commissioners last year around this time. If all numbers stay as they are now, the county has $51.7 million in revenue, bare-bones demands totaling $55 million, hence the $3.3 million gap. That's before the $5 million in "challenges" Coffey listed. The word is a different way of describing demands and costs the county must, at some point, assume. The commission doesn't have to finance all these costs immediately, Coffey said, but it must make choices, and some of the costs cannot be avoided.
Combined, that's a gap and a set of "challenges" adding up to $8.3 million.
Last year, they made up a more-than $5 million gap by raising taxes (bringing in an extra $2.6 million) and reaching into the county's reserves ($2.8 million).
Coffey, citing the media's tendency to jump on such numbers, was quick to caution against making too much of them. "We face the challenge every year, it just comes in different forms, it's just something you have to deal with," he told the commissioners. But he was also clear about the severe limits commissioners face when it comes to finding new revenue. Coffey's own numbers are real, and by the time he was done with his presentation–and absent a surprise revision upward in property tax revenue–it was difficult to see how commissioners will emerge from the budget process in September without either a substantial tax increase of one type or another or vast cuts in county services.
The reserves are now dangerously low, and nowhere near the 10 percent of the county's budget at which the county has historically tried to keep them. "Use of reserves, that's not really an option anymore," Coffey said.
The challenges Coffey listed include a sudden increase of $870,000 in state-required contributions to the Florida Retirement System. That's not the county's fault, but rather the governor's and the Legislature's decision to artificially depress the costs of the retirement system in the last two years, only to sock local governments with a backlog of costs this year. There is also an estimated $450,000 additional county burden to cover its share of Medicaid costs (the health insurance program for the poor and some of the elderly). Rebuilding the reserves would cost money, too. Coffey is tentatively proposing $1 million a year for that. The county has delayed a lot of capital needs, whether it's the roof at the county library or the need for new fire trucks. "We can't continue to defer these needs and capital projects indefinitely," County Commission Chairman Nate McLaughlin said.
Health insurance costs are rising. Salary and cost of living raises and miscellaneous issues are on the list. Election equipment must be improved. Add it all up, and the bill comes to $5 million.
Coffey listed the commission's options: raising property taxes again, adding a sales tax, increasing the gas tax, adding an electric utility franchise fee ("Palm Coast went through this and they had a lot of fun with it," Coffey said facetiously), increasing user fees (which would have a negligible impact), creating special taxing districts. None of the options looked appealing to commissioners, but they have no choice. Some of these choices will have to be part of their plan. The question, in the next five months of budget discussions, will be which ones, and to what extent.
Coffey offered commissioners the choice of having "a gazillion workshops" or have fewer workshops and instead meet one-on-one, commissioner with administrator—the difference being that workshops are public, one-on-one meetings are not.
Meanwhile, and for the sake of context, Coffey also described to what extent the county has cut costs. Since 2007, the county payroll has fallen by $4.8 million, a 20 percent decline from the 2007 peak of $22.8 million in total payroll.
It's not all layoffs and firings: employees have also taken on a much larger share of their employment costs, such as increased health premium costs and increased retirement costs. Employees have also seen their payroll taxes rise by 2 percent, after a two-year break, when an Obama administration cut in the Social Security tax expired. In essence, the typical employee's purchasing power—the value of a dollar earned—has declined over the years, as inflation and additional costs have significantly eroded take-home pay. Coffey said that has hammered employees' ability to keep up, with some employees quitting the county payroll and others feeling drained by how much they've been asked to make up.
"We've cut and cut and cut, we're at breaking point in some of these areas," Coffey said, referring to the budget in general. Employees might feel the same way about their own household budgets.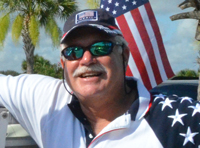 County Commissioner Frank Meeker suggested, with repeated qualifiers, doing a one-time substantial tax increase that would enable the county to catch up with needs that have been delayed year after year. The following year, the tax rate would be scaled back. "I'm curious, has anybody ever done it, is my question," Meeker said.
But Revels and Commissioner Hanns said the public wouldn't go for it. "People believe in general that once a tax is in place, it never goes away," Commissioner George Hanns said.
There were some surprises: for the first time, a county commissioner spoke explicitly of considering combining some services with Palm Coast or Flagler Beach to cut costs, or at least to more cooperatively run those services. Charlie Ericksen referred to fire and rescue services. "I think—think–that there are some possibilities," Ericksen said.
"I don't see any reason why we can't ask a task force to look at that," McLaughlin said.
Coffey cautioned commissioners about the sensitivity of the issue, which immediately triggers defensiveness from cities that may see encroachment on their turfs. But Coffey said that throughout the recession, the county never added manpower, but cut overtime, while other local governments have in some cases vastly expanded their services.
"We're not just talking about cutting costs, we're looking at improved service at better rates," Ericksen said.
"I just wish that it could be so, Charlie," Revels said. "But…" and her voice trailed to a silence that reflected disbelief that such a plan would work.
There was no intention to reach any decisions on Wednesday. The first budget meeting is on may 15 when "we will be diving hot and heavy into the general fund," Coffey said. "This is just to get you acquainted, to start your creative juices flowing," Coffey said.