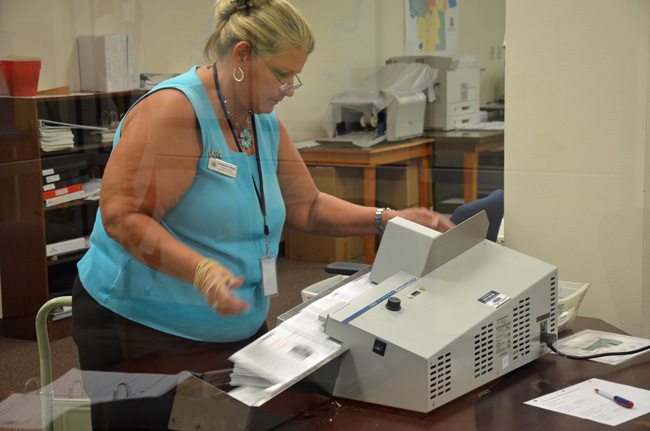 Friday evening around 5:50 p.m. Palm Coast City Manager Jim Landon headed to the county library on Palm Coast Parkway to meet his wife and stepdaughter so all three could vote. Early voting was still on. The trio got ballots and went to work filling out the ovals.
As he was filling out his ballot, Landon realized it did not include the two races for the Palm Coast County Council even though Landon is, of course, a city resident. He'd been given the version of a ballot handed to residents of unincorporated Flagler, or of one of the other cities in the county. Landon pulled back and asked his stepdaughter and his wife, all of whom also live in the city, had received the right ballots. His wife had. His stepdaughter had not. (Landon and his wife belong to two different parties.)
So the poll worker who'd handed out the ballots had committed two successive errors in two separate check-ins, as voters must individually present a photo identification and sign their name to vote.
Landon and his stepdaughter returned the partially completed ballots, "and the person who appeared to be in charge agreed that we had received the incorrect ballots," Landon wrote subsequently in an email to All Hadeed, the Flagler County Commission's attorney who also serves as the attorney of record for the Flagler County Canvassing Board. "We then were given what appeared to be correct ballots in the two Palm Coast City Council seats." The voting then proceeded without further problems.
But Landon noted: "In that our errors were corrected immediately, it is of no concern for the election," he wrote. However, two out of three incorrect ballots in a very small sample size is very concerning."
In Palm Coast, the last two council members to be elected, in 2011, saw their election decided by a handful of votes: Bill McGuire was elected by a 55-vote margin, and Jason DeLorenzo was elected by a 36-vote margin, in an election that had around 5,500 ballots cast. Each of those races featured only two candidates. This year, one council race features four candidates, the other, three.
Landon's case may not at all be extraordinary–not least because it happened twice in a row. It happened to at least one other voter who noticed it ans spoke about it, and Weeks acknowledged that it happened then, too.
---
Concern that in a close election, even a few mistakes can swing the results.
---
Last week, a Bunnell voter was given a Palm Coast ballot. "I just went to vote early, and they gave me a ballot to vote, for people living in PC," a voter who identifies herself as Jennifer Lopez in FlaglerLive comments wrote. (FlaglerLive knows her actual name but is not revealing it, as she has not given permission to do so.) "But the kicker is this, I live in Bunnell. I asked and they told me it was to late I marked that one." She repeated a similar version of the comment under a different article, and noted: "Then, Ms. Weeks came out and said oh, sorry about that."
Asked about that case at a Canvassing Board meeting last week, Weeks intimated, without evidence, that the voter may have been trying to vote twice–and assumed no responsibility, as far as her office was concerned, for what error may have occurred. Weeks said she never spoke to the voter nor say "sorry" to her.
"I was up in the early voting area when she came to the lobby," Weeks said. "But if she had been given the wrong ballot she would have needed to identify that and bring it to our attention before the ballot was tabulated. Because at this point I have no way to confirm if she was given the wrong ballot. She can say that, but how do I know she didn't go out and come back in thinking she was going to get another ballot to get an opportunity to vote twice. I don't know. But she would have to have brought that to our attention, shown that to us, and given us the opportunity then to correct the matter before she tabulated the ballot. I have no confirmation that that happened because I can't open the ballot box and verify it, for one, even if she was the last voter because the ballots don't drop pancake style."
Late Monday night, yet another documented case of an erroneous ballot came to light. Jensen Gill was a poll watcher for the Republican Executive Committee. He was to put in a shift as a poll watcher the afternoon of Aug. 22, but sought to vote first at the library. When he went to one of the voting stations, he realized he'd been given a Democratic ballot. "I went back to the desk and told the poll work that I was given the wrong ballot and that I am registered Republican not Democrat," Gill wrote in his report that day, later turned in to the executive committee and made available to FlaglerLive by Dave Sullivan, who heads the committee. "They found the printed receipt and the Supervisor gave me the correct ballot and apologized for the poll workers mistake."
Gill was at the library when Landon's issue occurred. He summarized it in his report, noting that "The voter raised the question to the Supervisor of how many other voters were given the wrong ballot that should have been voting for City Council Candidates and did not. The Supervisor really didn't respond to the voter's question that I am aware of.  After the voter left, I asked the same question of the Supervisor and she assured me that this was the first time this issue had come up.  I didn't question her any further.  I also wonder how many other voters got the wrong ballot, voted and were not able to vote for City Council Candidates. "
There are three county-style ballots (one each for Republican, Democratic and Independent voters), and three city-style ballots, for a total of six types of ballots poll workers had to choose from, since this is a primary election, and Florida is a closed primary: Democrats and Republicans get to vote only on partisan races (such as the county commission) in their party. Independents don;t get to vote in partisan primaries. The city and school board elections are non-partisan, but only the school board elections appear on all ballots. The city elections appear on all ballots only for Palm Coast residents.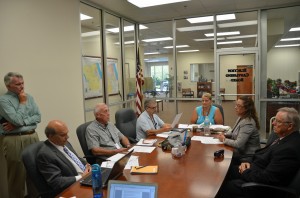 Hadeed brought up the Landon matter at today's Canvassing Board meeting, as Landon had asked him to do so, noting that he felt "an obligation to report this to the Palm Coast City Council members and to our city attorney." Landon said he'd suggest to the council to let Hadeed "take the lead or advise them on any action that may be appropriate."
Hadeed and Landon had spent several days, through the weekend, working out a new "protocol" to settle a dispute between Weeks and the city over parking issues during elections at the Palm Coast Community Center.
City Council members were already aware of the balloting irregularities: two of them–Bill McGuire, who's not in an election this year, and Dave Ferguson, who has chosen not to run again–attended the Canvassing Board meeting, as did Virginia Smith, Palm Coast's city clerk and the point person on the city's elections.
County Judge Melissa Moore-Stens, who chairs the Canvassing Board, recalled the matter of the Bunnell voter last week and asked the board for feedback.
Weeks reiterated that "it's the voter's responsibility to identify that their ballot is correct before they cast their vote," so poll workers can rectify the mistake.
"I'm not saying that you should change any of those procedures," Moore-Stens said, "the only thing I was going to suggest was that maybe when we have this many ballots being distributed–because I know there's usually one person that checks you in, checks your ID, etc. and then pulls the ballot–if there's a second set of eyes that can verify their party affiliation and whether or not they live within the city or outside of the city before you actually hand the ballot to that person. I know it's going to slow the process down a little bit."
"We already do that," Weeks said.
County Commissioner George Hanns, who represents the county on the three-member Canvassing Board (Weeks is the third member: Palm Coast has no direct representation), noted that the most common likelihood was that voters would take a ballot, vote, and not think twice who was or was not on the ballot, as many voters are not as directly aware or educated about elections as, say, a city manager would be. "For the voter," Hanns said, "when you're handed a ballot, they're going to vote. So many times there's judges and different things–we don't even know the people, but they're on our ballot. And actually it would be your responsibility"–he pointed to Weeks, who sat to his left–"to make sure that whoever verifies a driver's license with that name, that it designates, this is the ballot they get."
Smith asked Weeks and the board whether the balloting irregularities could lead a candidate to come forward, after the results are tabulated, and request a manual recount, should the margin of error be below a 10 percent threshold.
"I don't think that's in any of the criteria that warrants a manual recount," Weeks said, "that'd be something we'd have to get with the state."
The board then moved on to other issues. Earlier in the meeting, the board took up Hadeed's results of his mediation efforts with the city, and the "protocol" he'd worked out with Landon despite–as Hadeed announced it to the board–the death of Landon's father. "He was very responsive, whether he was flying, or whether he was in Oregon, or he was here, trying to get out of town, he was very much at my disposal, it demonstrated to me that he had a good-faith commitment to want to resolve these issues."
Weeks would have little of it, scorning or belittling rather than welcoming the mediated results, if not belittling Hadeed himself.
"Well, so basically," Weeks said, "what you've done is you communicate with Mr. Landon, he tells you what you're going to do and you come back here and tell us what he's going to allow. We have to just accept that. I thought mediation had a little bit of input on both sides. I recall the last meeting saying I wanted to follow the statutes, the resolution and the interlocal agreement."
The dispute has been over a seemingly non-existent problem: parking availability at the Community Center. Hadeed had noted that for over 20 years the Community Center has been used as a voting location, concurrently with events scheduled there (including city council meetings) without ever provoking any parking (or other) issues. Smith produced a tally prepared by the city, showing the number of voters at the Community Center hour by hour, in all 13 days of early voting: at no point did a single hour see more than 29 voters. That was on a single occasion on a single day, for one hour. Most of the rest of the hour blocks saw voting in the single digits or the low teens. Still, Weeks insisted that in future elections, the city should clear the Community Center's schedule of non-election related activities, essentially turning the center into her domain.
Weeks is still smarting from a clash with the city earlier this year when she demanded to have the large room at the Community Center–the one used by the city council for its meetings–as hers for the duration of early voting and election day. The city refused that concession, agreeing only to yield the large room on election day itself. In the last two weeks the supervisor has moved on to lambasting the city for keeping to the Community Center's schedule of community events, even though those schedules barely interfere with voting: her demands are tantamount to asking the several public schools (like Wadsworth Elementary and Buddy Taylor Middle School, for example) not to have classes that day, because the schools also double as voting precincts.
Weeks wanted events on election day Tuesday to be cleared at the Community Center, even though the three events scheduled there are not exactly blockbusting draws: an exercise class at 11 a.m., a woodcarving group at 1 p.m., and an orchid society meeting at 6:30 p.m. The city council is not meeting there Tuesday: its workshop is scheduled for 9 a.m. at city offices at City Marketplace.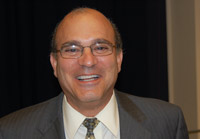 Hadeed did not take kindly to Weeks's suggesting that he'd just been dictated Landon's terms. "Any of you that know my writing style," he said, "and who also know my legal style know that that absolutely is not the case. I put some proposals out there, I word-smithed this, I had discussions. My objective was per the canvassing board, was to attempt a meeting of minds as best I could under the circumstances that presented themselves."
The judge put an end to the discussion as she and Hanns said they had no issues with the adopted protocol. (See below.) "I mean, as far as I'm concerned," the judge said, "this interim protocol in essence is moot in about 27 hours, so we're spending a lot of time going around in circles on something that's going to expire very shortly, but I think this has paved the way for communication to resolve this for the general in November. And I would hope that these issues that you're bringing up will be hammered out between now and then in a way that satisfies you and the board, and if not, we'll address it at that time."
Moore-Stens's optimism may prove bolder than recent history allows, as local governments have worn deepening grooves of frustration from going in circles over Weeks's remarkable capacity to sneer at compromise.