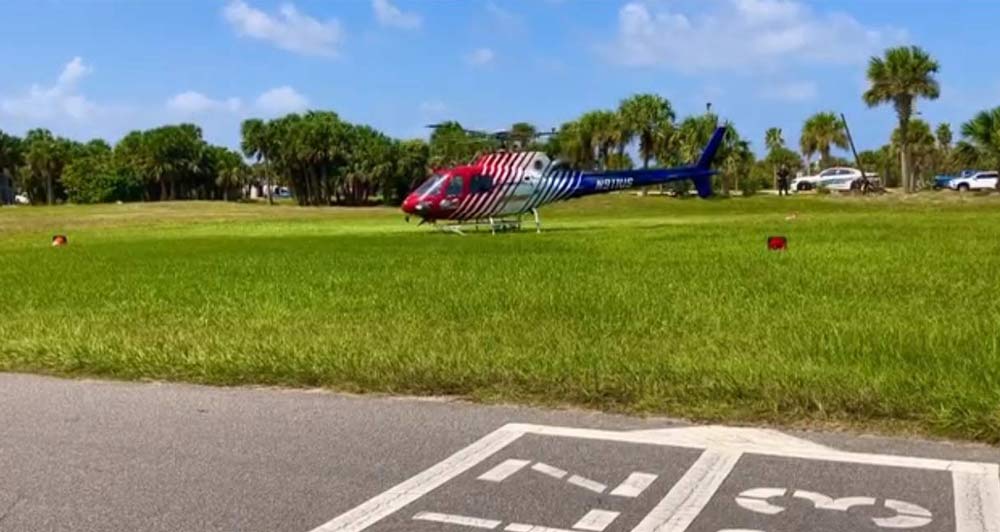 A woman survived an apparent suicide attempt off the Flagler Beach bridge early this afternoon as passersby immediately alerted authorities, and paramedics dove into the Intracoastal to rescue her.
The woman was flown to Halifax hospital in Daytona Beach.
p



The incident was reported to authorities at 1:02 p.m. "Witnesses came into the police department saying hey, a lady just jumped off the bridge toward the south portion, near Moody Boat ramp," Flagler Beach Police Chief Matt Doughney said.
Flagler Beach police, sheriff's deputies and firefighter-paramedics from three agencies–Flagler Beach, Palm Coast and Flagler County Fire Rescue–converged on various points of the bridge below, briefly uncertain from where exactly the woman had jumped. But she was located in the Intracoastal.
"A couple of firefighters went into the Intracoastal, she was awake, alert, they wanted to safely get her out of the water on a stretcher," Doughney said.
Firefighters worked on life-saving measures after bringing her to shore and placing her on a stretcher, then transported her by ground a few blocks north to the helicopter emergency landing zone at Santa Maria del mar Catholic Church, from where Flagler County FireFlight took off at 1:43 p.m.–a 41 minute turnaround from the moment the incident was reported.
"Great response from the public: see something say something," Doughney said. "Hopefully that alertness by the witnesses and the first responders will help keep this lady alive." The police chief saw the woman after she was pulled from the water, but he said he could not guess her age. "She was in distress and a lot of pain," he said.




Her identity has not been released, if it has even been determined. She had not driven to the portion of the bridge from where she jumped. a disabled vehicle was on the bridge at the same time as the incident unfolded, but there was no connection between the two. The bridge was closed in both directions but only briefly, Doughney said, as responders were determining from where the woman had jumped.
The condition of the woman is not known at the moment.
The bridge has been the scene of two suicides and two additional suicide attempts in the last 10 years, not including today's incident. A 22-year-old man leaped to his death in 2015, falling on the paved portion of the parking lot around the boat ramp. In 2017, a woman who had jumped late during the night was not found until the next day in the water below. A man who jumped into the water in 2014 survived, as had a man who'd jumped 13 months earlier.
Flagler Beach police is investigating today's attempt.