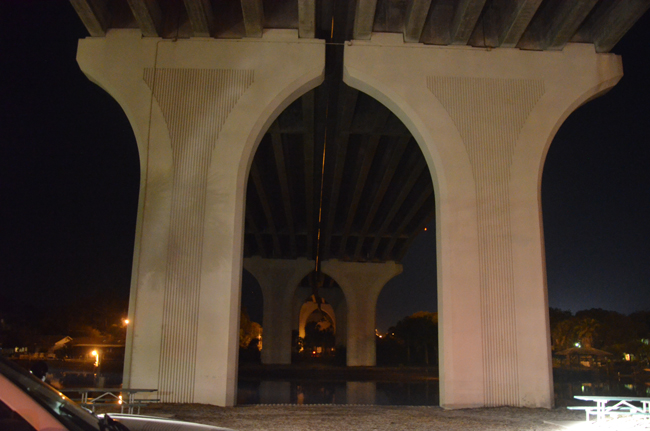 At about 8:30 Monday morning bystanders told a Flagler Beach police officer that they saw a man jump off the north side of the Flagler Beach Bridge, into the Intracoastal Waterway.
The man was identified as John Allan Waugaman, 53, of Marbella Court in Palm Coast. He'd previously lived on South Daytona Avenue in Flagler Beach. He survived.
Waugaman had had a series of run-in with police in the last year and a half, with a half dozen bookings at the Flagler County jail on charges ranging from drunk driving to assault to minor drug possession and probation violation.
When a Flagler Beach police officer got to a boat ramp at the foot of the bridge he could see Waugaman swimming to shore and calling for help. He was calling out to two men, Briand Schouppe, 47, and Allan Paulley, 43, both of Tobyhanna, Penn. The Palm Coast Observer later identified the two men as visitors in the area who jumped in the water with a kayak the moment they realized Waugaman was in trouble. The men braced Waugaman on the kayak and brought him back to shore as Flagler County Fire Rescue paramedics arrived.
Flagler County Fire Flight, the county's emergency helicopter, flew Waugaman to Halifax hospital, which has a trauma and psychiatric unit. The police report notes that Waugaman was expected to receive "further physical and mental care."
The bridge was the site of another failed suicide attempt 13 months ago, when James Clark, 40, jumped off the bridge after leaving his motorcycle parked above. He was also flown to Halifax hospital.