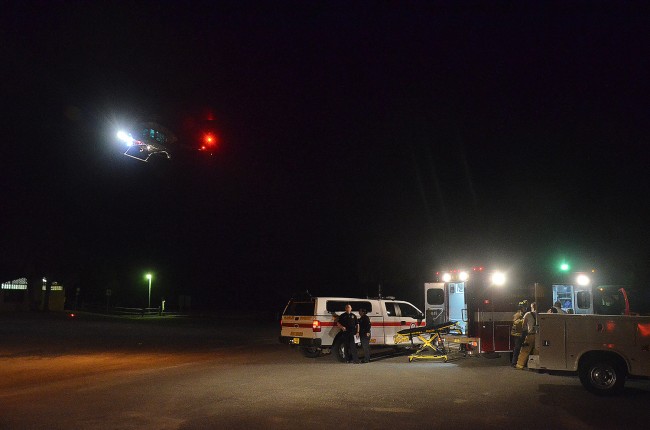 Note: the man was subsequently identified as James Clark, 40.
The call came in to Flagler County's 911 dispatch center around 9:25 p.m.: a body was believed to have been found at the foot of the Flagler Beach bridge. Moments later–after a fisherman who'd been on the west side of the Intracoastal jumped in and brought the man to shore, and as first responders were arriving on scene–they got word that the man was alive. He was brought to shore at the Moody boat launch, at the foot of the bridge on the east side of the Intracoastal.
On the bridge, a witness had seen a man walk away from his motorcycle and move as if to jump. The witness turned around and drove back. But by then, the man was gone. The motorcycle, a Suzuki without a license plate–and, as authorities would later find out, with its VIN number shaved off–was still there. The man had jumped.
The suicide attempt failed.
The man was rescued and placed in a Flagler County Fire Rescue ambulance as Volusia County's Air One, the rescue helicopter, flew in. (Flagler County Fire Flight goes out of service at 8 p.m.) The man was breathing on his own and was somewhat responsive, even as paramedics worked hard to keep him aware and with them. But he would only say that his name is "Jim." Nothing more. He is in his early 50s.
The trauma evacuation was necessary, Flagler County Fire Rescue Capt. Ron Bolser said at the scene, because the man had sustained "deceleration injuries" from jumping from 70 feet above the water, and likely some internal injuries. "When they were trying to pull him out of the water," Bolser said of the people involved in the water rescue, "he was telling somebody to leave him."
At 9:54 p.m., "Jim" was wheeled out to Air One, and the helicopter flew off moments later. At the scene, a pair of seemingly new boots belonging to the victim was recovered, adding to the puzzle.
The Flagler Beach Fire Department, the Flagler Beach Fire Police and the Flagler Beach Police Department responded, along with Flagler County Fire Rescue and units of the Flagler County Sheriff's Office. By close to 10 p.m., a John's Towing wrecker had picked up the motorcycle, which dangled from the back of the tow truck on its way to the impound yard as the investigation into the case was to continue.