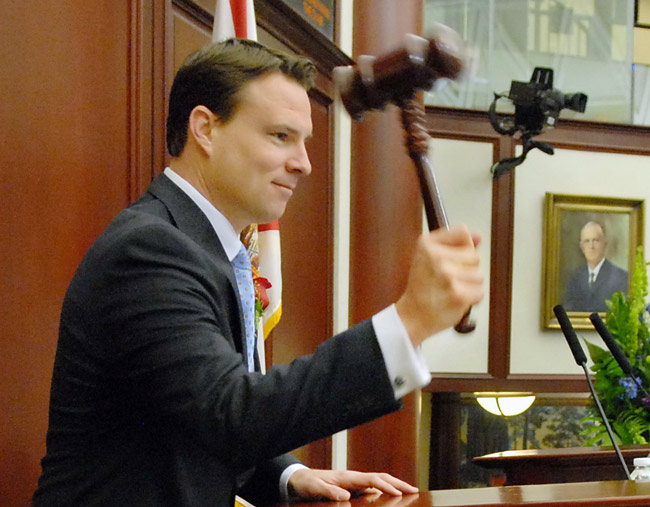 By Rhonda Swan
House Speaker Will Weatherford said he wonders what America would be like if his mother, who home schooled him, had home schooled President Obama.
That's easy. We'd still be waiting for our first African American president.
The Wesley Chapel Republican assumes the president would share his conservative politics had he shared his education.
No disrespect to Weatherford's mom, but if Obama shared her son's values, he wouldn't have won the White House.
Just ask John McCain or Mitt Romney.
What Weatherford needs to be wondering is what Florida will be like if its 4 million uninsured citizens continue to go without health coverage.
The House and Senate have rejected expanding Medicaid under the Affordable Care Act and are trying to come up with alternatives that would cover the nearly 1 million Floridians who would qualify.
Weatherford used the rejection to score points last week at the Conservative Political Action Conference where he spoke as one of CPAC's "10 Rising Stars Under 40."

"States are being lured, and I would argue coerced, into expanding programs like Medicaid and passing regulations not through federal mandate but with a promise of free money," he said. "They're trying to buy us off, one by one but I am not buying it. Florida will not buy it and America should not buy it."
You'd think the feds were trying to give Florida a used car instead of offering the state an estimated $51 billion over the next decade to provide its residents with health care.
"We will stand up to their inflexible plan," Weatherford said, "and we'll work on our own solution, one that better reflects the needs and priorities of our state."
Florida's uninsured millions didn't just move here yesterday. They've been here for years, ignored by the Legislature. It wasn't until the Supreme Court upheld Obamacare and Romney, who promised to repeal the law, lost the election that Weatherford and his colleagues in Tallahassee were forced to take notice.
Even now, the needs of the uninsured are not a priority.
Weatherford told CPAC attendees that denying Medicaid expansion is one way that Florida is building "pockets of freedom."
"We are rekindling the ideal," he said, "that through hard work and playing by the rules and with the government out of our way anybody can succeed."
What would Weatherford's family have done if the government had gotten out of the way when they were swamped with medical bills they couldn't afford?
Medicaid covered $100,000 of his deceased infant brother's cancer treatment.
Weatherford says he's not a hypocrite for wanting to deny Medicaid to other Floridians, His brother was a child, he said. The individuals who'd be covered under expansion – those earning up to 138 percent of the federal poverty line – are adults.
"The idea of Medicaid expansion predominantly helps able bodied single adults, most of them childless," Weatherford said. "The question is are those the people we want to be spending millions and millions of dollars on to provide insurance for?
Is that really the question we should be asking? Or is it that Weatherford wants the question of his hypocrisy to go away?
Weatherford left out the word "working" when he described those who would be eligible for Medicaid under expansion. Most of the single, childless adults who would get coverage are the working poor. They aren't sitting on their butts doing nothing. They just happen to work jobs that don't provide them with insurance.
Does that make them less deserving than Weatherford's brother?
Attitudes like Weatherford's — think 47 percent — cost Republicans the White House in 2012.
If he is one of the party's rising stars, the GOP future isn't looking too bright.

Rhonda Swan is an editorial writer for The Palm Beach Post and author of "Dancing to the Rhythm of My Soul: A Sister's Guide for Transforming Madness into Gladness." She can be reached by email here.