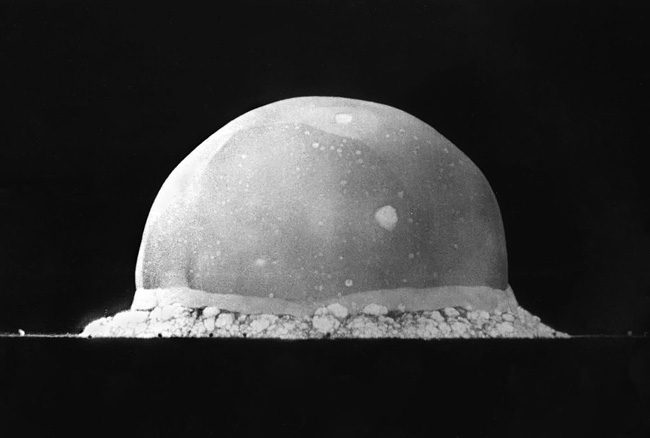 Donald Trump is rewriting the rules of politics, of time and of the English language. That much is clear. Transformational leaders do that. But so do madmen and incompetents in control of awesome powers. The resulting explosions are as false a dawn as those of nuclear blasts. Perhaps not immediately but certainly over time, the fallout will be as poisonous.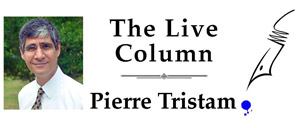 I made a few mistakes this week. I wrote my commentary much too early, as if the world were still going by time as something measurable in hours and days rather than shockwaves and double-takes. I wrote it after Donald Trump's treasonous peddling of secret information about ISIS to Russia and his visit with that war criminal Henry Kissinger, but before his latest attempt at obstruction of justice and his most recent date with self-pity.
So that commentary was already old news. And between the time the radio commentary aired Friday and this print version was typeset, the man had again pirouetted a new scandal with the revelation that he not only called ex-FBI Director James Comey "a nut job," thus adding an entirely new Icelandic-saga-worth of plot twists to the pot calling the kettle black, but he admitted that the firing was to relieve pressure from Comey's investigation into the Trumpsters' shenanigans with Ruskies. That revelation did not come from Comey's memos, but from a White House document. From notes of conversations Trump had, at the White House, with his owns staffers, the day after he fired Public Enemy Number Take a Number (after the press, after Hillary and Obama, after Robert Mueller, after 11 million brownish skins and Allah knows how many Muslims, after whatever actor is getting on his nerves, and so on.)
There's no doubt that by the time this appears it'll be outdated already: my pieces tend to have a shelf life of about 10 minutes. This one expired halfway through the first paragraph. It proved again in Trump's words that he is "a very active President with lots of things happening." If the men and women of his Umpa Lumpa factory like Kelly Ann Conway, the guy in the bushes and the Huckabee with too many names can't keep up with him, imagine us in the fake news world. We spend all day and half the night crafting thousand word fictions, only for his 140-character tweets to rise before dawn and make it all obsolete, dawn included, the way the scientists at the Trinity test site described the explosion of the first atomic bomb in 1945: "It blasted; it pounced; it bored its way through you," one of the bomb's creators said. "You would wish it it would stop." And he was talking about something that, in his words, lasted all of two seconds.
We're now sensing the shocks of those twitter blasts almost every dawn. It's not only time they're remaking but what we understand as language and sentences with beginnings and ends. I almost just caught myself writing the truth is, when those very words no longer mean anything. Donald Trump's administration is officially the post-truth presidency. Science, facts, objective analysis, even historical perspective: dead. They were not in the best of health to start with, what with better mannered presidents speaking of fantasies like supply side economics and weapons of mass destruction with a straight face, but at least the pretense of truth was there. Not for Trump. What reality exists is what he wants it to be.
Russia may be arming and bankrolling Syria, Iran and Hezbollah, what a more imaginative president might have called an axis of evil in good old days. But to Trump, Russia is a chummier partner than his own surrogates in the West Wing, each one of whom sounds like those defeated captives of domestic violence anyway. Trump's body language next to those Russian mafiosi bounces with the arabesque and ballonné of a ballerina.. Put him next to men of his own party like Paul Ryan or an ally like Angela Merkel and his posture apes all the finesse of a middle finger.
And when Trump is criticized, either he blames that witch Hillary Clinton, as do all his fans, or he blames it, as usual without a hint of irony, on a witch hunt. I was going to start the next sentence with the words it's strange, but those words have lost their meaning. The Trinity atomic explosion immediately turned the sands of the New Mexico desert to glass. Donald Trump has turned everything to strange. Strange has replaced nitrogen as the seventh most common element in our universe.
There's nothing strange about the man who campaigned on promises of being the toughest, the best, the bigliest and the most intimidating negotiator suddenly turning into a blubbering poltroon who can't believe people are being mean to him.
Nor is it strange that his every transgression is now not only excused but subsumed to his bunker masons' counter-narrative: it's not Trump who's doing anything wrong. It's the leakers. The Trump White House has turned into a gallery of rogues who use the nation's laws to shield their incompetence, their mendacity, their corruption or lawbreaking. It's as if a bunch of brutalizing cops threw the book at those who'd out the footage of their bang-up chambers and called themselves victims. But this is America: most of the time, it actually works. Deflection is Trump's greatest art of the deal. If he could turn Hillary Clinton into a candidate for a Nuremberg rerun, there could be nothing strange about his whiplashing transformation from–as Van Jones so archly put it–Trumpzilla to President Snowflake.
Trump isn't wrong about the wood pyre. We're all witches now. But he's the one who started this bonfire. It's about time he started feeling the burn of his own freak show. Unfortunately for us, tomorrow is just another false dawn.

Pierre Tristam is FlaglerLive's editor. Reach him by email here or follow him @PierreTristam. A version of this piece aired on WNZF.