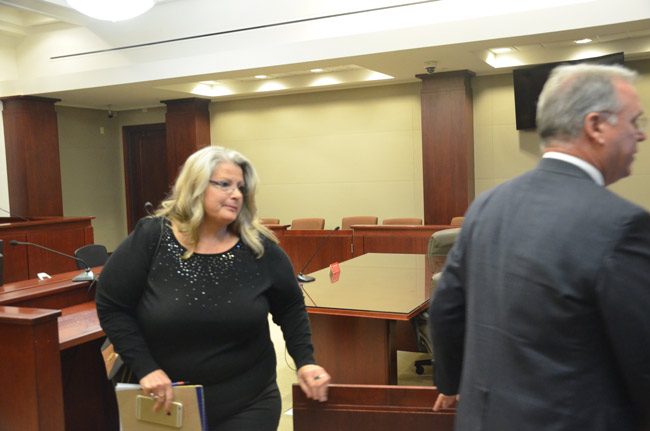 Whether the two-and-a half-year-old case against former Elections Supervisor Kimberle Weeks proceeds to trial next April will come down to a December decision by Circuit Judge Margaret Hudson on the validity of a search warrant that produced evidence against Weeks, though much of that evidence has since been ruled invalid.
Weeks's attorney are arguing that the search warrant was too broad, therefore invalid. That also means that any evidence drawn from it is invalid. Without that evidence, "it changes everything," Assistant State Prosecutor Jason lewis told the judge this afternoon. In other words: there's no case. The prosecution is arguing that the warrant wasn't broad, that it listed specific things, such as cell phones and hard drives.
"Each side has an interpretation that's certainly reasonable," Hudson said. But those arguments rest on precedents distant in time and substance from the Weeks case: there are no precedents that address the scope of search warrants in the age of cell phones, where a search warrant may well specify that it is targeting a cell phone and a hard drive–as is the case with the Weeks warrant–but where the materials produced also represent masses of documents and materials that are anything but limited.
Hudson after a 75-minute hearing today on the defense's motion to suppress the search warrant described the issue as "unchartered territory at least as far as case law, and I don't make crash rulings when it's not clear. I have to take this under advisement." She won;t be analyzing the matter until December, and ruling on it in a written opinion after that.
Her ruling will set a precedent. Theoretically it could go either way, though the judge was clearly more skeptical of the defense's arguments than it was of the prosecution's, cursory as the latter's arguments were. A ruling in favor of the defense would amount to drawing an extremely high bar of specificity for search warrants, one that would imply replacing reasonable conjecture in the wording of warrants with prophesy or divination as to what the search is seeking. Still, it is never a good sign for prosecutors when their case depends more on a judge's pre-trial decision than on the strength of their evidence regardless.
Weeks's attorneys, Kevin Kulik and Ashley Kay, argued in their motion to suppress the search warrant that the warrant violated the constitutional protection against what amounts to fishing expeditions: the warrant laid out what items it would seek–computers, hard drives, email transactions, email, attachments, data, recordings, memory devices, and so on–but in doing so it allowed the seizure of vastly more data than was legally permissible.
The warrant "fails the specificity test," Kay said.
Kay, who made the case before Hudson at the Flagler County courthouse this afternoon, cited a case to explain that seeking out data is not like searching for drugs: drugs are readily recognizable for what they are. Data is not. If some illegal data is uncovered in the midst of plenty more legal data, it does not justify sifting through the protected, legal data until something that seems illegal to an agent is fished out, especially as the discovery then depends on an officer's discretion rather than on a warrant's specific parameters.
The officers took Weeks's cell phone, Kay said, an "extremely private and different" item than anything such as a diary or a printed document, they then searched through the entire cell phone get to materials "that are not expressly listed in the warrant and are not immediately recognized as illegal," and finally crafted their charges. That evidence is "fruit of a poisoned tree," Kay said.
The argument carried more weight in that the original reason for the search warrant–a Weeks recording of a conversation between County Attorney Al Hadeed and County Commissioner Charlie Ericksen that had been alleged to be illegal–is now moot: that recording was the basis for one of the 12 original charges against Weeks. But the court threw it out, along with six other charges, ruling that the recording was not done illegally. Hadeed and Ericksen were on the periphery of a public meeting in a public venue and should not have had any expectation of privacy, the court ruled.
That significantly weakened the case against Weeks. Her attorneys pressed the case, essentially arguing that what additional evidence was seized pursuant to the warrant should be thrown out because those items in and of themselves were not specifically sought in the warrant: they only happened to be discovered as agents were searching for data related to the Hadeed-Ericksen conversation.
Assistant State Attorney Jason Lewis then argued the opposite. He said the search warrant authorized police to search for the original recording, but also any "unlawful recording." He also argued that to call the search "overly broad" is a misreading of the situation, because only six items were seized. "I'm not sure where the defense is getting their information that they searched everything," Lewis said.
The police looked for recordings only as they searched Weeks's phone, Lewis said. Everything else, whether web history, documents, 16,017 images and 52 videos, and a lit more, was left alone. All that was examined was recordings, eight of which were found to be illegal in agents' analysis, including an April 3, 2014 recording of the Secretary of State Ken Detzner and his aides. Similarly, a recorded conversation with Palm Coast City Clerk Virginia Smith was uncovered and deemed illegal by agents, giving probable cause for an arrest, Lewis said.
"When you look at the context of what was searched and what could have been searched, the police restrained themselves" to what was outlined in the search warrant, Lewis said. He countered the argument that the search was any different than looking for a drug: agents knew what sort of illegal items they were looking for, though he made the point differently: "Just like child pornography cases," Lewis said: the determination of whether child porn exists in an individual's electronic data rests on a proper search of that data, which may well contain unrelated materials, Lewis said. (Lewis is currently prosecuting just such a case where a motion to suppress a warrant was also argued by the defense, unsuccessfully.)
Lewis also noted that agents had requested from Weeks to turn over the original recording in question, and only when she declined to provide it did they conclude that should may have been hiding other information.
The arguments were key to what remains of the case because if the warrant was ruled overbroad and therefore illegal, then everything it yielded through the search would be considered the "fruit of a poisoned tree," and inadmissible in court. The state would have no case against Weeks at that point.
Hudson challenged Kay. "The most recent cases you cited is 25 years old," the judge told the defense in reference to cases controlling this particular judicial district, asking her if she was aware of any cases that would be more relevant in the present instance that post-date 1993. Kay was not.
The judge asked that if she as a judge were to apply the defense's analysis to the search warrant, "what language would you think would pass the particularity test?"
Kay's answer was more meandering than her original argument had been, as if she had lost her footing. It did not help when she told the judge that she was thinking of just that language as she was driving up to the courthouse from Fort Lauderdale.
"There could have been more investigation that could have been done on the front end that could have led to a more specific search warrant," Kay said, not quite answering the question. "They could have talked to other commissioners who have held office, staff." That, she said, would have led to "more specifics" in the warrant. Kay appeared to be formulating her answer to the judge as she spoke, and a few minutes in she finally specified: The warrant could have included reference to the particular conversation that provoked the search–the Ericksen-Hadeed conversation.
The judge, however, was skeptical about precedents calling for specificity to the degree that Kay was calling for.
"I hope I will be getting out an order during the month of December on this matter," Hudson said.
In a related matter, she granted the prosecution's motion to introduce some evidence from a recording at Weeks's coming trial, should it be held, on three of the five remaining charges. That evidence pertains to a fourth charge not to be dealt with at trial, but Hudson agreed with the prosecution that it is admissible evidence if the prosecution can show Weeks to have been intentionally recording private conversations with others, without their knowledge or agreement.
Should there be a trial, it has been scheduled for the week of April 2. At least for now. Trial had previously been set for next month.
Weeks herself and her husband Duane attended today's hearing, as did Sean Moylan, an assistant county attorney.