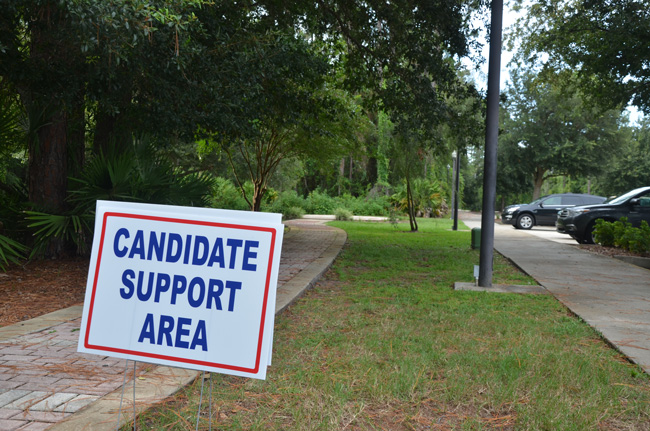 Note: Flagler County Supervisor of Elections Kimberle Week asked to respond to the Aug. 5 article on her appearance before the County Commission regarding campaign signs. Weeks asked that her response run "in its entirety." FlaglerLive does not run unedited copy. Weeks's response has been edited for such things as style, grammar and redundancies. County Administrator Craig Coffey was invited to respond. His briefer response is included below. The links were added by FlaglerLive.

By Kimberle Weeks
County Administrator Craig Coffey came to the elections office the morning of Aug. 1 regarding the closing County Road 305 being scheduled 12 days prior to the Aug. 26 primary election. The closing was rescheduled to August 27.  During Coffey's visit I had a few other matters I wished to discuss with him, one being the danger, hostility, and parking issues at the Palm Coast Public Library early voting site, which seems to generate more and more complaints each election.
Most of our conversation regarding this topic took place in the lobby of the elections office in the presence of SOE staff.   Coffey made the statement several times that the sign rules are is in place because "they want them to work for it."  This is somewhat concerning since anyone can affirm that an incumbent candidate would most likely be better known and have numerous people to call upon to camp at the library and hold a sign or pass out literature. A newcomer or someone who hasn't held public office before would be at a disadvantage and be restricted.
Therefore, I believe Coffey's statement and current practices would be unfair. They generate other problems and concerns which I believe could impact the outcome of elections.  This concerns me, as all elections should be fair, and if the county rules are is in place for that purpose, then all the other claims Coffey made publicly during the County Commission meeting on Aug. 4 were made out of desperation or to cover up his previous statement.
County Administrator Craig Coffey Responds:
---

Supervisor of Elections Kimberle Weeks has made many lengthy points concerning her recent request to have the County Commission allow election candidates to install signs on public property, particularly at the County Library in Palm Coast. The simple response is that this request is coming to the County Commission at literally the eleventh hour and, further, assumes that by allowing candidates and their followers to install more signs, their aggressiveness toward citizens voting at the Library will somehow be reduced. Due to the high emotion in political campaigns, that is overly optimistic.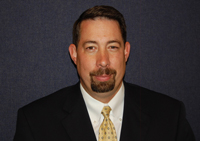 Early voting started Monday, Aug. 11. The problems of overly aggressive candidates and campaign workers existed at the last two elections over which Weeks presided. The community would have been better served on this issue if Weeks had presented her request following the last election. This would have allowed more time and a fuller discussion to effectively address any problems. The only certain outcomes of changing the sign rules now would be to increase the visual pollution at the Library and to increase the county's liability exposure for injuries that may occur because non-governmental people are now allowed to place their signs on our property.

With the input offered by Weeks and others last Monday, the County Commission chose not to change its policy prohibiting political signs on public property. Its decision is consistent with Flagler County's ordinance on political signs which has been on the books since 1995. The ordinance has not allowed political signs in the right of way or on any public property. Public property is owned by all the residents in the County and should be kept neutral during campaigns.

In addition, every candidate that puts up signs in the county has signed a form agreeing to erect political signs in accordance with the county permit requirements (see paragraph 3 specifically). These are the same election signage restrictions that have been used for many elections by candidates for all political races, including candidates for supervisor of elections.

Regardless, there is an ordinance of the City of Palm Coast that does not allow campaign signs on public property. For anyone's reference, that is contained in Section 12.06.03 of the City Code (look it up here). As a matter of intergovernmental respect, the county would not want the appearance of any of its properties in the city to be inconsistent with the city's ordinance.

Weeks mentioned several times a state statute the county is supposedly violating, section 106.1435. This statute does not limit or even address our right to control what people put on the county's property. It primarily deals with political campaign advertisements that include flyers and other forms of campaign promotion. It allows, among other things, local government to charge candidates for the cost of removing certain of their advertising material if the candidate has failed to remove them within 30 days after an election. The county attorney has assured me that this statute does not limit or preempt the county's authority over its own property.

Ultimately, I do respect Weeks' right to express her opinions, but on this matter I disagree in my capacity as the administrator and manager of the county's property. However, as always my staff and I will continue to work with Weeks to the best of our ability to provide a safe and successful election.


 --Craig Coffey
Florida Statutes 106.1435(5) does not preclude municipalities from imposing additional or more stringent requirements on the usage and removal of political campaign advertisements.  However, this statute does not specifically give the county this same authority. Therefore in my opinion, the county should rely on the Florida Statutes, and not on Flagler County Land Development Code or the Flagler County Political Signs Registration to regulate political campaign signs.  (See the county's ordinance to the right.)
The law (Florida Statute 106.1435(3) does state that signs are not permitted on state right of way, but it doesn't mention other property. There is a distinct difference between the "right-of-way" the "property" itself, and there is a distinct difference between state property and county property.  This is where I believe to have fair elections, we need to rely on state laws in place, and interference by the county should not be permitted as it may give an advantage to one candidate over another and may create an unpleasant and dangerous environment.
The county is interfering with elections and making them unfair when they require candidates to sign a "Political Signs Registration," which prohibits Political Signs from being placed on or over any public property or public right of way." That is not in accordance with Florida Statute 106.1435(3).  Anyone else who chooses to hold a sign is not required to file a "Political Signs Registration" with the county, and such registration may give one candidate an advantage over another as was explained above, and would allow anyone who has not filed the registration to exercise their right and place a sign on or over public property.
When the county interferes and their involvement prevents voters being able to conveniently access a polling location without fear or intimidation to cast their vote due to a rule they imposed, a voter may decide not to vote.  When a voter is unable to find a parking spot at an early voting location because the parking lot is filled with candidates, supporters' cars they may choose not to vote. Lost votes could impact the outcome of an election.
I believe many persons would be content with being able to place their sign at the polling location and go on their way. But because they fear or know they can't do so, they either themselves camp at the early voting site, or have supporters who will do so for them. Regardless, the candidates are going to get their name out there, and not be restricted.    The county currently has rules in place that are selectively enforced.  Our tax dollars could be and should be better spent on ways other than policing campaign signs, knowing that the law  has established provisions on the removal of political campaign signs, and campaign signs are part of the political process in this country.
It is logical, since citizens rights' cannot be taken from them, to allow campaign signs to be erected so supporters do not fill the early voting parking lot with their vehicles, and the grounds are not filled with chairs and clutter damaging the landscape. People camping at the early voting sites use the restrooms and go in the library for air conditioning, which is an expense to the county, and creates a disturbance to library patrons throughout the day. I have seen a tremendous increase of campers at early voting sites over the past six years, and each election I receive more and more complaints and the environment appears to have become more hostile.
The county has language in Article 7 of the Flagler County Land Development Code (elections are not part of land development, so it is unclear why elections are in this section)  pertaining to the removal of campaign signs, which is not in agreement with Florida Statute 106.1435 which candidates are required to follow. In fact candidates all are required to complete and file a "Statement of Candidate" form with the Supervisor of Elections as part of their qualifying paperwork confirming they have been provided, read and understand chapter 106 of the Florida Statues.
State law states that each candidate, whether for federal, state, county, or district office, shall make a good faith effort to remove all of his or her political campaign advertisements within 30 days after a candidate withdraws, is eliminated or elected to office. The Flagler County Article 7 Land Development Code and Flagler County Political Signs Registration both state that all political signs shall be removed within 15 days after a candidate's withdrawal, elimination or election.
The county and voters would be best served if state laws were followed, and the county didn't take it upon itself to make its own rules.  After all, laws are made to be followed, and the county administrator and County Commission are not above the law.
FlaglerLive also did not state in the Aug. 5 article how many times as a constitutional officer I have asked to be placed on the County Commission agenda, and how many times my request was refused by the Coffey.
---
"It is logical to allow campaign signs to be erected so supporters do not fill the early voting parking lot with their vehicles, and the grounds are not filled with chairs and clutter damaging the landscape."
–Kimberle Weeks
---
Because this issue was discussed with Coffey on Aug. 1 and the next commission meeting was scheduled for Aug. 4, I didn't feel there was enough time to have it placed on the agenda, so Coffey was advised on Aug. 1 that I would be bringing it before the commission, which explains why he was prepared with his drafted memo in response. It was necessary to address the matter on Aug. 4 as early voting was starting on Aug. 11.
The County Administrator Craig Coffey is grasping at straws when he made the statement in regards to damage by the placement of signs. He provided no evidence of such damage ever reported or paid for. Signs the county places on county owned property (with post hole diggers) do more damage than the wires candidates use to place campaign signs at polling locations, and yes, we the tax payers pay for the damage and the supplies and signs the county creates when erecting their signs. The sign pollution is there whether the sign is solely placed on the property or if the sign is on the property with a camper physically accompanying the sign.   There is no other event as or more important as voting. Yet the County Attorney Al Hadeed's opinion is "there a world of difference between a governmental message and a message from a private person" is simply that, his opinion.  If not, he should have cited state law to support his claim.
To set the record straight I am not part of the Ronald Reagan Republican Assemblies of Flagler County, nor do I attend their meetings or meet with them in any way, nor am I aligned with Dennis Mc Donald, Mark Richter or any other candidate, whether they are a Republican, No Party Affiliation, or Democrat. It is strictly the opinion and not the truth or fact of FlaglerLive and others to claim that I am aligned with any group, club or candidate.
In fact I filed a complaint against the RRRA with the state in the past and they were fined as a result.  Fines also have been imposed against Democratic clubs. I treat everyone with honesty and fairness.  I am a registered Democrat and have not changed my part affiliation before book- closing to vote on the county commission races, so I will not be voting for a county commissioner until the general election in November.  What I am aligned with is doing what I can to make voting convenient and fair.  I listen to the people who elected me and do what I can to improve the process.  I am employed by them, and I work for them.  If persons choose to support my views and efforts, that is welcomed and appreciated.  I certainly didn't get re-elected in 2012 by the largest margin on the ballot by all Democratic voters.
I am non partisan serving as the Supervisor of Elections, so I would expect that there would be Republicans like Dennis McDonald and Mark Richter and Independents like Denise Calderwood who would publicly support my efforts and views and they would probably be the first ones to also speak up against my efforts if they felt my efforts were biased in anyway.   I have an open door policy and make time for anyone who requests to speak with me.