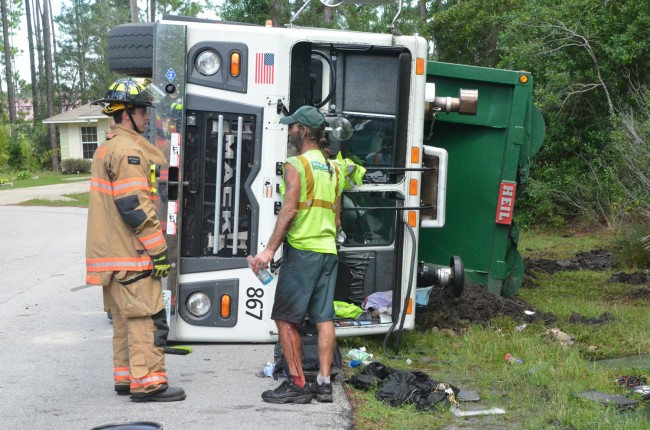 A 24-ton Waste Pro recycling truck that was near the end of its run for the day overturned and crashed on its side on Palm Coast's Reybury Lane at 3:15 this afternoon.
The driver, 50-year-old Bob Ackerman, was cut around the left knee and was bleeding a bit at the scene, but was otherwise walking and apparently uninjured elsewhere. He was bandaged by Flagler County Fire Rescue personnel but declined to be transported to a local hospital. He said he would eventually go there with his company.
There were no other injuries, and the truck, which was filled to capacity with about four and a half tons of recycled refuse, did not spill any of its content. The truck is powered by natural gas. A Palm Coast Fire Department captain at the scene said there were no issues with leakage.
"I came around the corner," Ackerman said, "10, 15 miles an hour. I felt it. Nothing I could do. Maybe it was top-heavy. I don't know. I've been driving these trucks on and off for 20 years." Ackerman, a resident of Holly Hill, said he's been with Waste Pro for three and a half years.
He was at the end of his run, with just six stops left for the day, he said.
A Florida Highway Patrol trooper at the scene, however, cited Ackerman for traveling too fast while negotiating a curve. "Although he may not have been exceeding 30, he was going too fast for the curve," the trooper said. "He claims he was doing 25."
Ackerman got a $166 citation. "I don;t think it was a load shift that caused it. I think it was speed," the trooper said, noting the evident tire marks at the curve, which hugged the side of the road.
Roger's Towing dispatched two tow trucks, which got in position to right the recycling truck just before 4 p.m.
Palm Coast has been contracting with Waste Pro for garbage and recycling services for over six years.
---
Getting It Right: Watch a Roger's Towing Crew Put the Truck Back on Its Wheels