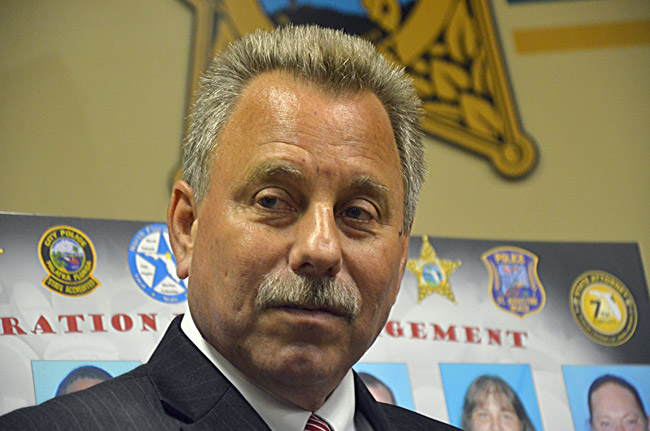 If prostitution is the oldest profession, drug-dealing—which must, by definition, include selling beer, wine and coffee—is a close second, because the hunt for pleasure predates both. Then we got Richard Nixon. He had the not-quite bright idea, exactly 43 years ago Saturday (July 14), to declare a war on drugs.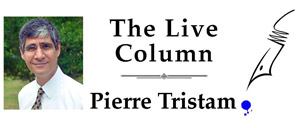 He proposed a 10-point program that included giving cops permission to enter a home without a warning, which is now routine, and asking Congress for the kind of money usually devoted to plans for invading other countries. The war on drugs has been a very successful war on Americans, and an equally successful war on civil liberties and the Bill of Rights. Drugs have fared much better, thriving from epidemic to epidemic with no appreciable progress against the habits but superb results for the prison-industrial complex.
At the time of Nixon's war declaration, 200,000 people were in prison. Today, 2.3 million people are behind bars, a more than 1,000 percent increase driven largely by the war on drugs and politicians' addiction to harsher and longer sentences.  In Florida since 1990, the average time served in prison rose by 166 percent. In 2010, more than 1.6 million people were arrested for drug violations, 80 percent of them for mere possession, and half for possession of a marijuana joint or less. Talk about reefer madness. Next time you meet a politician or a judge or even a cop, ask: Can Americans really have gotten more criminally minded by a factor of a thousand in the last 43 years? Are Americans really so lawless that they must account for a quarter of the entire world's prison population (which they do)?
For all this, we've spent well over $1 trillion—assuming that the federal government alone has spent on average $25 to $30 billion a year on the war, not counting state and local jail costs. The money is still flowing. So are the drugs. So is the complicity between cops and the press that continues to make it possible. So is the corruption that greases it all, and the racism that underlies it: blacks, of course, are the disproportionate target of the scam.
On July 11, and not for the first time, I was myself an accomplice in Flagler County Sheriff Don Fleming's latest bit of theater for the cause: a tri-county sweep of 78 fools who either possessed or sold a few prescription pills and were put in the slammer for it. The entire sweep across Flagler, St. Johns and Putnam counties by heaven knows how may police agencies netted no more than 1,500 pills, which is fewer than amounts you find in some of your grandmothers' cabinets. And to think that the Florida Department of Law Enforcement and its acolytes proudly spoke of their eight months (and untold tax dollars) devoted to the effort, as if local cops weren't doing the very same thing every day, without the publicity, without the accolades, without the bogus choreography.
But it wasn't about the pills. It was about the show of force, or what passes for force these day: targeting two-bit neighborhood pill-poppers. It was about Fleming, R.J. Larizza, the state attorney for the 7th Judicial Circuit, and Putnam County Sheriff Jeff Hardy running for election in a few weeks and using the ploy of a made-up news event for free air time: the perfect campaign commercial, starring reporters' softball practice, little druggies, and our top cops bloviating about keeping our communities safe from boogeymen peddling painkillers.
Larizza, in as good an impersonation of Captain Renault as I've seen recently, was naturally "offended" at the suggestion. He then reflexively turbo-charged campaign mode to say he was doing what he was elected to do. Actually, he wasn't doing anything at all aside from playing to the cameras and taking credit, though it's the cops—the rank and file—that had done it all. As always, rank and file cops weren't featured at the news conference. They never are. They're too busy doing their job.
Ironically, Fleming mentioned Nixon's drug war in his speech to the cameras and even noted how long these sweeps have been going on and how long they'll keep going on. You didn't have to be an Einstein to be reminded of Albert's definition of insanity—doing the same thing over and over and expecting a different result. Fleming conceded as much to me after the news conference, when he described the effort in no uncertain terms as "shoveling shit into the tide"–the most honest words I'd heard all afternoon.
What Fleming didn't mention publicly is his son, who was the subject of a previous stunt two years ago, when he was arrested for illegally possessing prescription drugs. William Fleming is fine now. But jail didn't fix him. Treatment did. And that's the point. Whether you're on crack, meth, Oxycodone or whiskey, if you're an addict, you're not a criminal. You're sick. You need help. Not jail.
But treatment isn't sexy for politicians. Fleming and Larizza can't stand at a treatment clinic and give us their warmed-over propaganda about keeping communities safe. Prisons and jails would empty out. Police budgets would be revealed for the obscenity they are. And we couldn't have that now, could we. We need a war to keep our cops busy and our prisons full, our sheriffs and state attorneys looking like the tough guys they are.
Until they hit the bottle at happy hour and congratulate themselves for a job well done to the clinks of their own drug of choice.

Pierre Tristam is FlaglerLive's editor. Reach him by email here.