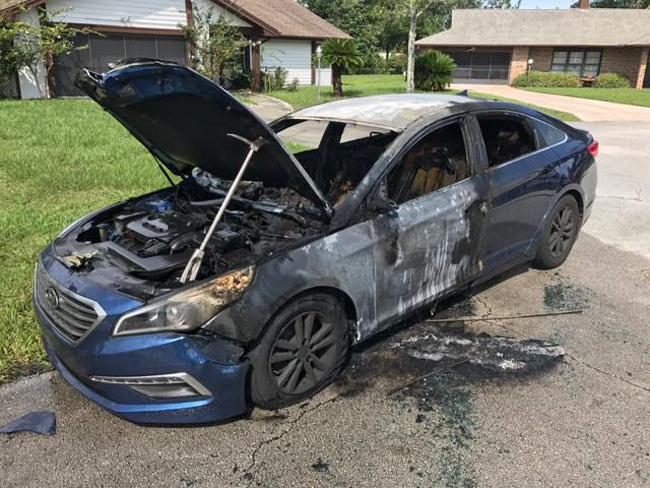 Last Updated: 8:52 p.m.
The Walgreens pharmacy at 1109 Palm Coast Parkway was the target of an armed robbery early Sunday morning. Three employees were tied up by the assailants, a Flagler County Sheriff's spokesperson confirmed, as the robbery unfolded.
The victims, who were 27, 24 and 22, were zip-ties and in at least one case strangled, according to reports to the 911 dispatch center.
At 10:45 this morning, someone in the Woodlands called 911 to report seeing an individual intentionally light a car on fire and flee in another car. Detectives believe the reported arson, of a Hyundai in front of 3 Blare Court, is connected to the armed robbery: though they did not recover anything from inside the car, they did recover items around it that traced back to the robbery, a sheriff's spokesperson said this afternoon.
The Sheriff's Office was reluctant to disseminate information about the alleged arson, but "a lot of people in the Woodlands were kind of frantic about any of this going on in their neighborhood," a spokesperson said.
The area around the fire was closed to traffic for several hours. It had reopened after the incinerated vehicle was towed, after 5 p.m.
The robbery took place between 1:30 and 2 a.m. at the store, a 24-hour facility across the parkway from Palm Coast Ford. Three male employees were working at the time. They reported seeing either two or three assailants, masked and gloved ("they were completely covered," the sheriff's spokesperson said), armed with firearms.
A four-door dark sedan may have been involved as the getaway vehicle. "That's what some person saw leaving out of that parking lot, it doesn't mean that that's the car," the spokesperson said. Walgreens is equipped with surveillance cameras inside and outside.
A call to 911 reporting the robbery was placed at 2:04 a.m., apparently by a witness who was in a vehicle across the street, who saw the alleged assailants run out of the store, according to notes from the 911 dispatch center.
Little else is known at the moment, including what the assailants were after, though the Sheriff's Office expects to have a fuller report later today. The spokesperson said that assailants targeting an all-night pharmacy are usually after money and drugs.
This afternoon, the sheriff's office was not disclosing what the robbers had gotten away with, but 911 notes indicate Volusia County's emergency helicopter was called in to assist in the search, and that some vehicles were pulled over or stopped and their occupants questioned in connection with the robbery, as was an individual at his home, until deputies concluded that the individuals were not involved. Video surveillance from Walgreens was secured.
"We're confident that the vehicle arson and the Walgreens robbery are connected," Sheriff Staly was quoted as saying in a release on both incidents issued this afternoon. "This is still a very active investigation with detectives, CSI and patrol doing everything we can to catch the suspects."
Around 7 this morning there were five vehicles scattered around the parking lot–all civilian–but the store was closed, with a notice apologizing for the inconvenience and announcing a likely opening time of around 8:30 a.m.
The very same Walgreens was the target of an early morning robbery in June 2016. The assailant, Matthew Green, was caught the same day at his home on South Anderson Street in Bunnell thanks to surveillance images. Released from state prison just two years earlier, he had demanded hydromorphone, or Dilaudid, an opiod, and oxycodone. Last October, he was found guilty of robbery and sentenced to five years in prison.
If you have information on this case, call CrimeStoppers at 1-877-277-TIPS. You will remain anonymous and could be eligible for a reward up to $1,000.00.