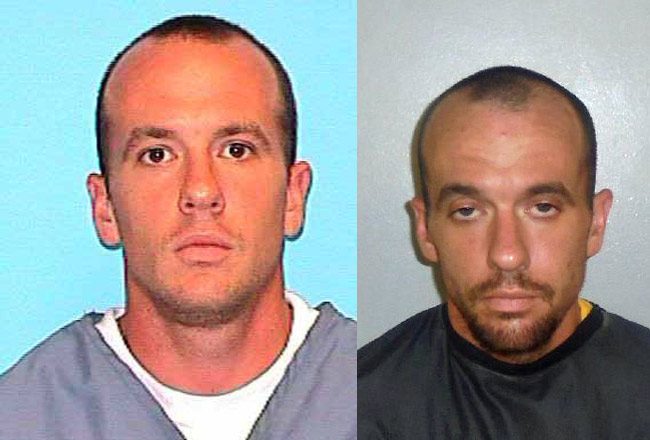 Last Updated: 7:30 p.m.
An armed robber who targeted the Walgreens store on Palm Coast Parkway West early this morning got away with prescription drugs but was later arrested in Bunnell.
The robbery took place just before 6 this morning at the Walgreens at at 1109 Palm Coast Parkway S.W., one of three Walgreens in the city, according to a Flagler County Sheriff's spokesperson. The suspect, a resident of 104 South Anderson Street with a long rap sheet, was identified as Matthew K. Green, 28.
Green was in Florida state prison from November 2012 to February 2014 on a conviction for selling, manufacturing and distributing narcotics.
The pharmacist at Walgreens told 911 of the robbery at 5:55 a.m., describing the suspect and his brown handgun. The suspect had asked him for a bottle of hydromorphone, or Dilaudid, an opiod, and a bottle of oxycodone, telling the pharmacist that he'd kill him if he informed police. He then fled.
The pharmacist described the suspect as "becoming sketched out," according to Green's arrest report. "He put his hand on the counter and looked as though he was going to jump the counter." The pharmacist asked him how many bottles he wanted. The suspect replied that he wanted just one of each. Each bottle contained 100 pills, totaling about $500 in value.
A perimeter was established in the area of the store after the robbery, but surveillance video gave deputies and detectives a lead on the individual, through a picture. When deputies got to Green's house in Bunnell, Green was involved in a verbal altercation with a woman on his front lawn. The woman was Green's sister. She told a detective that she'd gotten a Facebook message the previous night from him telling her that he'd been kicked out of his house and had nowhere to go.
She found him at 104 South Anderson (her mother's house), where she found him "out of it and really high," according to the description she gave the detective. That was several hours after the robbery. She told him she'd take him in for treatment, but he was not coherent. She grabbed him by the shoulders and shook him, according to the arrest report, then went outside, trying to get him into a car. It's about then that detectives arrived.
"I fucked up," Green told his sister just then.
When his sister was shown photographs from the morning's robbery, she identified her brother and asked what he'd done now. A detective spoke to Green's stepfather, who said he owned two antique firearms that sat on top of a television in the garage. One of the firearms was missing. When it was located, it was confirmed to be that allegedly used by Green in the robbery. The gun had been discarded on Palm Coast Parkway near Pine Cone Drive. A resident ran over it with his car and contacted the Flagler Beach Police Department to report it.
Detectives began speaking with Green, but he asked for a lawyer, so all questioning stopped. He was arrested.
No one was injured in the robbery.
Green was taken to the sheriff's Investigative Services Division, then booked booked at the Flagler County jail at 2:42 p.m. on charges of armed robbery, grand theft and grand theft of a firearm, all felonies. There is no bond.
Green's first arrest in Flagler as an adult dates back to 2006, when he pleaded no contest to a minor pot charge (less than 20 grams of pot) and possessing drug paraphernalia. Adjudication was withheld. He was found guilty of driving on a suspended license in 2010, a second-degree misdemeanor, and spent two months in jail. The same year he was found guilty of shoplifting. The following year he was found guilty of battery in a plea agreement that enabled an assault charge against him to be dropped. His most serious run-in with the law was in 2012, when he was arrested for selling oxycodone, found guilty and sentenced to prison. His arrest was part of one of the sheriff's periodic sweeps of drug dealers in the area. That year he'd also been found guilty of disorderly conduct. He'd steered clear of trouble since then.
Until his arrest today.
Further details will be released as we receive them.