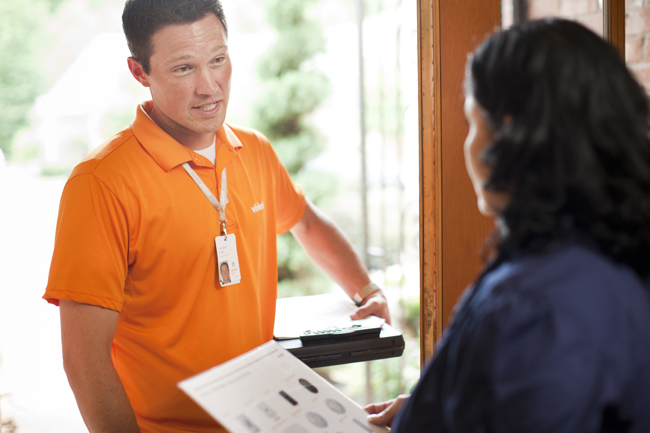 On Tuesday, the Palm Coast city administration issued an advisory to residents to be on their guard about door-to-door solicitors representing Vivint Inc., a Utah-based home-security company. The solicitors, the city warned, were misrepresenting facts and themselves, saying they were representatives either of Palm Coast or of Flagler County.
A Vivint spokeswoman denied that such misrepresentation was taking place. Records say otherwise.
In Palm Coast and elsewhere, according to Palm Coast Code Enforcement logs, Flagler County Sheriff's reports and the Better Business Bureau, Vivint's name is riddled with a history of complaints and proven practices similar to those cited by Palm Coast residents, which prompted the city to act.
Vivint faces recurring findings of deceptive practices and misrepresentation in several states, including Kansas, Wisconsin, Arkansas, California, Ohio and Nebraska, according to Better Business Bureau records. (Vivint is not BBB-accredited,) In each state, the company agreed to settlement orders issued either by a court or by the state attorney general to end using a variety of deceptive practices and making misleading claims or charges.
Just two months ago, Vivint entered into a voluntary compliance agreement with the Nebraska Attorney General's Office. Vivint, according to the agreement, "shall not make any misrepresentations and/or false or misleading statements, directly or by implication, which have the tendency or effect of deceiving or misleading consumers." Among the issues cited—which will sound familiar to Palm Coast complainants: the company made claims that it was affiliated with another company or agency when it wasn't, it made claims that it was upgrading an existing security system when it wasn't, it's claimed that an existing security has either gone out of business or merged with another, when that was not the case, and so on.
Less than two months earlier, the company agreed to a similar settlement with the Ohio Attorney General's Office after consumers filed complaints that Vivint claimed, according to BBB documents, "that its home security equipment was free, but failed to disclose the existence or amount of installation, activation and monitoring fees associated with the system. Vivint door-to-door sales representatives misrepresented the price of continued monthly monitoring fees, made representations that it was providing an upgrade to the consumer's current home security system; that the consumer's current security system company was no longer in business; or that Vivint was otherwise part of or authorized to continue monitoring the consumer's current home security system."
In addition, "Vivint routinely installed the home security systems on the same day the contracts were executed and within the three-day cancellation period and failed to orally inform consumers of their right to cancel the contract within three days or misrepresented the consumers' right to cancel by informing them they were signing the contract on a 'trial basis' or that they had thirty days to cancel."
As part of the Ohio settlement—which is not in effect in Florida or in Palm Coast–Vivint is required to disclose to a prospective customer,  "prior to executing any contract if the consumer has a contract with another home security monitoring company, the consumer may have an ongoing obligation to that company." Numerous other disclosures also apply.
The company's settlement in Kansas was also executed just this March. Wisconsin's was executed in 2012, and the settlement in Arkansas was executed in 2010. In California, the state Superior Court issued a judgment in 2011 barring Vivint representatives from making "any false or misleading statements to residential consumers," among other stipulations.
On Tuesday, Vivint Spokeswoman Megan Herrick said that "there is another competing alarm company that is spreading negative news about us" in Palm Coast. She did not cite the name of the company, and qualified her statement, saying she had no proof.
In fact, Palm Coast-based Alarmpro and its CEO, Norman Mugford—who is also chairman of the city's Code Enforcement Board, and a leading voice against unregulated door-to-door solicitors—has played a role in the push-back against Vivint, but Mugford's complaints merely echo those of residents.
"They use high pressure sales tactics and lies to mislead the customers to believe that they where 'sent' to the customers address to 'check Alarmpro's system' or they were 'sent there by the city' to see if the alarm system was functioning properly," Mugford wrote in an Aug. 5 email to Jay Maher, who supervises the city's business tax department, "or that they 'bought Alarmpro' and were there to update their system."
Mugford's description of the issue also echoes similar deceptive tactics by Vivint cited in settlement agreements in other states.
Mugford provided the city with a list of 13 customers he said Alarmpro "lost due to ViVint and their authorized agent ARM Security causing our customers to break their contracts with Alarmpro, Inc." At least two customers have since switched back after checking Vivint's record. "We have had many calls about Vivint alarms (aka APX Security) which has over a hundred complaints with the Better Business Bureau, and over a hundred complaints on 'RipOff. Com,'" Mugford continued. "We refer the callers to call the Sheriffs or the BBB. I'm sure every alarm company in Palm Coast has been affected by these companies."
The city has received numerous similar complaints from residents.
One resident wrote on Aug. 3 of a solicitor's visit on Corona Court. The solicitor had all the proper documentation. Vivint and its representatives are permitted by the city to solicit."What concerned me was that he was implying he was representing the City of Palm Coast and Flagler County," the resident wrote. "He started his sales pitch by stating that he was here on behalf of Flagler to let us know that the telephone lines in our neighborhoods where going to be upgraded in two weeks and that some of the current system will not be compatible with the emergency system. I asked him why is the county involved with phone lines and specifically the replacement and upgrade of the lines? And why are we not being notify directly by the County or City? He stated that's what he was doing. He became really pushy to the point I had to just close the door and tell him we were not interested in his products and services (which the entire time he was stating he was not selling anything) and I would contact the City and County to find out more on this 'suppose' phone line upgrade."
Needless to say, there is no such phone line upgrade in the works, nor are city and county governments involved.
City documents reveal numerous other reports from residents, including a couple on Bruce Lane who whose door was knocked on after permissible soliciting hours by a Vivint salesman who was "aggressive with them," but who was nevertheless allowed to install a system—an operation that wasn't completed until after midnight. The next day the couple "felt he had misled them," and they wanted out of the contract. They were referred to the state division of consumer services.
A Sheriff's report documents a "very aggressive" Vivint solicitation at 8:15 p.m. on July 29—also after permissible hours. The resident asked the solicitor to leave three times. The solicitor allegedly said he'd return and speak with the homeowner when she was working on her lawn, and claimed that someone would cut her phone lines and break into her house. The homeowner was so upset she called police. Sheriff's deputies were able to make contact with two solicitors that evening: Anthony Depaola and Stanley Sanchez, both of who said they were not aware that they could not be out soliciting that late, though city regulations make that clear to all permitted solicitors.
Documents show that just between July 15 and July 30, there were nine calls to the Sheriff's Office regarding Vivint or Arm Security, the contractor Vivint works with in Flagler County, with complaints of after-hour soliciting, harassment tactics and refusing to leave a property after being asked to do so.
On July 30, the city mailed a warning to Arm Security, and whose offices are in Jacksonville. It was only several days later that Maher received the long complaint from Mugford, the Alarmpro president, discounting suggestions that Alarmpro was at the forefront of the complaints.
Palm Coast may revoke Vivint's permit if problems persist.