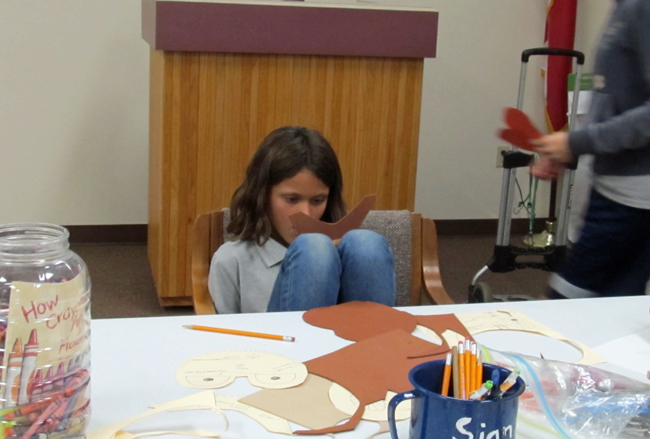 Chuck Close, the artist famous for his enormous, hyper-focused, hyper-detailed face portraits, suffers from face blindness, a disability that makes him unable to recognize faces. His enormous portraits are a derivative of the disability: by painting them on that scale, he remembers the faces better. If you don't know him, you probably do know of at least one other creative person who's had to battle through some kind of learning disability before achieving any kind of success.
For every person with disabilities who makes it, an untold number may not, sometimes only for lack of the right guidance or encouragement. That's where Sue McVeigh comes in.
McVeigh is the Exceptional Education Program Parent Specialist who was Flagler County schools' employee of the year in 2013 and was short-listed for the state employee of the year award. She was enlightened, she says, at a workshop at the 2011 annual Orlando Family Café—which seeks to provide individuals with disabilities and their families collaborative and advocacy opportunities—what was possible with Very Special Arts, which works with anyone suffering from a learning disability, not just children.
"What they do with their programs is supply you with a professional artist from their facility," McVeigh says, "and all you have to do is supply them with a location for the art classes, and then there's small a fee that goes back to them that help pays for the cost of the artist and the supplies that are used in the session."
And so Flagler County Schools' Exceptional Education Program, in conjunction with the non-profit Very Special Arts Florida has been offering such art classes after school for the second consecutive year.
Any student with an individual education plan (essentially, any student in the special education program) is eligible for the classes, which usually accommodate seven students at a time and are held at the Government Services Building on route 100. Most of the students enrolled are dealing with Attention Deficit Disorder or fall somewhere on the Autism spectrum.
Each class is an hour long. Parents are required to attend for safety, since the classes aren't held in a usual school setting. Three four-week sessions are scheduled for this year (the first is already over). This year's theme is all underwater, with the first one specifically, "Underwater Favorites."
The Very Special Arts resident artist and teacher, who also was the teacher last year, is Chris Kastle, an accomplished and world-traveled musician, storyteller and educator with some 12 CD recordings to her credit. works with students with disabilities, she's worked with incarcerated youth, and as director of education at the St. Augustine Lighthouse & Museum, among many other postings. She's also the Community Educator for Friends of A1A Scenic & Historic Coastal Byway.
"I enjoy the wonderful feeling about being able to go from the beginning to the end of a project and being able to construct it," Kastle said. "I enjoy being able to express myself in a number of different ways and for me, fortunately, my parents were very encouraging in all the various things I went into." When it came to her musical passion, her first love, the whole family used to sing around the dinner table, so Kastle developed an "ease" there early on. She hopes to impart that same feeling to her students who often feel pressured or ridiculed by their peers. "It's just plain fun when you lay back and realize you can be at ease doing it," she says.
The work Kastle has done so far in her Flagler residencies has been displayed publicly, including a coral reef that was displayed in the Government Services Building. Between McVeigh, Kastle, and the parents—who can either participate or just watch, or read—the students get more individualized attention than they're likely to get in any other formal art setting.
Artistic ability is often innate. It's just a matter of unlocking it. Specific styles emerge from each individual, Kastle finds. Unlocking each student's uniqueness is her reward. Still, these after-school classes aren't so much about artistic ability, she says, though many of the students have considerable talent. "It's a community-building experience and a social-building experience for all the students and all the adults who accompany them," Kastle says, "to help each other find a common goal in their art work and find they all enjoy it and can work together doing it." It also gives them confidence and a sense of accomplishment at being able to express themselves.
While the parents do participate in the art classes, they don't do the art work for the students, Kastle says. It's more about helping them get organized and staying focused. "When you come into one of the sessions, after it really starts," Kastle says, "and they're doing the artwork, you could literally, except for the occasional interruptions or questions, hear a pin drop, because everyone is so focused on their artwork." That's if they're working on individual projects. If they're collaborating, they all take their roles and share with one another about how to put the pieces of art together.
One enthusiastic parent—grandparent, actually—is Thelma Holloway. Her 10-year-old granddaughter, who she enrolled for the second year in a row, suffers from behavioral and emotional disabilities resulting from a bad family situation.
When Holloway got custody, her granddaughter was very withdrawn and didn't interact with the other children, she says. "But these past couple of years, as a result of the school and all the things they offer for special needs children, she's thriving. She went from failing to getting on the honor roll," Holloway said. The best thing is, "she's with other kids with disabilities but none of them see that." There're all too preoccupied with making art.
"They're encouraged to express themselves in art and they get a lot of praise," Holloway continues. "That's what my granddaughter was missing with her own parents—the praise. And it's blossomed so much, now that her interest in art has shown up in other ways. All of a sudden, she's interested in pottery, drawing and maybe the talent in art was always there, I don't know, but I know that this program has encouraged it." More importantly, Holloway says, it's shown her granddaughter that "she can get along with other kids."
"As long as she's interested in it, I'm going to encourage it as much as I can, because it's helping her with other subjects."
The after-school art classes have steadily increased enrollment. "It's beginning to grow just through word of mouth," McVeigh says. "We've had parents who've talked to other parents who have kids who belong to the program, who are like, 'Wow, we really think art is special.'"
Each four-week session is $40. For more information contact, Sue McVeigh by email here.