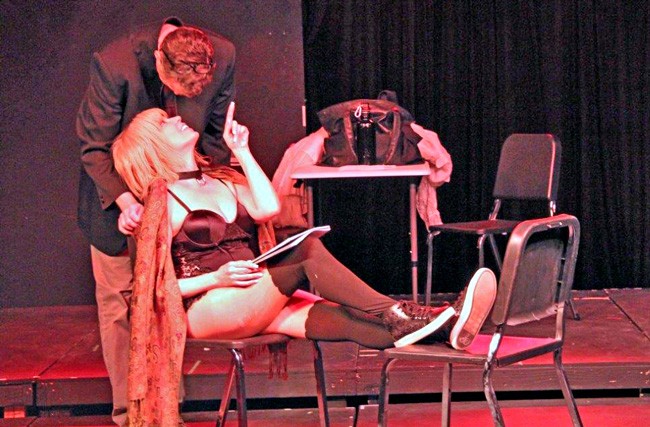 To easily buy your tickets for "Venus in Fur," go here.

In Botticelli's "Birth of Venus," the naked Roman goddess is synonymous with everything the culture associates with loin-stirring. She is a commanding sight, freshly born as a completely developed woman from an out-sized scallop shell nearing shore. The sea of the Italian countryside behind Venus is placid, the sky clear and cerulean.
It's a very different image from that of a modern-day hard luck actress who just moments before had escaped the rain and the slimy invertebrates who ride the New York City subway, only to find that she's too late to read for the part she's traveled across town for, a role that she knows she's "all wrong for."
That soaked unfresh-off-the-train entrance is the opening scene of the two-person play within a play, "Venus in Fur," written by David Ives, which first premiered in 2010. It opens tonight at Palm Coast's City Repertory Theater, with Annie Gaybis playing Vanda Jordan, the rumpled actress, and Eric Bohus playing Thomas Novachek.
Novachek is the man Jordan has come to see. Her arrival is marked by some ferocious bursts of thunder and lightning. Novachek is the artistic director who's already given up finding a beauty worthy and charismatic enough to carry the lead role, Wanda von Dunayev. The play is a stage adaptation of "Venus In Furs," a peculiar, fetishized 19th Century novel.
But there's more to this femme fatale. Something enigmatic. What is she really after? Though she supposedly just glanced through the script on the train ride over, Jordan appears to know every line. For reasons that are perhaps inexplicable even to him, Novachek lets her read. He even takes on her male counterpoint, Severin von Kusiemski, and the two soon find themselves caught up in something resembling obsession.
---
Between "S&M porn" and "a great love story."
---
Unlike the Botticelli painting, where Venus manages to cover most of that forbidden region named after her with either her hands or a fantastic mane of golden hair, in Novachek's studio she has animal fur to work with. The play coincides with the libidinous "50 Shades of Grey" at the box office, and John Sbordone, who's directing, used the coincidence in part of his marketing pitch ("Venus in Fur will make you forget Fifty Shades of…").
Sbordone thinks the dark comedy is up for it. "That was one of the best plays I've read in the last ten years," he says. "It's layered. It's extraordinarily well written. It's complicated—there're four or five different layers to it. It brings in primitive ancient things. It's a dangerous script. It's an actor's tour-de-force script. All those things—it's a very fine piece of writing by Ives."
City Repertory Theatre will stage "Scapino!" at 7:30 p.m. Friday and Saturday March 17-18 and March 24-25, and at 3 p.m. Sunday March 19 and 26. Performances will be in CRT's black box theater at City Marketplace, 160 Cypress Point Parkway, Suite B207, Palm Coast. Tickets are $20 adults and $15 students, available online at crtpalmcoast.com or by calling 386-585-9415. Tickets also will be available at the venue just before curtain time.
Click On:
---
Like Venus herself, each time Sbordone read the script at rehearsal he came away bearing new polished Italian shells. "Eric and I would come every night and go, 'Oh, did you find this?' You keep finding stuff in the script and we're both pretty astute about scripts, but it just keeps layering. We'll probably find something opening night and want to change everything," he says.
For Eric Bohus, a former Broadway actor and entertainment director for Royal Caribbean Celebrity Cruises, "Venus in Fur" offered some unique challenges. Within this very "nuanced battle of the sexes," it was his first time taking part in a two-person show, though he certainly demonstrated he can shoulder the spotlight in "One Flew Over the Cuckoo's Nest," which premiered earlier in the City Rep season and saw him as Randal McMurphy.
Bohus isn't responsible for just one character. There's Thomas Novachek, but then there's also Severin von Kusiemski, a switch that requires leaping back and forth the the nineteenth century "in the blink of an eye," Bohus says. And then, in a final turn, he even takes on the femme persona of Vanda herself, which must to be seen to be understood.
"The beauty of this play and us doing it as a staged reading," Bohus says, "is it makes perfect sense for us to be holding the scripts because we're reading it as these characters. It's a safety net, but hopefully it'll read to the audience that it makes sense because they're actors and it's an audition."
Gaybis, whose most recent forays at City Repertory Theater include, "Suddenly Last Summer" and "Love, Loss, and What I Wore" (also staged readings) was in New York attending a lecture when she caught sight of a generic YouTube clip from the Broadway production of "Venus in Fur." It was one of the less lecherous and more light-hearted scenes, one you'd never guess belongs to a play in which its original source material birthed the term masochism. The term is derived from 19th Century Austrian author Leopold von Sacher-Masoch.
"I thought, 'Oh what an interesting play.'" Without any further reconnoitering, Gaybis passed the script along to Sbordone, not truly knowing what she was getting herself into or the black-laced lingerie she'd have to wear.
Asked if she was concerned whether "Venus in Fur" is a little too NC17 for Palm Coast, she says, "Well, everyone seems real excited to see the movie 'Fifty Shades of Grey.' This is like 'Fifty Shades of More Fun.'"

Venus in Fur runs Feb. 13, 14, 15, 20, 21, 22. On Fridays and Saturdays, it plays at 7:30 p.m. Sunday matinees are at 2 p.m. Tickets are $20 for adults and $15 for students. Buy your tickets online here or call the box office at 386/585-9415.