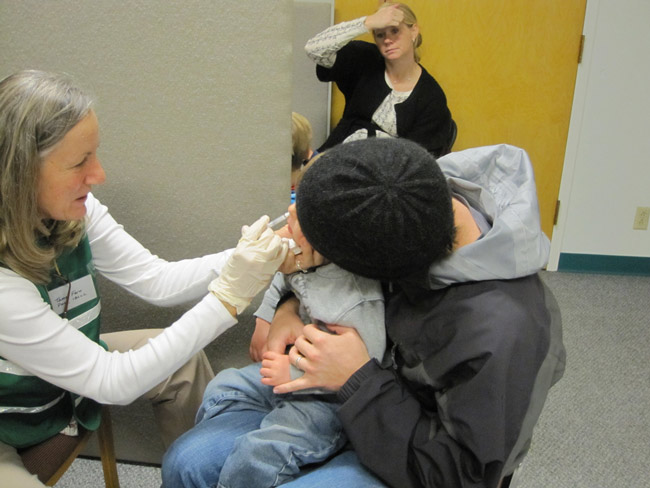 Like most infectious viruses, influenza, better known as the flu, evolves and mutates each year. During the last century, vaccines have kept it mostly in check. The challenge of this century is to make sure that as many people get vaccinated as possible, for the public good. That's the position of the Centers for Disease Control. It's also the position of the Flagler County Schools which has partnered with Healthy Schools, a for-profit private Florida healthcare and Medicare provider responsible for operating school-based vaccine clinics, as well as the Florida Department of Health in Flagler County, to provide children the means to receive cost-free flu vaccinations at all 13 Flagler public schools, including two charter schools.
For students who have insurance, their plans will cover the vaccinations. For those who don't, Healthy Schools foots the bill, says Flagler County Schools director of Human Services, Katrina Townsend. Consent forms were distributed to students Thursday (Sept. 4). Vaccinations will be administered September 18.
It's the second year that Flagler has enacted the program. Nearly identical programs exist in many other districts in the state. "All the other districts had done this before us. We didn't come in until late last year," Townsend said. "This year we were trying to get more of jump on the flu itself, by doing it earlier."
Only about 10 percent of students participated last year, Townsend said.
Townsend acknowledges that there are some parents who are vehemently anti-vaccine. A common belief of individuals within the anti-vaccine movement is that there's a link between vaccines and Autism. That belief has been categorically discredited. Yet it persists much as superstitions do, with potentially harmful effects to public health that the Centers for Disease Control have been battling: as the proportion of unvaccinated children rises, so does the risk of reintroducing any of a dozen diseases that have been all but eradicated thanks to vaccination, from polio to diphtheria to smallpox. The proportion of parents rejecting vaccination has been rising in recent years, and ranges between 5 and 8 percent, depending on the state—with higher rates in the South.
The Flagler school district isn't battling parents. It's merely giving them a choice. And this vaccine is just about the flu.
"The thing is you can't give a student—nor would we want to give a student—a vaccine without a parent's permission," Townsend said, "so it's all by parent permission slip and, if they don't turn in one, they just don't get the mist." These days, vaccination mists which are sprayed up the nose are used more frequently than shots. However, if the student prefers the shot, they can still go that route. "The other thing is students who get the vaccine and who are not later plagued with the flu helps us at the school level because they have better attendance during that school season," she says.
---
Countering a mist of unfounded fears for maximum reach.
---
Tony Boselli is the founder of Healthy Schools, which has locations in 27 counties around the state. Boselli, 42, originally from California, was the first ever draft pick for the Jacksonville Jaguars National Football team in 1995, when the team was a brand new franchise. He's been in the area since. He was motivated to start Healthy Schools after talking with a friend about another company acting under a similar initiative in another state. "I thought that it would be a great business model that would be sustainable and would be a good public policy for stopping flu which is a major issue every year," says Boselli.
According to the CDC, flu severity ranges year to year. A 30-year study, conducted between 1976 and 2006 shows United States fatality numbers per year as low as 3,000 and as high as 49,000. Each year, on average, approximately 200,000 people are hospitalized from seasonal- flu-related complications.
"It's just a bad disease that is preventable," Boselli says. "So by getting out and keeping kids healthy and then in turn keeping them in school, that in turn will help our education process. I thought it was a really neat idea and pursued it."
Of all the issues out there, Boselli says it wasn't because of any real personal connection that he got involved with the cause, though he does have experience. "I've had the flu, unfortunately. It's the worst thing ever. I get vaccinated now because I want to make sure I never have it again."
While Healthy Schools is a for-profit company, Boselli's been involved with other non-profit children's education initiatives before. They include the Jacksonville-based Boselli Foundation which provided financially struggling families with academic and athletic support.
The real service need, he says, comes from the fact that, in today's chaotic realities, it's not always so easy for families to get their children vaccinated. Both parents often work and it might be difficult to find time to run off to the doctor's office.
When it comes to individuals who are anti-vaccine, Boselli says he respects where those people are coming from (many of whom are blamed, because of their opposition to vaccines, for the reemergence of whooping cough and other near-forgotten deadly diseases—but the science speaks for itself.
"The most dangerous thing we could do is not vaccinate people and when the flu starts spreading around and getting people sick and, unfortunately, there'll be those getting hospitalized and those dying," Boselli says. At the end of the day, he says, the vaccine stops the flu.
Patrick Johnson, director of the Florida Department of Health in Flagler County, uses the word partnership loosely when talking about the department's relationship with Healthy Schools  and the schools.
"We supported the initiative because we were not able to vaccinate as many children as there are," Johnson says. "We would love to do it ourselves. We just couldn't match their resources."
The program is not really about students who lack insurance. Most children have some form of health insurance, whether private or Medicaid, and are able to get either a shot or the mist from their healthcare provider. The Department of Health vaccinates any of the children in their care as well, says Johnson.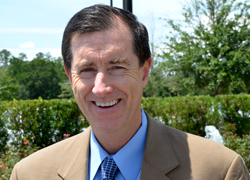 "The real positive here is the convenience of the parents getting a consent form and the child getting the shot, or I should say, the vaccination," says Johnson.  "When there is an increase in influenza activity in a community, parents get their children the vaccine at that time. We encourage parents right now to get the vaccination early in the season. Influenza is the type of disease that can spread rapidly because of the airborne transmission and crowded conditions, which schools are crowded conditions."
While it's a benefit to schools and parents that this initiative will make it easier for students to get vaccinated, they only comprise half the risk pool. When it comes to parents and adults, Johnson says, "they need to get their flu shots whether they're getting it at a drugstore or a pharmacy, or a grocery store pharmacy, or us." However, the Department of Health doesn't have its full supply in yet—they will be ready to administer vaccinations by the middle of the month, he says.
According to the CDC, it's not possible to predict what the upcoming flu season will be like, as there are many variables that come into play each season—the apex of which usually hits between January and February, though there are emergences as early as October and as late as May.
With all the different strains out there, the seasonal flu vaccine is designed to protect against the top three or four potentially illness-inducing varieties for that season. In addition to hygienic, preventative measures, the CDC also recommends getting vaccinated as soon as the vaccine becomes available.