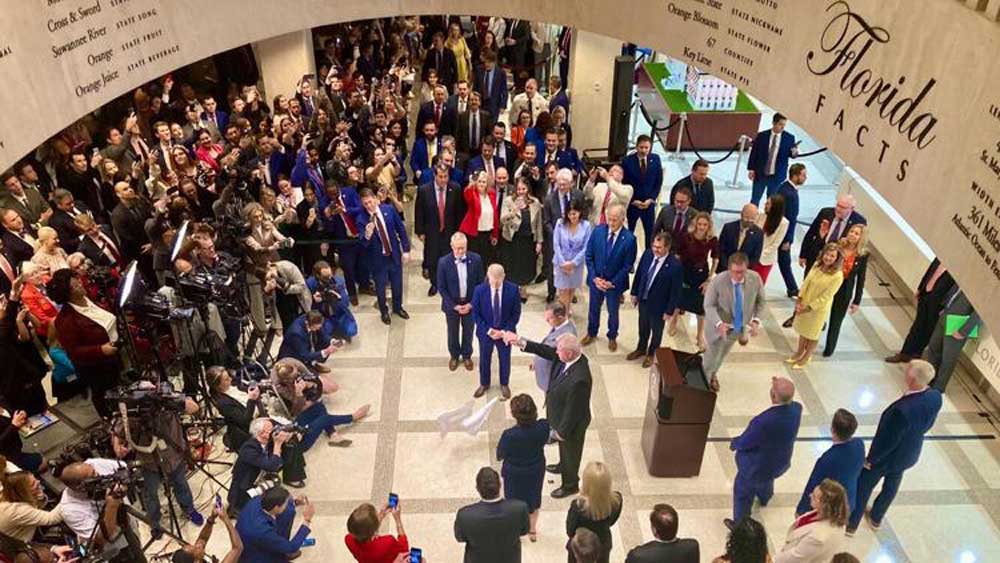 For the ninth year running, local regulations of short-term vacation rentals in Flagler County and across Florida survived a legislative attempt at dilution and pre-emption by the state. Given the legislature's accelerated push for pre-empting powers to the state, it is a rare victory for home rule, but similar bills will almost certainly be filed again as the fast-growing vacation-rental industry looks to unfetter itself from regulations.
For advocates of local regulations, preserving legal standards in place since 2014 came down to a last-minute escape this time. (See: "With Travis Hutson Cheering, Bill Upending Flagler's Vacation-Rental Controls Clears Last Hurdle Before Vote.")




Both the Florida Senate and the House bill crafted this year would have significantly scaled back a local government's power to regulate vacation rentals. For example, Flagler County's occupancy limit of 10 guests would have been scrapped, unless the same occupancy applied to all residential homes in the county. The bills in some forms would have left in place the power to regulate safety matters.
Both had cleared the two chambers' respective gauntlet of committees, accumulating amendments along the way. Both versions had passed the full chambers by comfortable votes–28-10 in the Senate, 73-39 in the house. Both Sen. Travis Hutson and Rep. Paul Renner, who represent Flagler County, voted for the respective bills, going against the wishes of both the Flagler County Commission and Palm Coast Mayor David Alfin, who spoke in opposition to the bills last Tuesday.
Hutson had co-sponsored the 2014 bill that restored local regulation. He voted in favor of the Senate bill scaling those back, saying it carved out a protection for the Hammock Dunes community.
Then came the twist. The bill Renner voted for on Wednesday included a floor amendment introduced during debate by Rep. Wyman Duggan, the Duval County Republican, that gutted the senate version, replacing a lot of the wording of the House';s bill–which until then had resembled the Senate's–with provisions far friendlier to the vacation rental industry. The amendment would have eliminated local governments' ability to regulate such things as fire and safety issues, as they do now.




With those changes, the House bill would have had to be reconciled with the Senate's. The Senate would have had to accept the changes. At 9:19 this morning, it rejected them. The Senate requested that the House concur with the Senate's version. The House did not do so. The bill died: today was the last day of the session.
Lawmakers finalized a $117 billion budget and an accompanying $1.3 billion tax package to end a legislative session that carried out many of Gov. Ron DeSantis' priorities.
After adjourning "sine die" — the traditional declaration that marks the end of the annual 60-day session — just before 11 a.m., Renner pointed to a series of key issues that he said lawmakers addressed.
"When we were traveling the state, we were often reminded of the major things on Floridians' minds," Renner said during a ceremony in the Capitol's fourth-floor rotunda between the House and Senate chambers. "Affordability was one of those. The runaway litigation climate was one of those. Having an educated workforce was one of those. And … we had the worst hurricane that we've ever faced. On each and every one of those issues, we delivered for the people of Florida."
Lawmakers began the session in early March after also holding special sessions in December and February. During a news conference Friday, DeSantis touted issues passed by the Legislature.




"I don't think we've seen a six-month stretch that has ever been this productive in the history of our state," DeSantis said, pointing to legislation on issues such as immigration, expanded school vouchers and changes to higher education. "And I would put us up against any state in the modern history of our country."
Democrats, however, argued that the regular session was filled with "missed opportunities" and "culture war" legislation that did not address issues such as high insurance rates, skyrocketing rent costs and unaffordable health care.
As an example, Rep. Dotie Joseph, D-North Miami, pointed to $12 million that Republicans approved for a program to transport migrants to other states. That came after the DeSantis administration last year flew 49 migrants from Texas to Martha's Vineyard in Massachusetts.
"Instead of spending $12 million to hunt down or profile immigrants legally admitted by federal immigration officials and fly them on a private jet to Martha's Vineyard, we could expand Medicaid, which unlocks billions in federal dollars to help U.S. citizens in Florida," Joseph said.




House Minority Leader Fentrice Driskell, D-Tampa, said the session was highlighted by DeSantis' "extremist agenda" on issues such as restricting abortion, allowing people to carry guns without concealed-weapons licenses and expanding a fight with Walt Disney Co.
While Republicans and Democrats battled throughout the session on major policy issues, the House and Senate passed the budget (SB 2500) and tax package (HB 7063) with little opposition.
The tax package includes a series of expanded sales-tax "holidays" on back-to-school items, disaster-preparedness gear and summer events. The package, which DeSantis is expected to sign, also would trim a commercial-lease tax and give tax breaks on purchases ranging from diapers for babies and adults to cattle fencing, firearm-storage devices and gas stoves.
"We have a lot of money to do extra things with. You are seeing that with investments into education, investments into infrastructure, and investments into the environment. With all of those investments, we still have extra money. It's only right to give that money back to the taxpayers," Senate Finance and Tax Chairman Blaise Ingoglia, R-Spring Hill, said.
While DeSantis has line-item veto power, the budget passed Friday would be 6.4 percent higher than the spending plan for the current fiscal year, which will end June 30.
–FlaglerLive and Tom Urban, News Service of Florida