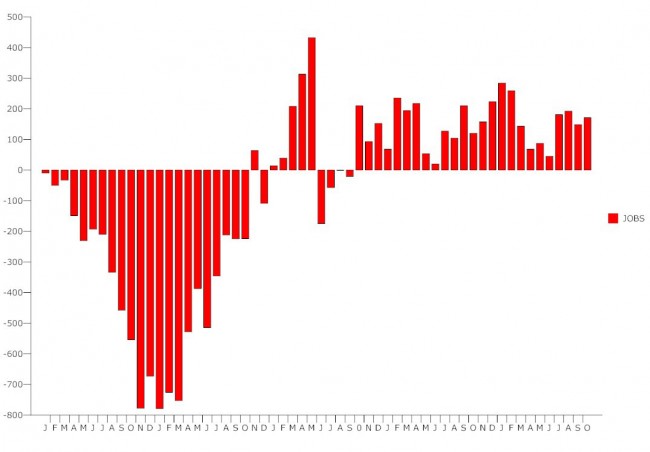 Last Updated: 10:08 a.m.
The economy added 171,000 jobs in October, exceeding economists' expectation of 135,000, and figures for August and September were revised upward, adding 84,000 to previous tallies, for a total of 511,000 jobs in the last three months, the U.S. Labor Department reported this morning.
The unemployment rate edged back up to 7.9 percent, an indication of a large number of people returning to the labor force and being willing to look for work again. Nevertheless, the solid, sustained job gains (700,000 since July) point–finally–to a somewhat healthier recovery, while giving President Obama's economic policies one final boost before Election Day.
The civilian labor force rose by close to 600,000 workers just in October, the highest single-month increase of the Obama years, bringing the labor force to 155.6 million, a record. The labor force participation rate also went up, to 63.8 percent, from 63.6 percent the month before, though that level is still well below the pre-recession level of 66 percent.
In another relatively positive sign, the number of people employed part time against their will–either because they could not find full-time work or because their hours were cut back–fell by 269,000, to 8.3 million, partially offsetting an increase of 582,000 in September. And the so-called U-6 unemployment rate, which adds all the unemployed, those employed part-time involuntarily, and those who have quit looking for work, edged down to 14.6 percent, from, 14.7 percent the two previous months, and 16 percent a year ago.
For all the somewhat better news workers and the Obama administration cans seize on, there's plenty left for Mitt Romney's campaign to seize on as well (as Romney is expected to later today): 12 million Americans remain unemployed, the uptick in the unemployment rate means that much of a longer slog before the economy returns to fuller employment, the pace of job growth is still only a little above that required to absorb the natural increase of workers every month, and average earnings slipped by one cent, to $23.58 an hour. Some 5 million people have been unemployed for 27 weeks or more, and 2.4 million people were marginally attached to the labor force, meaning that they want to work, but haven;t looked for work in the past four weeks, and so were not counted among the unemployed.
And ironically for Obama, the increase in October's unemployment rate was driven largely by the black unemployment rate, which rose almost a full percentage point–from 13.4 percent in September, to 14.3 percent in October. But some 98 percent of the black electorate supports Obama. The unemployment rate for whites was steady at 7 percent.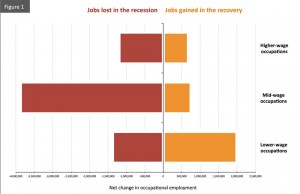 Keep in mind as well that the majority of new jobs created in the recovery have been low-wage jobs, while inequality between wage-earners has grown.
In a report released in August, the New York-based National Employment Law Project found that during the recession, "employment losses occurred across the board, but were concentrated in mid-wage occupations. By contrast, in the recovery to date, employment growth has been concentrated in lower-wage occupations, which grew 2.7 times as fast as mid-wage and higher-wage occupations." The report also concluded that "the unbalanced recession and recovery have meant that the long-term rise in inequality in the U.S. continues. The good jobs deficit is now deeper than it was at the start of the 21st century."
Some highlights from the Labor Department's unemployment report: Professional and business services added 51,000 jobs in October, with gains in services to buildings and dwellings and in computer systems design. Health care added 31,000 jobs, retail added 36,000 jobs, tourism added 28,000, and construction added 17,000. Manufacturing, a previous strength in the recovery, was flat, as it has been since April. In the loss column, mining lost 9,000 jobs, and government lost 13,000 jobs (continuing a trend that has seen government losing more jobs than most sectors during the recovery, which has helped drag down the recovery). Employment in other major industries, including wholesale trade, transportation and warehousing, information, financial activities, and government, showed little change over the month.