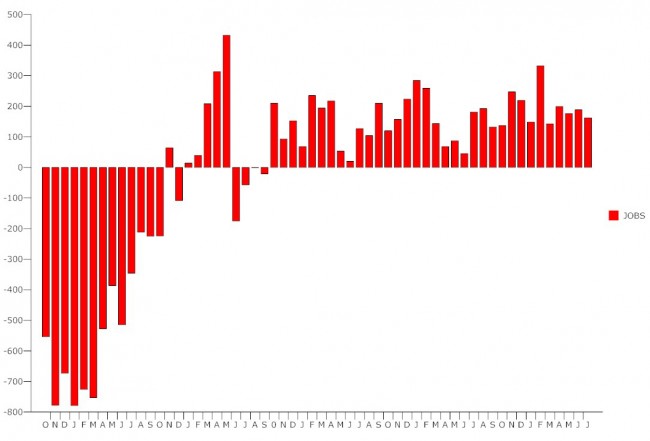 There's nothing terribly bad about the July unemployment report, released this morning. There's nothing terribly good about it, either: the economy added just 162,000 jobs, totals for May and June were revised downward–not by much, but 26,000 fewer jobs (for a total of 364,000 over those two months) is a move in the wrong direction. And the unemployment rate's fall back to 7.4 percent is a two decimal point drop, to the lowest level since December 2008 (when it was 7.3 and skyrocketing). But it is a very slow improvement from the 8.1 percent rate a year ago.
In all, the unemployment picture is a reflection of austerity's gray slog: with government spending checked by the federal sequester, state and local governments still shy about making large investments in capital or labor, and the private sector continuing to hedge its bets (sitting on cash and employing temporary workers rather than risking larger scale ventures), improvements have been only slow and sputtering, if not slowing.
Earlier this week the Commerce Department announced that the economy grew in the April to June quarter, but by only 1.7 percent, up from 1.1 percent in the previous quarter. The second-quarter figure will be revised twice, and if past trends stick, it will be revised downward. (The first quarter figure was initially 1.8 percent.)
More disappointing news: average hourly wages fell 2 cents, to $23.98, after a 10-cent increase in June. Over the year, average hourly earnings have risen
by 44 cents, or 1.9 percent, not quite enough to make up for inflation. Compounding the problem for laborers, The average workweek for all employees on private payrolls decreased by 0.1 hour in July, to 34.4 hours, and by 0.2 hours in the manufacturing sector, to 40.6 hours. Overtime declined by 0.2 hour, to 3.2 hours a week.
There remains 11.5 million unemployed people in the United States. That's one of the official figures, representing workers actively looking for work but receiving unemployment insurance. The figure does not reflect those who have dropped out of the job hunt, or those whose unemployment benefits have run out, or those working part time because they can't find full-time work or because their hours have been cut back.
When those groups are included, the unemployment and under-employment rate stands at 14 percent. In a reflection of the seesawing improvements and setbacks of the employment picture, the so-called U-6 "alternative measure of labor utilization" that includes all those groups actually fell from 14.3 percent the previous month.
In July, the number of long-term unemployed (those jobless for 27 weeks or more) was little changed at 4.2 million, and accounted for 37 percent percent of the unemployed. The number of part-time workers stood at 8.2 million in July. Two other indicators of underlying strength–or weakness–in the labor market, the labor force participation rate (63.4 percent) and the employment-population ratio (58.7 percent) were virtually unchanged.
Some highlights from the employment survey: Retail trade added 47,000 jobs in July and 352,000 over the past 12 months, with general merchandise stores, vehicle and parts dealers, building material and garden supply stores and health and personal care stores all reporting modest gains. Food service and bars added 38,000 jobs. Financial activities employment increased by 15,000, with a gain of 6,000 in securities, commodity contracts, and investments. Wholesale trade added 14,000 jobs, professional and business services added 36,000, with gains in management of companies and enterprises and technical consulting services.
Manufacturing employment was essentially unchanged in July and has changed little, on net, over the past 12 months, a significant change from the previous year. Employment in health care was also unchanged. Employment in other major industries, including mining and logging, construction, transportation and warehousing, and government, showed little change in July.
Alan Krueger, chairman of the president's Council of Economic Advisers, addressed the unemployment report at the White House blog this morning, but said nothing significantly different from last month's blog entry.
Other reactions: "The trend in employment growth still looks more than strong enough to keep unemployment trending down," Jim O'Sullivan, chief U.S. economist, at High Frequency Economics, tells the Wall Street Journal.
Brown Brothers Harriman released this statement: "Fewer people are working, a shorter work week and for lower pay. The Fed's tapering decision does not rest on a single print, especially of high frequency and noisy data, but on the margins, between the FOMC statement that gave no hint of a move in September, a manufacturing PMI that showed prices falling and now a soft employment report, look for some soul searching by those who thought and acted as if reducing long term asset purchases next month was a done deal."
Julia Coronado, an economist at BNP Paribas, tells Bloomberg News: "A deterioration in the quality of jobs is a recurring theme in recent reports. Aggregate hours worked fell 0.1% despite job gains as the workweek declined, and wage growth fell 0.1% in July leading the annual pace to slow to 1.9% from 2.1%, partially reversing a modest rebound that had been underway earlier in the year. Despite the decline in the unemployment rate, we think the combination of weak GDP growth and a slowing in hiring reduce the likelihood the Fed will proceed with the first tapering of QE in September. We still see December as the most likely scenario. Hiring had been surprisingly robust in light of slower GDP, but job growth tends to be the lagging indicator and the prospect is for more subdued numbers in coming months. The July report is by no means a disaster, but it does highlight slow progress on the Fed's mandates."