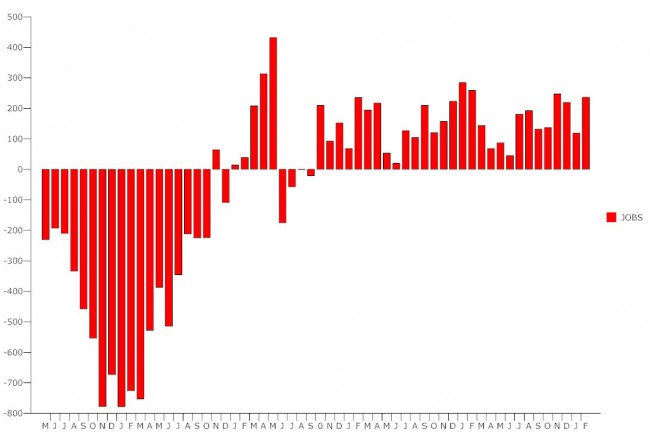 The last time national unemployment clocked in at 7.7 percent was in December 2008, before Barack Obama was president. It did so again in February as the economy added 236,000 jobs, totaling just over 1 million jobs in the last six months. In January, the rate had edged up to 7.9 percent.
Most sectors gained, including construction and manufacturing, pointing to a more solid recovery in the housing market and boding well for Florida's economy in the longer term. Some 12 million Americans remain out of work, not counting those who have quit looking altogether or the 8 million people working part-time because they can't find full-time work. But the so-called U-6 unemployment rate, which more accurately reflects the overall employment picture by including the under-employed, has also edged down to 14.3 percent, the lowest level since a 14.2 percent rate in January 2009. The number of long-term unemployed remains roughly unchanged at 4.8 million.
The employment-population ratio held at a still-low 58.6 percent in February, while the labor force participation rate remained at 63.5 percent. The participation rate must be higher if the economy is to show that workers are earnestly returning to the labor force in numbers approximating those before the Great Recession. Still, as baby boomers retire, and absent an influx of younger immigrants, the labor-force participation rate will naturally trend lower than it had in the 1990s and 2000s, because the nation's fertility rate has also plummeted.
Some highlights on the plus side: Professional and business services added 73,000 jobs. Employment in administrative and support services, which includes employment services and services to buildings, rose by 44,000. Accounting and bookkeeping services added 11,000 jobs, and growth continued in computer systems design and in management and technical consulting services. Construction employment increased by 48,000, for a total of 151,000 new jobs since September. Specialty trade contractors gained especially, with gains almost equally split
between residential (17,000 jobs) and nonresidential specialty trade contractors (15,000). Nonresidential building construction also added 6,000 jobs.
The health care industry continued to add jobs in February, with 32,000, as did the information industry (20,000), with a large job gain in the motion picture and sound recording industry. Employment continued to trend up in retail (24,000), totaling 252,000 jobs in the last 12 months. Employment in other major industries showed little change over the month.
In February, the average workweek for all employees on private payrolls edged up by 0.1 hour to 34.5 hours. The manufacturing workweek rose by 0.2 hour to 40.9 hours, and factory overtime edged up by 0.1 hour to 3.4 hours. Average hourly earnings for all employees on private payrolls rose by 4 cents to $23.82. Over the year, average hourly earnings have risen by 2.1 percent–not enough to overcome inflation or give workers a sense that their standard of living is rising.