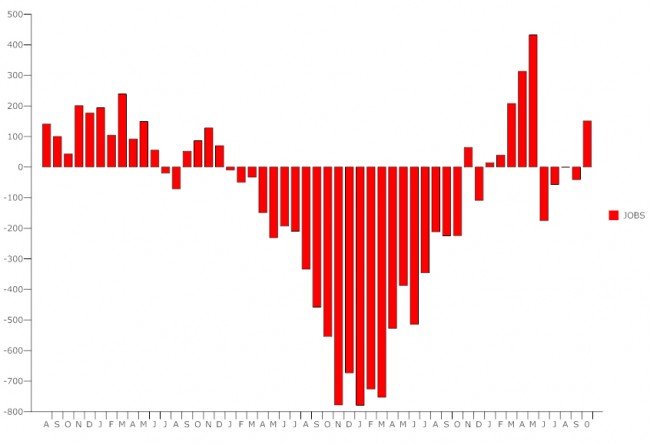 The economy picked up 151,000 jobs in October, led by private-sector job gains of 159,000–the best gains in that sector since March 2008, when the economy added 239,000 jobs. Previous job gains this year had been led by temporary federal, census bureau hiring. Almost all those jobs have since been eliminated.
The job losses for August and September were also revised upward, significantly so: Initial August losses of 57,000 jobs were revised to a loss of just 1,000 jobs, and September losses were revised from a loss of 95,000 to a loss of 45,000.
Overall, the unexpectedly strong job gains in October signaled a broader strengthening of the economy and perhaps longer-term growth. The unemployment rate, however, remains stuck at 9.6 percent. The economy must generate some 120,000 jobs a month just to stay even.
Government employment overall was little changed in October. Contrary to popular assumptions that government is expanding, employment in local government, excluding education, decreased by 14,000, and by 123,000 over the past 12 months. The number of temporary census workers fell by another 5,000 in October. It had peaked at 564,000 in May. There were just 1,000 temporary census workers left on federal payrolls in October.
In the private sector, employment in construction, wholesale trade, transportation, information, and financial activities showed little change in October. Manufacturing lost 7,000 jobs and tourism and the arts lost 26,000, but several other sectors grew. Those included health care (24,000 new jobs), retail (28,000, including 6,000 new jobs among auto retailers, an especially good sign for Detroit, and 5,000 jobs at electronics and appliance stores). Food services and bars added 24,000 jobs, offseting losses elsewhere in the hospitality industry.
The largest surge in the private sector was in temporary help, with gains of 35,000, or a total of 451,000 jobs since September 2009.
In another good sign of underlying strengthening in the economy, The number of people employed part time for economic reasons rather than by choice fell significantly, by 318,000, partially offsetting large increases in the prior two months.
Less encouraging: About 2.6 million persons were marginally attached to the labor force in October, up from 2.4 million a year earlier. These are workers who are available and looking, and had worked at some point in the previous 12 months, but were not counted among the unemployed because they hadn't actually looked for work in the past four weeks. Among the marginally attached, there were 1.2 million discouraged workers in October, an increase of 411,000 from a year earlier. They have simply given up looking. Their absence from the unemployment statistics significantly deflates the overall unemployment picture, though the trend remains positive.
In October, average hourly earnings of all employees on private nonfarm payrolls increased by 5 cents to $22.73. Over the past 12 months, average hourly earnings have increased by 1.7 percent. Average hourly earnings of private-sector production and nonsupervisory employees rose by 7 cents to $19.17.
The average workweek for all employees on private nonfarm payrolls increased by 0.1 hour in October to 34.3 hours. The manufacturing workweek for all employees also increased by 0.1 hour, to 40.3 hours, while factory overtime was unchanged at 3.0 hours. The average workweek for production and nonsupervisory employees on private nonfarm payrolls increased by 0.1 hour to 33.6 hours in October.