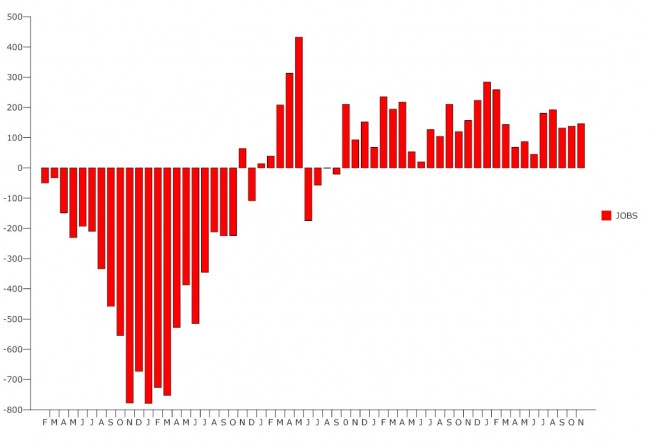 After Hurricane Sandy immobilized the Northeast and parts of the Midwest and affected half the country's continental states, economists had predicted that November's jobs figures would be poor, at best, with a consensus estimate of 86,000 net jobs created. Instead, the economy added 146,000 jobs and the unemployment rate fell to 7.7 percent, its lowest level since December 2008, when George W. Bush was still president and the economy was losing jobs by the hundreds of thousands.
Today's jobs report is the first since the re-election of Barack Obama. It carries much less political significance than its several predecessors leading up to November's election. But it returns the focus to its economic significance. In that sense, the figures, while brighter than expected, remain more anemic than necessary for a robust recovery. The job-creation figures for September and October were revised downward by a combined 49,000, so that the last three months' job creation was 416,000, as opposed to 465,000. And November's numbers are still well below the 170,000 average for each of the summer months.
Underlying trends also don't point to an economy shaking out of its lethargy. The labor force participation rate fell 0.2 percentage points, to 63.6 percent, erasing the 0.2 percent increase in November. The participation rate is an indication of workers' willingness to return to the labor force, and can be a barometer of optimism (or pessimism). While Sandy may have affected the participation rate, November was also the beginning of the Christmas season, when retailers add jobs. Retail trade did increase, by 53,000 jobs, a solid but not impressive number.
On the other hand, the U-6 measure of unemployment–a more broadly accurate reflection of the unemployment situation, because it includes discouraged workers and those working part-time against their will, because they can't find full-time work–improved by 0.2 points, falling to 14.4 percent. A year ago, it was at 15.6 percent.
Some highlights: Aside from retail, employment in professional and business services rose by 43,000. Health care employment increased by 20,000, with gains in hospitals (8,000) and in nursing care facilities (5,000). Health care has added an average of 26,000 jobs a month this year. Employment in wholesale trade edged up by 13,000, information by 12,000, with the increase concentrated in motion picture and sound recording (15,000), and leisure and hospitality employment added 23,000.
On the negative side, construction lost 20,000, while manufacturing was flat. Employment in mining and logging, transportation and warehousing, financial activities, and government, showed little change in November.
The average workweek for all employees remained at 34.4 hours. The manufacturing workweek edged up by 0.1 hour to 40.6 hours, and factory overtime was unchanged at 3.2 hours. Average hourly earnings rose by 4 cents to $23.63.