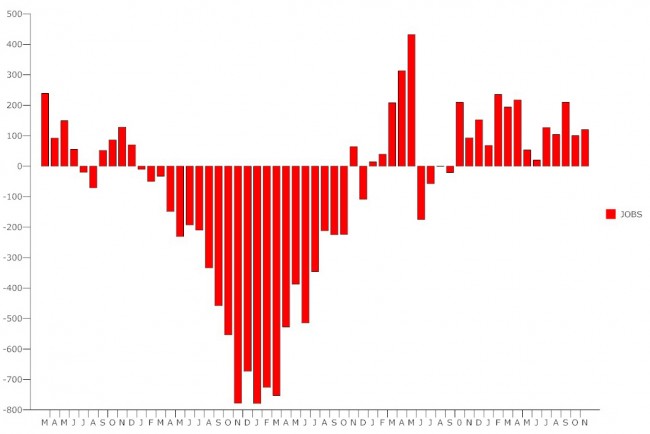 The national unemployment rate fell to 8.6 percent in October, its lowest level since March 2009, and the economy added 430,000 jobs in the last three months, including 120,000 in October, brightening what until now had been anemic prospects for a sustained recovery.
There were 594,000 fewer people on the unemployment rolls in November, reducing the total number of unemployed Americans to 13.3 million. September and October job creation figures were revised upward, adding 72,000 jobs.
But–and there's always been a but with economic figures since the 2008 recession–the lower unemployment rate was helped in part by a drop in the number of people in the labor force. A year ago, 84.9 million people were not in the labor force. That number has risen to 82.2 million, while the labor force has shrunk by about 300,000. That reduction is driven by a number of factors, including unemployment benefits running out and, in many states–including Florida–more stringent requirements for unemployed people to collect benefits. When people are no longer collecting unemployment, they're no longer counted in the official unemployment rate, even though they remain, in effect, jobless. Another continuing drag: those who are officially unemployed are spending an average of almost 41 weeks without work, an all-time high.
Most people don't necessarily look past the bottom line, however. Politically and psychologically, the sharp drop in the unemployment rate, if it is sustained in coming months, will improve President Obama's re-election prospects while deflating his opponents' arguments that the economy has been immovably mired in a rut.
Indicators point to particular strength in small-business hiring, and hiring that's been sticking.
Those suffering most from unemployment are teenagers from 16 to 19 years old (23.7 percent), blacks (15.5 percent) and Hispanics (11.4 percent). Asians have the lowest unemployment rate, at 6.5 percent, followed by whites, at 7.6 percent.
Some job-sector highlights:
Employment in retail trade rose by 50,000 in November, with much of the increase occurring in clothing and clothing accessories stores and in electronics and appliance stores. Employment in leisure and hospitality, relevant to Flagler's tourism industry, continued to trend up in November, with 22,000 new jobs. Leisure and hospitality sectors added 253,000 jobs in the last 12 months. Employment in professional and business services was up 33,000, mostly through temp jobs. Health care employment continued to rise (17,000 new jobs, 9,000 of those in hospitals). Manufacturing employment was flat, as it has been since July. So was construction employment.
In the loss column, government jobs government employment continued to fall, led by a 5,000-job decline in the U.S. Postal Service.
The average workweek for all employees on private payrolls was unchanged at 34.3 hours in November. The manufacturing workweek was down by 0.2 hour to 40.3 hours, offsetting a 0.2 hour gain in the previous month. Average hourly earnings for all employees on private nonfarm payrolls decreased in November by 2 cents, or 0.1 percent, to $23.18. This decline followed a gain of 7 cents in October. Over the past 12 months, average hourly earnings have increased by 1.8 percent, not enough to improve on inflation.