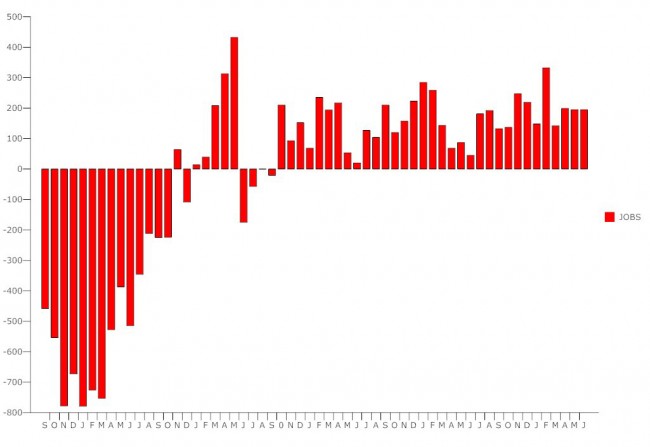 The U.S. economy added 195,000 jobs in June, and revised numbers increased April's and May's totals by 70,000 for a combined three-month job creation of nearly 600,000 jobs, but the unemployment rate remained at 7.6 percent, only 0.6 percent lower than it was a year ago.
Subtracting losses in government jobs, private-sector employment rose by 202,000 in June, with the economy adding jobs 40 consecutive months.
June's numbers revealed a mixture of encouraging and discouraging trends. One one hand, the labor-force participation rate went up (from 63.5 percent to 63.4), which means that more people are willing to seek work. And all 177,000 people who either returned to the labor force or sought jobs for the first time actually found work. But the Bureau of Labor Statistics' U-6 measure of the unemployment rate, which more accurately reflects the labor situation by including part-timers and discouraged workers, went up sharply, from 13.8 percent in May to 14.3 percent in June.
The increase was driven by the huge increase in people working part-time either because they couldn't find full-time work or because their hours were cut back. The number of involuntary part-timers increased by 322,000, to 8.2 million.
Among those only marginally attached to the labor force, there were 1 million discouraged workers in June, an increase of 206,000 from a year earlier. Discouraged workers are no longer looking for work because they believe no jobs are available for them. In essence, the willingness of people to return to the workforce in June has not erased an overall net loss in that category in the past year.
The quality of jobs the economy added last month is also on the low side. Leisure and hospitality–tourism, restaurant and bar jobs, which don't pay well–saw the largest increase, with 75,000 jobs, or 38 percent of the net gain. Many of those jobs could be driven by temporary summertime work. Retail, also a low-paying sector, added 37,000 jobs. Health care added 20,000 jobs.
Federal government jobs declined by another 5,000 in June, for a 12-month decline of 65,000. Manufacturing lost 6,000 jobs. Those are well-paying sectors. Employment in most other major industries, including mining and logging, construction, and transportation and warehousing, showed little change in June.
The numbers and worrisome trends are adding to the Obama administration's woes. The administration has been struggling against a spate of scandals and governance issues, such as this week's decision not to implement a key portion of the health care reform act (mandating that employers with more than 50 employees provide health insurance to their workers or pay a penalty). Obama's approval rating stands at 46 percent in the latest Gallup tracking poll.
The White House on Friday sought to put a bright face on the latest unemployment report, mostly reiterating the numbers from the Labor Department rather than interpreting them. "As the Administration stresses every month," Alan Krueger, the president's chairman of the Council of Economic Advisers, wrote on the White House blog, "the monthly employment and unemployment figures can be volatile, and payroll employment estimates can be subject to substantial revision. Therefore, it is important not to read too much into any one monthly report and it is informative to consider each report in the context of other data that are becoming available."
But key data of the sort has not been encouraging. This week the Commerce Department reported that the economy had grown at a 1.8 percent pace in the first quarter of the year. That's not enough to lower the unemployment rate.
A bright spot: In June, average hourly earnings for all employees rose by a surprisingly strong 10 cents to $24.01. Over the year, average hourly
earnings have risen by 51 cents, or 2.2 percent. Average hourly earnings of production and nonsupervisory employees increased by 5 cents to $20.14.
"In short, a fairly strong report," Jim O'Sullivan of High Frequency Economics told the Wall Street Journal. "Employment growth continues to look more than strong enough to keep unemployment trending down–even though the rate was only flat in June–and probably more than strong enough to lead to Fed tapering starting in September."
The Federal Reserve has announced that it will begin to pull back from its policy of printing money as a means of keeping the economy liquid.