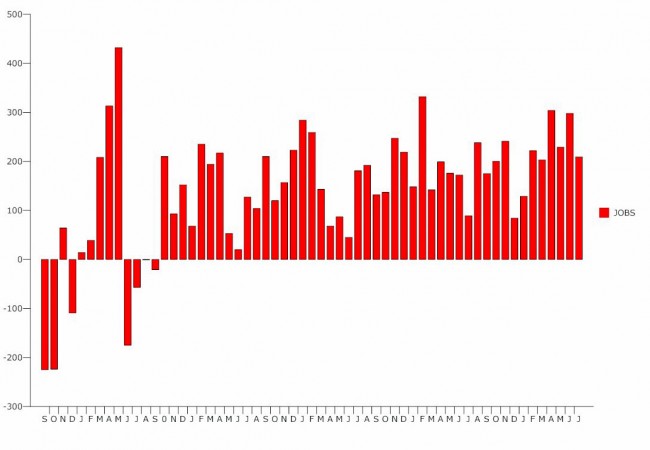 Mediocre: it's the The best that can be said about the unemployment report for July as the economy added 209,000 jobs, about 20,000 jobs short of expectations, and the unemployment rate edged up to 6.2 percent, from 6.1 percent the previous month.
The civilian labor force increased slightly to 156,000, from 155,700, its highest-ever level, but of those, only 62.9 percent actually held job (up from 62.8 percent in June), a decline from a peak of 66.4 percent in January 2007. The decline in the labor force is in part due to the retirement of the baby boomers. But it is also due in part to discouraged workers who have dropped out of the labor force altogether.
In all, 144.3 million Americans held jobs, only a slight increase from 142.7 million a year ago, and 27.1 million of those were part-time jobs. Of those, 7.5 million were working part-time involuntarily: 4.6 million saw their hours cut back because of slack working condition, and 2.5 million could only find part-time work, even though they were seeking full-time work. The number of involuntary part-time workers has declined from 8.3 million a year ago, but remains high by historical standards.
But job creation overall has exceeded 200,000 for six straight months, a healthy pace that would absorb new entrants to the labor force, and the numbers for May and June were revised upward, adding 15,000 more jobs to that total. Job creation is expected to remain strong, with the economy growing at an annualized pace of 4 percent in the last quarter, a big turn-around from a 2.1 percent decline the previous quarter.
Some highlights: Professional and business services added 47,000 jobs in July, manufacturing added 28,000, led by 15,000 in car manufacturing and car parts, retail trade added 27,000 jobs, led by employment among auto dealers, construction added 22,000, social assistance added 18,000, and mining 8,000. There was little change in leisure and hospitality, wholesale trade, transportation and
warehousing, information, financial activities, and government.
In July, the average workweek for all employees on private payrolls was 34.5 hours for the fifth straight month. The manufacturing workweek decreased by 0.2 hour to 40.9 hours. Average hourly earnings for all employees on private payrolls edged up by 1 cent to $24.45. Over the past 12 months, hourly earnings have risen by just 2 percent, not enough to overcome inflation and increasing health care premium costs.