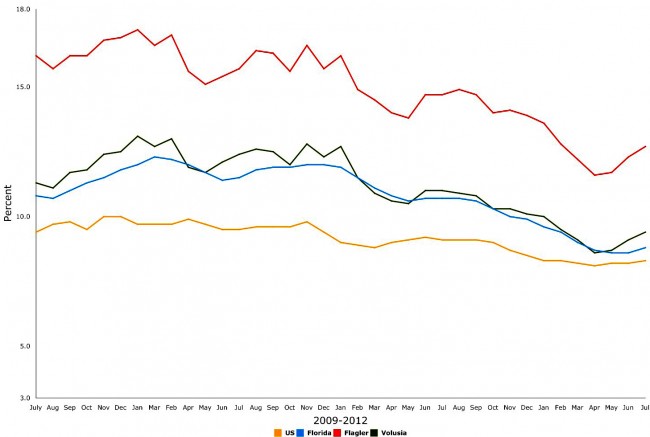 After falling steadily by 2.1 percentage points over the past year and holding steady at 8.6 percent in June, Florida's unemployment rate ticked back up to 8.8 percent in July, and there was a net job loss of 3,300 in the state, reducing the year's overall job creation to 69,900 over the past year.
Flagler County's unemployment rate also rose from a revised 12.4 percent last month (it was originally 12.3 percent) to 12.7 percent. Flagler remains the county with the second-highest unemployment rate, after Hendry's 16.1 percent. But by metropolitan areas, Palm Coast's has the state's highest unemployment. Hendry is a rural, poor county with less than half Flagler's population, and with a median household income 22 percent lower than Flagler's.
The number of people holding jobs in Flagler actually increased in July, by 134 people, but the number of people in the labor force increased by twice that number, as 284 people joined, or re0-joined, the workforce. Both figures should be encouraging: more people are finding work, drawing more people into the workforce. Alternately, Flagler County may once again be drawing more new working-age residents, though that's less likely, because the labor force in July was almost identical to its level a year ago. But some 600 more people are employed today than they were a year ago. And according to the Cansus Bureau's estimate for 2011, Flagler's population has increased by at least 1,000 people.
There's brighter news in the help-wanted ad world, too. According to the Help Wanted OnLine data series from The Conference Board, Florida job postings in July 2012 led the nation in over-the-month growth in job demand with more than 264,000 openings, and increased by almost 30,000 openings compared to July 2011. Major occupational groups with the most online ads in July were sales and related occupations; healthcare practitioners and technical occupations; office and administrative support occupations; and computer and mathematical occupations.
But the quality of jobs in Florida remains among the lowest in the nation: wages and benefits are low, and living wages few relative to job creation elsewhere, which means the rate of people's reliance on public assistance, from food stamps to health care, and the proportion of people without health insurance, remain among the highest in the nation.
Gov. Rick Scott on Friday looked at the best side of the latest numbers. "While the unemployment rate can vary from month to month, Florida continues to see positive private sector job growth," he said. "My goal remains the same, to make Florida the number one business destination in the world by improving the state's economic climate, highlighting our talented and skilled workforce and getting Floridians back to work."
The numbers are bad news for President Obama, however, who has been counting on the recovery in Florida to help him carry the state in November. That recovery had already helped push his approval ratings ahead of Mitt Romney's in the state. But worsening economic news would make it difficult for the Obama campaign to sustain the momentum. On the other hand, Scott–an open and bitter critic of the Obama administration–has been helping the Obama campaign by talking up economic successes, and promising to do so in his speaking role at the National Republican Convention in Tampa later this month, even though the message is at odds with that of the Romney campaign.
Most job sectors saw declines or flat numbers in Florida in July, but the declines were modest. Not a single job sector saw a decline of more than 1 percent. Sectors losing jobs included government (3,600), tourism (1,200), financial activities (4,100), wholesale trade (3,100) and manufacturing (1,200). Retail trade grew (1,500 jobs), as did information (1,500), administrative and waste services (7,500 jobs), health care and social assistance (3,600 jobs), and arts and recreation (1,700).
The full unemployment report is below.