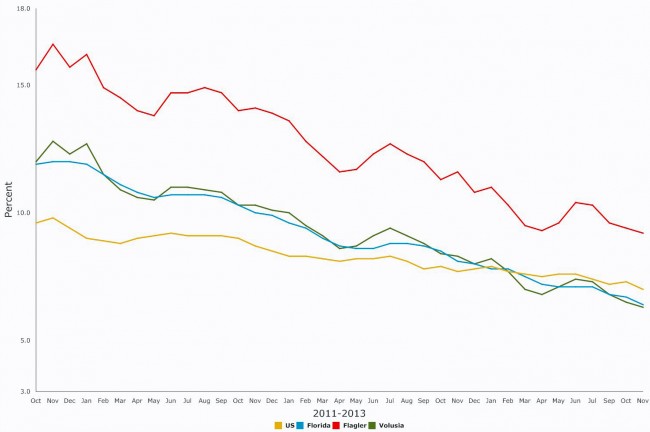 Florida's unemployment rate fell sharply in November, to 6.4 percent, as did Flagler County's, to 9.2 percent, the lowest levels in five years, as the state added a net 6,100 jobs–a disappointing figure in and of itself, but less so in the context of continuing positive trends.
Flagler County's unemployment figures improved again but not because of net new job creation: there were 92 fewer jobs in the county over the month, and 82 fewer unemployed people. But the labor force lost 174 people over the month, continuing a trend that has persisted for more than a year: the county's workforce has shrunk by precisely 1,000 people over the year, a worrisome sign echoed by a shrinking or stagnant school population. The county's population has been increasing slightly, according to the latest estimates by the University of Florida, but those moving in are older and retired–the sort of new residents who make more demands on local services than contribute to the local economy, except through spending on goods and services.
There were 599,000 jobless Floridians out of a labor force of 9,395,000. That unemployment figure however does not reflect the underemployed or those who have dropped out of the labor force altogether, either because they are discouraged or because state restrictions on who may qualify as unemployed have forced them off the unemployment rolls.
When that so-called U-6, or alternative measure of unemployment is taken into account, Florida's unemployment and under-employment rate is 14.6 percent, one of the highest in the country, according to the federal Bureau of Labor Statistics. The state's news release never mentions the alternative unemployment measure.
Gov. Rick Scott announced the monthly numbers at Full Sail University in Winter Park. "We've cut taxes, made government more efficient and provided more services to families," Scott said in a prepared statement. "The result: we are creating an opportunity economy that supports more than 446,000 new private sector jobs since December 2010."
A Florida Legislature Office of Economic and Demographic Research report released Monday contrasts sharply with the governor's assessment of the economic recovery, noting that 59.3 percent of the state's drop in unemployment is due to people dropping out of the labor force or delaying entry, not because of new job creation. "Florida's prime working-age population (aged 25-54) is forecast to add about 3,400 people per month, so the hole is deeper than it looks," the report notes. "It would take the creation of about 850,000 jobs for
the same percentage of the total population to be working as was the case at the peak."
"If the participation rate had held steady since 12/11, the unemployment rate would have been 8.3 percent" in October, the economic report said.
A Tampa Bay Times investigation published earlier this month also cast serious doubt on Scott's interpretation of the economic recovery as "the first comprehensive review of his efforts shows few successes and hundreds of unfulfilled promises," the paper found. "Of the jobs Scott can influence most, only a fraction now exist. Scott has pledged $266 million in tax breaks and other incentives in return for 45,258 new jobs. But 96 percent of the jobs have yet to materialize, according to state data."
Flagler remains the county with the second-worst unemployment rate in the state, topped only by Hendry County, with 11.3 percent, and followed by Putnam, at 8.4 percent. Monroe County had the state's lowest unemployment rate (3.7 percent), followed by Walton (4 percent), Okaloosa (4.5 percent) and Alachua and St. Johns counties (4.9 percent). St. Johns and Alachua aside, the counties with the lowest unemployment rates were those with relatively high proportions of government employment.
Because the net job gains were slight, various sectors saw only small improvements. Those took place in manufacturing, education and government. Construction, financial activities and tourism saw employment numbers drop.