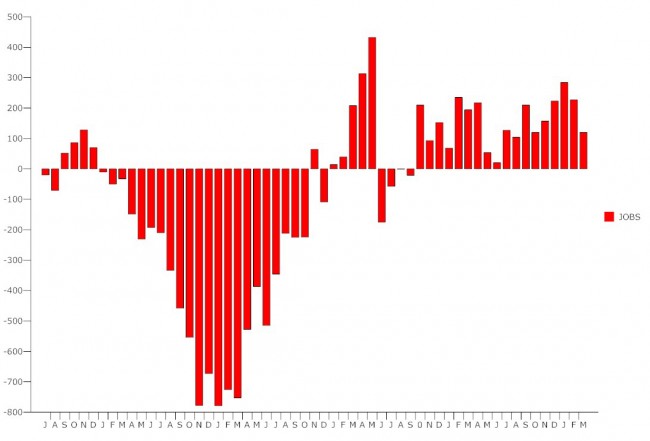 Last Updated: 9:22 a.m.
While the U.S. unemployment rate fell to 8.2 percent in March, job creation was disappointing, at 120,000, about half the expected numbers, lending further credence to evidence of a fitful, not robust, recovery.
The Wall Street consensus before the jobs report was released this morning was for 210,000 additional jobs. That expectation was based on a report by ADP, the payroll processor, that some 209,000 private sector jobs had been created in March, with small businesses of 49 employees or less creating half the jobs, and on a Labor Department report released yesterday that showed first-time filings for unemployment falling to their lowest point since April 2008. Those indicators may yet ripple into more positive job-creation figures in May. Meanwhile, the weaker numbers will be fodder for Republican presidential candidates, whose strongest case to replace President Obama depends on an under-performing economy.
While the economy has added jobs for the 18th consecutive month–and while the 8.2 percent unemployment rate is the lowest since January 2009, when it was 7.8 percent–the 120,000 figure is the lowest since October. And while it adds to a total of 3.6 million jobs created since February 2010, even a monthly job-creation level of 200,000 would be considered weak two years into a full-fledged recovery. And the economy is still very far from recouping the more than 8 million jobs lost since the beginning of the Great Recession, going back to the waning days of the Bush administration and through the first half of the Obama administration.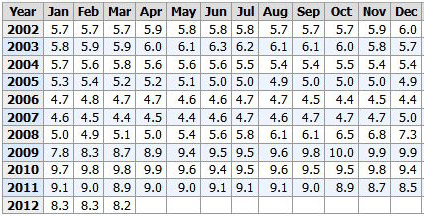 Job creation was revised down for January and up for February for a net gain of 4,000 additional jobs. There were 12.7 unemployed Americans in March, 5.3 million of them considered long-term unemployed–people who have been without work for 27 weeks or more.
There were several positive signs in the jobs report. First, the number of people employed part time against their will (because they could not find full-time work or had their hours reduced) fell from 8.1 million to 7.7 million.
Second, the broader, truer measure of unemployment and under-employment, the so-called U-6 measure, which includes all the unemployed, including those who have quit looking for work or those working part-time against their will, fell sharply, from 14.9 percent to 14.5 percent, and is down from 16.2 percent a year ago. So while the unemployment rate is not falling fast, more people are feeling confident that they can re-enter the workforce.
Third, wages are going up faster than they have at almost any point in the recovery. Average hourly earnings for all employees on private payrolls rose by 5 cents, or 0.2 percent, to $23.39. Over the past 12 months, average hourly earnings have increased by 2.1 percent, barely better than the rate of inflation.
A few highlights from the Labor Department's report: Manufacturing employment rose by 37,000, with gains in motor vehicles and parts (12,000 jobs), machinery (7,000), fabricated metals (5,000), and paper manufacturing (3,000). Factory employment has been a relatively strong point in the recovery, rising by 470,000 since a recent low point in January 2010, but the figure dims somewhat considering that the U.S. trade deficit reached $473 billion in 2011, the highest deficit since 2008, and continued to widen in 2012. In other words manufacturing job creation at home is not what it could be, if exports were stronger. Exports are being depressed by the European debt crisis, a slowdown in the Chinese economy, and higher oil prices.
Employment in March also rose by 37,000 in leisure and hospitality, including bars (what the government likes to refer to as "drinking places"). Health care also added 26,000 jobs. Employment in financial activities was up by 15,000. Professional and business services added 31,000 jobs. Temp jobs were flat.
On the negative side, retail trade employment fell by 34,000, led by a 32,000 drop in merchandise stores (though building material and garden supply stores–the Home Depots and Lowes– actually saw an increase of 5,000 jobs. Employment in mining, construction, wholesale trade, transportation and warehousing, and information, was flat. Government jobs fell by another 1,000.
Stock markets in the United States and Europe are closed today for Good Friday, and the bond market will open for only a few hours, so the market's reaction to today's numbers will have to wait until Monday