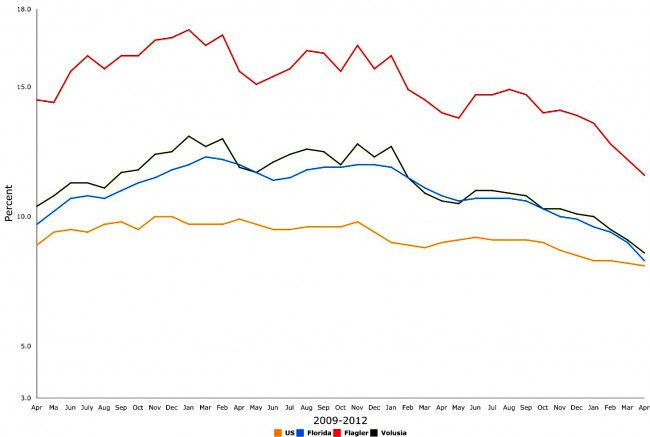 Florida's jobless rate in April fell to 8.7 percent as the state continued an employment rebound that began 11 months ago, the Department of Economic Opportunity reported Friday.
But April's drop was also affected by the fact that nearly 28,000 job seekers dropped out of the hunt.
In Flagler County, the unemployment rate fell again, steeply, to 11.6 percent, from 12.2 percent in March and 13.5 percent a year ago, though about 220 people also dropped out of the labor force in Flagler. Some 29,429 people held jobs in the county in April, virtually even with the previous month, out of 33,280 people in the labor force (out of a county population of more than 95,000).
The number of jobless in April was 0.3 percentage points lower than March and 1.9 points below April 2011. The national unemployment rate for April was 8.1 percent.
Gov. Rick Scott said the continued downward trend was testament to the state's economic recovery and bodes well for Florida's continued climb back toward full employment. The April figures also shows job gains in comparison to the nation as a whole.
"This continued drop in Florida's unemployment rate is proving our economy is on the path to recovery and Floridians are getting back to work," Scott said in a statement. "With Florida being ranked as one of the top two states for business in the nation, employers are sure to continue expanding and moving to Florida creating jobs that help us ensure this pattern will continue."
University of Central Florida economist Sean Snaith, however, say the good news is tempered by the fact that Florida's civilian labor force shrunk between March and April by 28,000, a shrinking job pool that pushes unemployment lower without putting more people back to work.
Taking into account discouraged workers and those working part time, Florida's jobless rate was 17.3 percent for the quarter ending March 31.
"Having the unemployment rate fall because people have given up looking for a job is not an improvement," Snaith said.
Payroll growth has also remained relatively flat, another indication that fewer job seekers are being added to the rolls of employed workers.
"There is not a lot to encourage people to get back in the hunt," Snaith said.
But the number of available jobs does continue to grow. Overall, the number of jobs in Florida was 7,325,300 in April, up 52,600 jobs compared to a year ago. It was the 21st consecutive month of year-to-year job growth.
Leading sectors of the economy included employment services, which grew by nearly 11 percent, or 16,800 jobs. Education and Health Service employment grew by 2.3 percent, adding 25,100 jobs over the 12 month period.
Construction employment continued its contraction in April. The number of construction jobs shrunk by 7.4 percent year-to-year, a drop of 24,800 jobs in that bellwether sector. Building construction jobs fell by nearly 11 percent.
Monroe County had the lowest unemployment rate in the state at 4.8 percent. It was followed by Walton County (5.2 percent), Okaloosa County (5.7 percent), Franklin County (6.1 percent), and Alachua County (6.2 percent).
Flagler County had the state's highest jobless rate in April a 11.6 percent. It was followed by Hernando County (10.8 percent); Hendry and St. Lucie counties (10.7 percent each); Dixie County (10.2 percent); and Putnam County (9.9 percent).
The number of counties with double-digit unemployment rates continued to fall, dropping by half from 10 in March to five in April.
–Michael Peltier, News Service of Florida, and FlaglerLive