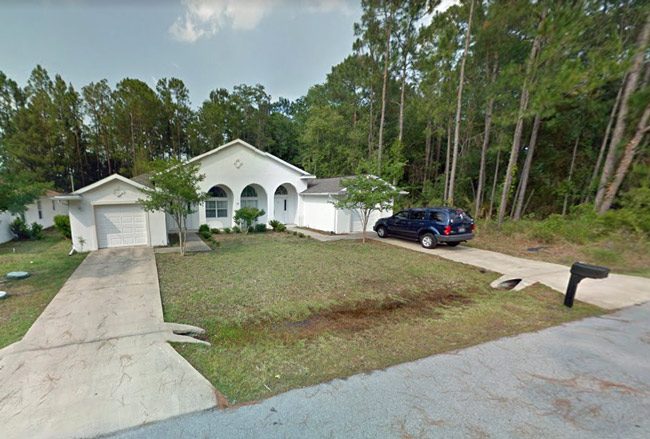 At 3:30 p.m. Monday Tyrone Rogers, a 53-year-old resident of Michigan, called Flagler County's dispatch center to report about the unsettling letter he'd just received. It came from his friend Tyrone Hartley, and it read as a suicide note, giving "five reasons why I'm done," an apparent reference to a novel and ongoing television series about suicide called "13 Reasons Why."
Hartley, of 12A Bunker Knolls Lane in Palm Coast, had sent the letter on June 7. When Rogers called him, Hartley did not answer. When authorities pinged Hartley's phone, the ping was not successful, suggesting that the phone had been shut off.
Rogers sent an image of the letter to a deputy. "The contents of the letter caused me concern for Mr. Hartley's well being," the deputy wrote in an incident report.
At 4:45 p.m., Flagler County Sheriff's deputies and Palm Coast firefighters headed to the Bunker Knolls residence. A neighbor told authorities she had last seen Hartley the evening of June 6. Hartley's black 2014 GMC SUV was in the driveway. Deputies and Engine 23 firefighters forced entry into the residence through the back sliding door a few minutes later.
Rogers' friend was found in a bedroom with a single gunshot to the head. A paramedic pronounced Tyrone Hartley dead at 4:52 p.m.
The scene was then turned over to detectives and the sheriff's Crime Scene Investigations unit, as is routine in such cases. A crime scene is established until confirmation by the medical examiner that the death was a suicide.
The scene, which eventually drew a total of seven sheriff's units and the medical examiner, caused considerable concern among neighbors as investigators went about their work.
There's been a pronounced increase in suicides in Flagler in the last few years, but also across the nation: a Centers for Disease Control report released the day after Hartley had mailed his letter states that "suicide rates in the United States have risen nearly 30 percent since 1999, and mental health conditions are one of several factors contributing to suicide." The report found "significant" rate increases in 44 states, with 25 of those states seeing increases greater than 30 percent.
Florida showed an overall increase of 10.6 percent, one of the lower increases in the country, though the figure is somewhat deceptive because of the state's starting point: Florida has historically ranked higher than the national average with its suicide rate, with the latest figures (in 2016) showing the rate at 16 per 100,000 people (ranking Florida with the 21st highest rate in the nation). There were 3,143 suicides in the state in 2016. Flagler Cares, which calls suicide "a major public health concern," shows the number of suicides in Flagler rising from cases in the single digits in the early 2000s to double-digits since 2013, and with annual increases every year since 2011.
The CDC found that rates are distinctly higher in states with more permissive gun laws. Guns were the most common method of suicide, accounting for 48.5 percent of the total.

The following resources are available for individuals in crisis:
In Daytona Beach: Stewart-Marchman Act Corporation Crisis Center
1220 Willis Avenue
Daytona Beach, FL 32114
Administrative Phone: (904) 947 – 4270
Crisis Line: (800) 539 – 4228
Available 24 hours.
National Suicide Prevention Lifeline, 800/273-8255 (TALK).
If you are concerned for someone else, read about warning signs here. For additional resources, see the Speaking of Suicide website.