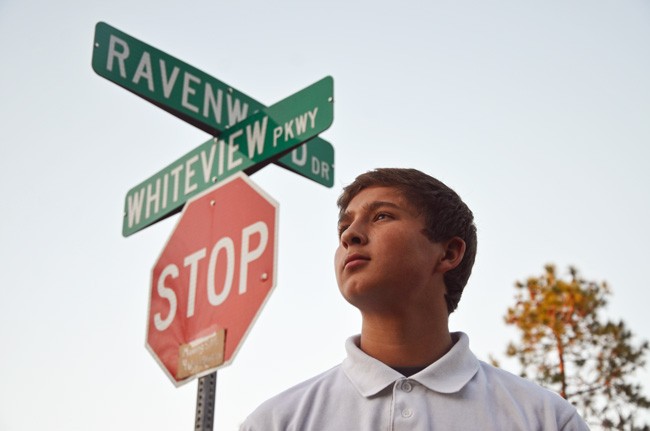 There is something irredeemable about the events of Jan. 9 on Whiteview Parkway in Palm Coast, something no memorial, no commemoration, no recognition can change: 22-year-old Elisa Marie Homen was fatally injured when her car was forced in the way of a school bus, through no fault of her own. Her 2-year-old boy Vincent was left half-orphaned. Her fiancée, Vinnie, was left in his words a widow, as he had already considered himself married to Elisa Marie.
Homen had been readying to make a turn onto Ravenwood Drive when a 19-year-old driver rear-ended her, catapulting Homen's car in the way of a school bus coming in the other direction. She died four days later, never having regained consciousness.
But there were almost 50 middle school students on that bus, called the Buffalo, as it headed to Buddy Taylor Middle School. And their bus driver, Maria Rosa Martinez, 65, was injured, unable to rise from her seat. There was the inevitable brief lag between the time of the crash and the arrival of sheriff's deputies and paramedics. And most students did not know what to do.
Tyler Irigoyen did.
The 13-year-old boy was sitting toward the center of the bus. Moments after the crash, he went to work, putting drills he'd gone through—as had all bus-riding students—into practice, checking on the driver, directing the other students to the proper exit and across the road, and keeping his composure throughout until first responders arrived. For those moments, he was the scene's lone first responder.
At 12:50 this afternoon, at the Buddy Taylor Middle School cafeteria, the school district will recognize Irigoyen before his peers for his bravery that day, with Superintendent Jacob Oliva presenting him with a Shining Award, and speaking to the 100-odd students that constitute Irigoyen's various classes.
---
Poise and courage in the midst of a crisis, before first responders arrive.
---
It'll be a balancing act: no act of courage can take precedence over the loss that compelled it. But such acts cannot go unmarked, either, as they speak of a resourcefulness and resilience in the midst of crisis that plays a crucial role in managing the crisis and preventing it from getting worse. First responders do that routinely. A middle school child is not expected to do it, or to do it as well as Irigoyen did that day.
"We just want to take a chance to thank him for his actions the day of that bus wreck we dealt with," Oliva said. "You never know how students are going to react and behave when they're facing crisis situations. We plan, we do drills, but when you get in the moment you never know how the situation is going to unfurl. When push came to shove he stepped up, took a leadership role and made sure all the students were OK, the bus driver was OK. He did everything he could to show his leadership skills and we wanted to take a moment to show him we appreciate it."
The presentation is taking place immediately after lunch. The district had thought of holding a spotlight for Irigoyen, before the school board at the beginning of a school board meeting. But Oliva thought the occasion should take place at Irigoyen's school, for a reason. It's always nice when you can recognize a student in front of their peers," the superintendent said. "When someone exhibits positive behavior that you want other students to emulate, it's good to reinforce those opportunities when you can. It's more personable for the student, especially to be in front of his peers.
Stephen Hinson, Buddy Taylor's principal, describes Irigoyen as "a happy kid," a typical young adolescent, outgoing, social, studious. But another thing stood out the day of the crash, when he returned to school: "He was acting like a normal kid, as if nothing really happened, he wasn't rattled at all," Hinson said. "He's going to be a special kid."
---
Audio: Tyler Irigoyen Describes His Actions on the School Bus[media id=387 width=300 height=200]
Hinton, too, likes the fact that the recognition takes place in front of other students, reinforcing a constant message. "It's good to let them see why we do drills in schools," the principal said. "If—God forbid something ever does happen—but if it does, they're trained."
Tyler himself spoke of his experience that Friday morning on Whiteview in an interview before and after a memorial for Elisa Marie, hosted at roadside by Irigoyen's mother, Shannon Guttierez, who will be at today's presentation. And who happened to be a close friend of Elisa Marie: Irigoyen knew her, too, but had no idea that's who was in the car that had just crashed with the bus.
"Once we hit the car, everyone didn't know what to do, they were just too worried and like, what happened, and they wanted to call the cops immediately, their moms and dads. So no one knew what to do," Irigoyen said. "So I reacted, and so first thing I did was went to go see if the bus driver was OK, because that was my first concern. And then I told someone to open the door but they were screaming and stuff and they didn't know what to do, so I went to go open it myself. I went off, got everyone off, made sure they were put to safety. I Went back on the bus, because the bus driver was still on." Maria Martinez, the driver, was aware, but hurt.
"I told her, let's get off the bus, I'll help you off," but she was worried about aggravating her hurt leg, and waited for the police to get there. She would later be taken to Florida Hospital Flagler, as were some 25 students, and was released later in the day.
Tyler checked to see if any students had left their backpacks on the bus, then went to check on Elisa Marie. "I was the only student who saw her," he said. He wanted to bust a window to help her, but when he saw her he also realized he couldn't do anything for her. "She was shaking, her head was tilted that way and she was seizuring," he said, so he waited for police to get there.
The Shining Award Irigoyen is receiving today states: "In honor of your courage to assist with the safety of others on January 9, 2015."
Hinson says at Buddy Taylor they often speak of the eagle, the school mascot, soaring. It's the image Irigoyen's actions made him think of. "He's going to be someone we're proud of," Hinson said, "and love the fact that he's done such a great act to help his peers, in a situation that could easily have goner astray. But he was very instrumental in making sure that it went as well as it did." He added: "He has a bright future ahead of him."