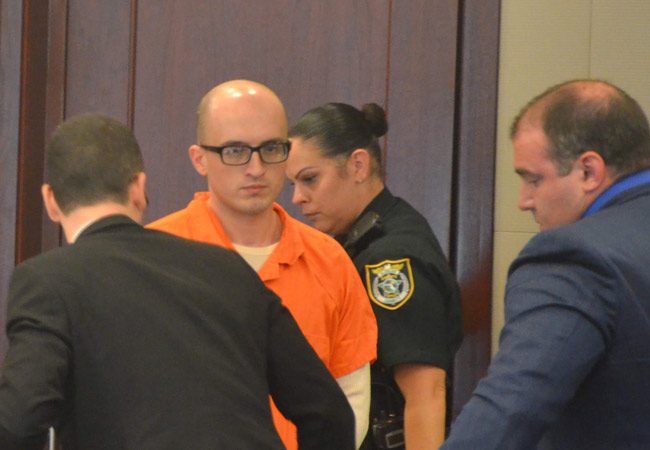 Vitaly Tsabak was sentenced to 20 years in prison and 10 years' drug-offender probation today for a burglary and arson in Palm Coast's F Section a year and a half ago.
The sentence is more than it seems, and a lot more lenient than Tsabak, a felon who'd been released from prison not long before the arson, could have gotten: he faced life in prison. He agreed to a deal that took that off the table.
He's already served a year and a half at the Flagler County jail, which is credited to his prison time. His parents weren't pleased with the sentence, but they should be: it is not only lenient relative to the life sentence Tsabak faced, but remarkably lenient for Craig, who is not known to go easy on repeat felons.
But Craig had just sat through a wrenching hearing as the victims had testified first followed by Tsabak's family, then Tsabak himself. Sentencing hearings that pair testimonies from both sides are usually raw with emotions—one side's regret, contrition, pleas for mercy and haloed descriptions of the defendant in terms diametrically opposed from his criminal acts contrasting with the victims' grief and sense of irreparable loss. One fortunate difference this time is that no one had died. Another was the voiceless accomplice undergirding so much of what Tsabak and his family spoke of: the drugs, the alcohol, his addiction, which they said created a man entirely different than the man he was.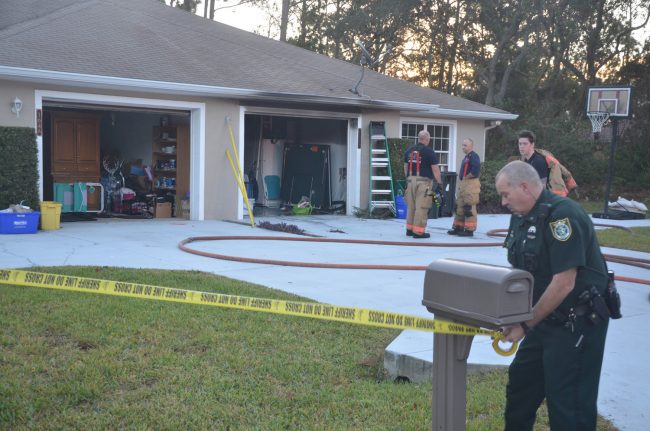 "My son is not a monster," his mother said before providing a brief biography of a model citizen—but for the drugs and the crimes they entailed.
Craig wasn't the only one perplexed but likely spoke for others in the courtroom when he said he couldn't understand it. He couldn't understand how a 29-year-old man like Vitaly Tsabak, a man with unusual intelligence, polished language, plenty of education, a close and unbroken family, and a developed awareness of himself and others, could be standing in front of him, in bright orange jail garb, hands and feet shackled, accepting responsibility for "horrible" acts, in Tsabak's words, and pleading not to be put away for more than 15 years.
The judge couldn't understand how Tsabak had not learned his lesson previously, when he was sentenced to three years in prison on 13 felonies, why it hadn't hit him then that he had to change his life, stop hurting victims, his family, himself, and how he could intentionally set fire to a family's home, demolishing it and its generations of memories, all likely just to cover his tracks, because he'd somehow cut himself during the burglary, bled a little inside, and was worried his DNA could be traced back to him: being a felon then, he was already in the system.
It was a duplex not far from his own parents' place, 164 B Fenimore Lane. He was hopped up on pills—Oxycontin, Xanax, something he called a "triple stack" (ecstasy). Plus alcohol. The duplex was home to Jessica Evans, her two young children and her 18-year-old sister Alayna Lynch, who'd just moved in to start a new life. But they were not spending the night there: it was the night after Thanksgiving, they'd gone to Evans's boyfriend's house ahead of Black Friday, though Evans's close friend Keri Stagner, was sleeping alone at 164 A, the duplex next door.
Other than that the house was close to his parents' place, it's not clear why Tsabak targeted it. He did so at dawn the morning of Nov. 26, 2016. He stole laptops, two flatscreen televisions, an iPad with a Flagler County Schools identifier, and a MacBook. He then set fire to the house at four separate spots, and drove off. Noise from next door woke up Stagner, who thought people were breaking into her house. She was terrified and eventually told by a 911 operator the structure was on fire, to get out.
Tsabak was discovered passed out at the wheel of his Dodge Dart in front of in front of 59 Columbia Lane, one door down from his parents' house. Quick and sharp police work by Flagler County Sheriff's deputies and detectives connected him to the fire, thanks to the blood he'd left on shards of glass and surveillance video from a nearby house that showed a Dodge in the area of the duplex arrive at 4 a.m. and leave at 5:14—more than an hour, which also explained why Evans found what remained of her house plundered down to her children's dressers.
Less than four hours after the fire, Tsabak was booked at the Flagler County jail and charged with first-degree arson, one of six charges, four of them felonies, two of them life felonies, because of his past as a felon.
"Sometimes I have to shake my head because quite frankly this is one of the most senseless ones I've ever seen, and it's senseless for numerous reasons, numerous reasons," Judge Craig said this afternoon, moments before sentencing Tsabak.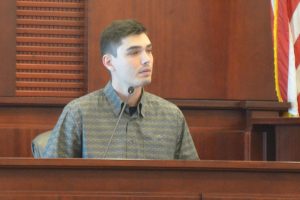 By then his parents, his little brother and his fiancée had all spoken and pleaded with the judge for mercy–his parents through a Ukrainian interpreter, his brother Ivan speaking an English more articulate than that of most Americans even though Ukrainian remains his mother tongue.
But Evans too had spoken with poignant eloquence of the anguish and demolition she lived through down to lost family heirlooms and children's artwork the fire had consumed and burned so hot that hangers in her daughter's room had molten over clothes. And that was before the year-and-a-half "nightmare" she endured with the insurance company and the realization as with Stagner, that the sense of vulnerability and fear doesn't go away. She had not brought her children to court, likely for the same reason that she hadn't wanted them exposed to the devastations of their home after the fire. "I'm still learning to get my feet under me and where this is going to take us," Evans told the court through tears. They've moved back into the rebuilt house, but every sound bothers her and her children. "Our life is changed forever," she said.
For all that she like her sister and her friend also struggled on the stand between genuine compassion for Tsabak's family ("my heart breaks for his choices that affected us and it hurts for his family," Evans said) and their wanting Tsabak imprisoned a very long time.
That too is what had left Craig shaking his head: how a man like Tsabak could put so many people in the situation they faced.
If sentencing hearings bring out the best in many people, their sincerity desperate and laid bare with nothing to lose anymore, they at times bring out the best in a judge, too. Today was one of those times for Craig—on the next-to-last day on Flagler's criminal bench: he transfers to Volusia County after Memorial Day.
"First, I hear from the victims today, I hear from Ms. Evans, Ms. Lynch, Ms. Stegner," Craig told Tsabak after asking him to walk up to the podium for the sentence. "I have three young women and several children that have lost their sense of security, lost their sense of well-being and I'm not, quite frankly, I'm not sure why, why, why they now have to go through life having that loss, and that's not even to mention the hassle of not having a home for a long period of time, losing keepsakes that you can't get back. It's just senseless, because I don't know what for. And you know, the burglary is one thing. When you're a victim of burglary you lose a sense of well-being." What compounds it in this case is arson, Craig said. "And what for? It was just senseless. Then, I see that you're an intelligent man. I mean, it's hard to understand how somebody who just sat here and spoke the way you spoke can do the things that you did. It's almost beyond comprehension. I don't see guys with your intelligence in the position that you're in. To me that is part of why this is senselessness."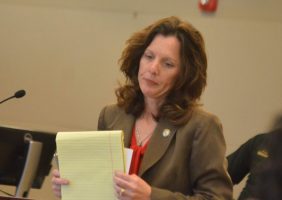 Substance abuse is an issue, Craig said (he sits on Flagler County's Drug Court weekly and has heard all the stories in all their permutations). But arson? "I'm not so sure that it isn't your intelligence that drove you to set the fire after you committed the burglary, because you left evidence behind," Craig told Tsabak. "If you were like all the other guys I see, maybe you wouldn't have done it. I don't know. Maybe you wouldn't have thought it."
"What else does't make sense either is," the judge continued, "I see your mother, your father, your brother, your fiancée, for all intents and purposes are very good people. I mean, how an intelligent man with a support system like that ends up where you ended up, it just makes no sense. The one thing that I do know is that when it comes to the substance abuse issue, yeah, certainly that's a problem, we have a problem with society, but not everybody that's captured with substance abuse creates so much devastation in their wake."
Conceding that drugs could be a contributing factor, Craig said that it is nevertheless "not an excuse, and there's only one person responsible for the devastation you left in your wake. That is you. Now, what you do in prison is going to be up to you, too. I've heard from inmates that effectively you get more access to drugs in prison than you do in the jail." Tsabak had spoken of the easy access to drugs at the Flagler County jail—which he said he'd resisted. "My suggestion is you let them know how it's available at the jail, that will help the powers that be." He was referring to the Flagler jail. He then urged Tsabak to make good on his claims of being a changed man by showing it in prison—not only resisting drugs, but to "use your intelligence to make yourself useful not just to yourself but maybe to other inmates."
Craig then imposed sentence.
Assistant State Attorney Melissa Clark, who'd prosecuted this portion of the case, had asked for at least 25 years on the additional first-degree felony charge Tsabak had pleaded to, making a point of his previous prison stint: why hadn't he learned his lesson then, she asked.
Aaron Delgado, his attorney, had asked for 15. Tsabak will also be required to pay Evans $1,000 in restitution (the deductible on Evans's home insurance) and to pay the insurer $419,129.20. Those are not suggestions but court-ordered repayments and burdens that, upon release, can amount to a different kind of sentence and be the difference between an inmate managing reintegration—or not.