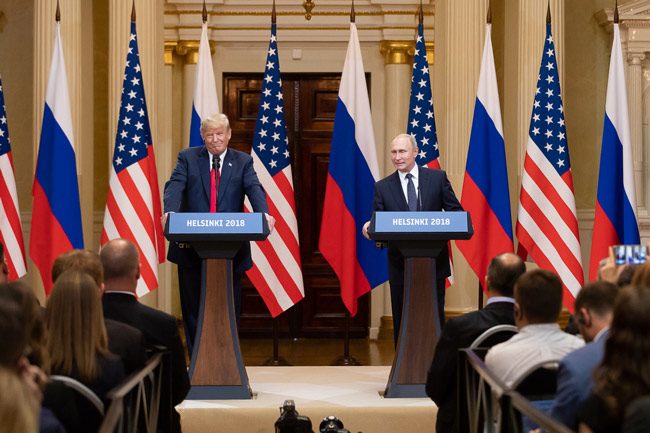 Surely you remember during the 2016 election season the television commercial showing children in the glow of television screens as Donald Trump mouthed his threats, his love of violence, his racism, his obscenities, and that line, as prescient as it was frightening, because it bespoke the certainty of the Cult of Trump in the making: "I could stand in the middle of Fifth Avenue and shoot  somebody and I wouldn't lose any voters, OK? It's like, incredible."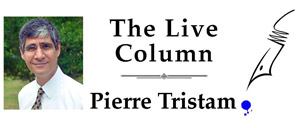 He was right. He's always been right. Right in the sense that he changed the rules of right and wrong, truth and lies, morality and immorality. He had always done what he pleased down to reinventing English syntax with as much indifference as he reinvented the rules of legally permissible assaults, whether his victims were black tenants, contractors or women he felt entitled to grab whenever and wherever he pleased. Now he'd get a whole nation to submit,  standing in the middle of Pennsylvania Avenue.
If he could change all those rules, he could just as easily change what it means to be an American. Not just regarding who is permissibly American, a privilege increasingly suspicious or demeaning of anything not white, but regarding who our enemies ought to be and ought not to be. Suddenly Canada, Mexico, France, Germany, Britain, NATO and America's own intelligence community are all worthy of contempt. But Russia. Russia. Now there's a nation as heroic in this American president's eyes as in Pushkin's. And the same Americans who spent three generations calling Russia every name in the geopolitical book are groveling along with their president at the foot of Vladimir Putin.
There's bound to be a boomlet in doctoral dissertations about the behavior of the Trump supporter, that admirable capacity not only to believe the president's torrential lies–he's up to 3,001 lies and misleading statements as of the end of May–but to abandon the sort of loyalties Americans took for granted going back to the days of King George.
You might remember that after President Obama was re-elected, Republicans were ready to lynch him for suggesting that he would have more "flexibility" in dealing with Putin. Now comes Trump bending over for Putin before a worldwide audience almost as large as that of the World Cup final from Moscow, and the Senate Majority Leader and the House Speaker, sons and lovers of Ronald Reagan, line up to absolve him just as they would if he did shoot someone on Pennsylvania Avenue. We don't really need to know if the supposed dossier that alleges Trump reveled in Russian whores' golden shower is true or not: Putin performed the deed live on television. And Trump's supporters handed him a towel.
Let's not pretend that what Putin has been doing with American elections is any different than what the United States has been doing to other nations for generations. Whether it's Eisenhower in Iran, Kennedy in Cuba and Vietnam, Lyndon Johnson in Brazil, Nixon in Chile, Ford in East Timor, Reagan all over Central America, or every president since all over the Middle East and South Asia, interfering with other countries' regimes by coups, assassinations or invasions has been an American habit that surpasses anything the Russians have managed outside the old sphere of the Iron Curtain, at least until recently. But let's not diminish the Russian assault either in the name of one more absolving equivalency.  There's a difference between being a ruthless superpower and abetting the enemy.
President Trump wasn't treasonous in Helsinki. He was a patsy, a doormat, a boob. You can respect a traitor, at least for his guile. It's hard to respect a toady. Putin personally took charge of the campaign to help get Trump elected in 2016 while undermining the country's democratic process. That's the intelligence community's finding. He hasn't stopped directing his character assassins to continue the campaign against the United States. "These actions are persistent, they are pervasive and they are meant to undermine America's democracy," Dan Coats, the director of national intelligence and Trump's appointee, said last Friday. That weasle-proof verdict is what the president has been finding 3001 ways to evade while lathering up to Putin.
But even if for sensationalism's sake you wished to blame him for treason, it's meaningless, irrelevant. He's changed the rules about that, too, since he long ago fractured the meaning of American identity and purpose. Just say Clinton email server and everything gets back on track. Anyone who disagrees can be branded with a disease of the president's own invention: Trump Derangement Syndrome. Kind of like the way your own body's cells turn on you, growing a cancer.
"Our children are watching," that 2016 commercial about Trump had said. "What example will we set for them?"  The answer from Trump, that child abductor, has been a  resounding who cares. It worked for him then. There's no reason to think it'll stop working for him now, or for the next six years. Nietzsche killed God. But Trump did him one better. He killed truth.

Pierre Tristam is FlaglerLive's editor. Reach him by email here or follow him @PierreTristam. A version of this piece aired on WNZF.