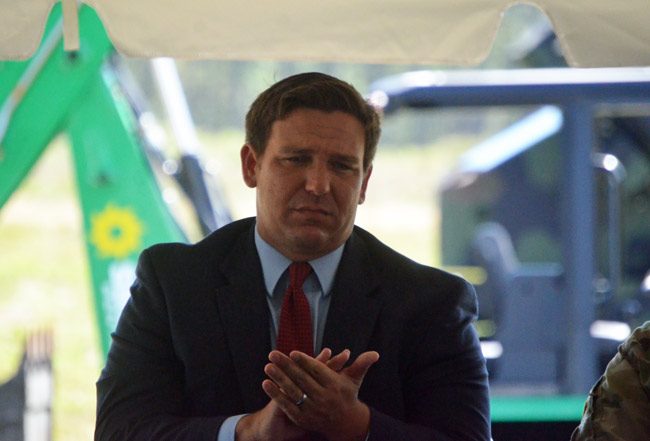 U.S. Rep. Ron DeSantis, a Palm Coast Republican who continues to mull a bid for governor, drew Twitter praise Friday from President Donald Trump, who flew to Palm Beach for the Christmas holiday.
"Congressman Ron DeSantis is a brilliant young leader, Yale and then Harvard Law, who would make a GREAT Governor of Florida. He loves our Country and is a true FIGHTER!," Trump tweeted.
DeSantis' campaign team called the president's tweet an endorsement.
"I'm grateful to have the President's support and appreciate what he has done — from appointing great judges to recognizing Jerusalem as Israel's capital to signing a pro-growth tax cut — to get our country back on track," DeSantis said in a prepared statement. "As an Iraq veteran, I'm especially appreciative of his efforts to support our military and our veterans."
DeSantis, who has a campaign account open with the Federal Elections Commission to run again for his U.S. House seat, hasn't opened an account to run for governor.
Brad Herold, of the Ponte Vedra Beach-based Ron DeSantis for Florida, said in an email Friday that the congressman will "make a decision when the time is right."
While DeSantis hasn't opened a campaign account for the governor's race, he has a state political committee, the Fund for Florida's Future, which started raising money in May and had about $2 million on hand as of Nov. 30.
The White House media pool reported that Trump's tweet Friday followed an appearance by DeSantis on Fox News, which was aired on Air Force One during the flight.
"Fox News, which played on cabin TVs, featured a segment with Rep. DeSantis toward the end of the flight," the report said.
DeSantis is among a handful of Republican lawmakers who have openly pushed to curtail Special Counsel Robert Mueller's investigation into alleged Trump campaign ties to Russia. This month, DeSantis accompanied Trump to Pensacola for a campaign rally supporting Republican Roy Moore's failed bid for the U.S. Senate in Alabama.
Democratic consultant Steve Schale, alluding to Moore's defeat on Dec. 12 to Democrat Doug Jones in the deep red state, riffed that Trump's support may not be all that valuable.
"Based on Trump recent success in picking candidates, this might be the kiss of death," Schale tweeted.
Matt Harringer, a campaign spokesman for Democrat Gwen Graham, called DeSantis "an extreme congressman who is leading the smear campaign against Special Counsel Robert Mueller and the Russia investigations."
Graham is part of the Democratic gubernatorial field that includes Miami Beach Mayor Philip Levine, Winter Park businessman Chris King and Tallahassee Mayor Andrew Gillum.
Among Republicans running to replace term-limited Gov. Rick Scott in 2018, Agriculture Commissioner Adam Putnam is the biggest name to have opened a campaign account.
Putman began December with more than $2.5 million in his campaign account and had more $12.8 million on hand in his Florida Grown political committee.
Clearwater Republican Jack Latvala continued to have a campaign account open Friday, two days after announcing he will resign from his Senate seat following investigations about alleged sexual harassment.
House Speaker Richard Corcoran, R-Land O' Lakes, is also widely expected to run for governor, though he has not opened a campaign account. Corcoran's Watchdog PAC had nearly $4.69 million on hand when December began.
–Jim Turner, News Service of Florida