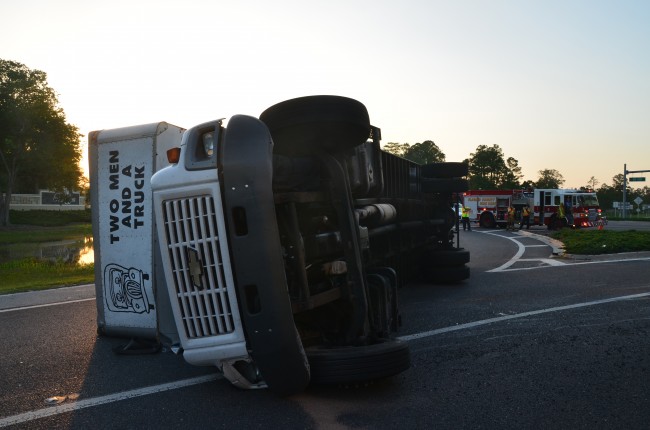 Last Updated: 9:18 p.m.
A 30-foot moving truck owned by the "Two Men and a Truck" company overturned and slammed on its side, blocking the on-ramp to I-95 southbound at State Road 100 in Palm Coast.
The wreck took place at 6:33 p.m. Southbound access to I-95 was blocked until 9:15 p.m., as a wrecker was having trouble righting the moving truck.
Richarde Anderson of Holly Hill, 32, was at the wheel of the truck. He was not injured, and was walking around at the scene of the wreck. "I just came around the curve and it just went over," Anderson said. "I guess it was too heavy."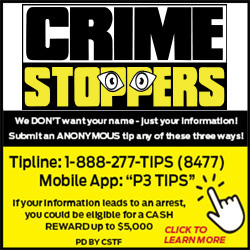 He was not the only person in the truck, we later learned. Luis Jimenez of Daytona Beach was in the passenger seat, and was "banged up an cut up bad," according to his mother, Maria Soto, and taken to Florida Hospital Flagler.
"I would like to thank the first people on the scene who help my son. Some things he can not remember and some he does," Soto said. "He remembers a Doctor and other great citizens ripping off the shirts on there back to wrap his head and arm that were bleeding out. I just want to say thank you and God bless you all."
The truck was traveling west on 100, making a sharp left turn onto the ramp.
According to a Florida Highway Patrol investigator at the scene, some witnesses said they saw the truck accelerate slightly as the light was changing, to make it before it turned red. But the investigator said speed is not likely to be the issue.
"The load shifted when he tried to get on the ramp here, which toppled it over," the investigator said. Anderson is to be cited for reckless driving.
Flagler County Fire Rescue, the Palm Coast Fire Department and the sheriff's office responded, along with the Palm Coast Fire Police, which provided traffic control, diverting southbound traffic bound for I-95 onto Old Kings Road south, to the Old Dixie exit.
Roger's Towing was attempting th right the moving truck. By 7:45 p.m. it had wrapped the tail end of the truck, but when it began moving it, the bottom side of the truck appeared to give way under the weight of the furniture inside.
At 8:16, a forklift was brought in, its forks inserted at the bottom of the truck's side, along with additional equipment to facilitate the righting maneuver.
At 8:32 p.m., the truck was finally back on all its wheels. By 9:15 p.m., all lanes were open again.
---
Raw Video: Watch the Crew Righting the Truck