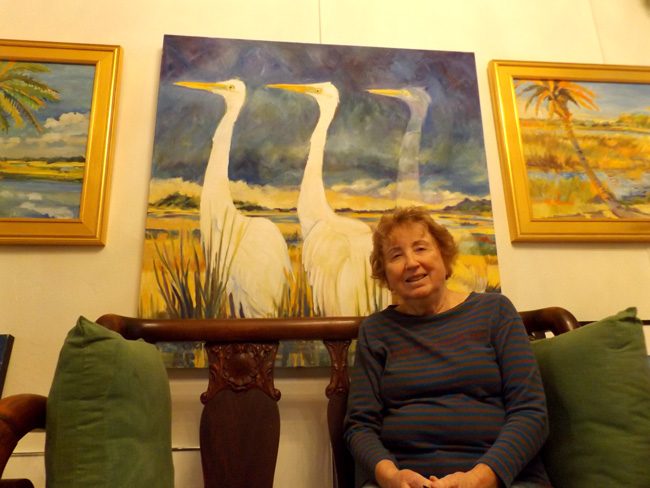 Between her junior and senior years at Grinnell College, Trish Vevera took three art classes at the renowned Art Institute of Chicago, home to Picasso's "The Old Guitarist," Edward Hopper's "Nighthawks," Grant Wood's "American Gothic" and iconic works by van Gogh, O'Keeffe, Dali, Katsushika Hokusai and many other masters.
"I took my little cardboard box with all my materials, my little watercolors, and every week the group would paint in a different part of Chicago," says Vevera, who is honored by the Gargiulo Art Foundation as its 2018 Flagler County Artist of the Year.
"We went to the slums of Chicago," Vevera says in the Plantation Bay home she shares in Ormond Beach with her husband, Mel. "One day I went into the boiler room of the Lincoln Park Zoo because it was raining out. We went all over and nobody was afraid of anybody or any place or anything. I did a lot of painting outside."
But it wasn't the cinema verité of Chicago's streets, which she witnessed at pavement level and while riding the Douglas Park el – the elevated train – as part of the Windy City's famous Loop, that would most impact the aesthetic eye of the burgeoning artist. And it wasn't the masterpieces of art history or such other Art Institute works by Chagall, de Kooning, Francis Bacon, El Greco or Jackson Pollock.
Rather, it was the museum's "wonderful collection of Impressionist art," Vevera says. "Even though I paint other stuff, the Impressionists — it always goes back to that."
The Art Institute's stunning Impressionist collection features "Oh that painting" classics by Monet, Degas, Renoir, Manet and many others, including a Vevera favorite, "A Sunday on La Grande Jatte" by Georges Seurat.
And for Vevera, as attendees of her Artist of the Year receptions Feb. 3 at the Gallery of Local Art (GOLA) in Flagler Beach and Feb. 9 at the Flagler County Art League in Palm Coast (details below) will see, her art always goes back to another love that runs tangent to her fondness for Impressionism.
Growing up 20 miles west of Chicago, Vevera didn't spend her younger years painting only slums and zoo boiler rooms.
"I was a Girl Scout even in high school, and every summer the Girl Scouts would go on camping trips," she says. "My family also went on camping trips to Indiana Dunes State Park," on the shore of Lake Michigan, "and we'd hike around as kids. I would take the train from Chicago to Indiana Dunes and spend the weekend with my grandmother, and I'd paint there, too. Even though I painted other stuff, I always preferred nature. It's inside of you, I think."
After earning her liberal arts degree from Grinnell, a master's in art education from the University of Iowa and a master's in secondary education from the University of Illinois, Vevera painted, taught art and worked 20 years in the postal service before she and her husband retired and moved to Ormond Beach in 2001.
She quickly realized she had traded the Loop of Carl Sandburg's hog butchering, tool making, stormy, husky, brawling City of the Big Shoulders for a far more bucolic loop: the 34-mile, serpentine Ormond Scenic Loop and Trail, which writhes through the swamps and wetlands and coastal dunes between Granada Boulevard and the Flagler County line.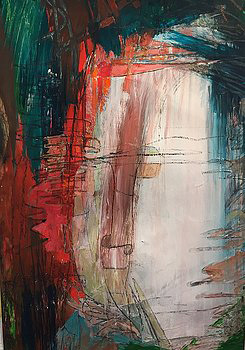 "It was like 'Wow' in one respect," Vevera says of the move. "In Illinois I painted outside, but when I moved to Florida, suddenly I became a plein air artist." Indeed, "plein air" is French for "in the open air" or "outdoors" – that is, painting outside as opposed to an indoor studio.
"I painted the Loop," Vevera says. "I would go every Friday no matter what. You can't just paint all day because the sun's over here in the morning, and the sun's over there in the afternoon. You have to go back at the same time, same place, same weather. If you're going to paint in the morning, you paint in the morning. When noon comes, you're done – officially. But I was more true to the plein air tradition at that time."
These days Vevera paints in her home studio as well as plein air. Either way, her art reveals her fondness for Impressionism, in which painters seek not to create a realistic depiction but an "impression" of how the world appears to them–which in some eyes goes back to the same thing: nothing is real, realism is itself an assumption, a conceit, and all is impression.
But her art also flutters around Expressionism, a style removed even further from realism in which, the textbooks say, artists seek to express the subjective emotions and responses that objects and events arouse within themselves – think van Gogh's "The Starry Night" or the people and horses of the mature Jack B. Yeats. Push the evolution further and you're into the abstract expressionism that's been the specialty of JJ Graham's school in Palm Coast and Bunnell's Salvo Art House.
Some years ago Vevera herself ventured, for a time, into the totally abstract world — the colors and shapes and geometrics — of abstract expressionism.
While Vevera's work is most closely allied to Impressionism, each of these three currents dance in her artistic style, which she herself terms "abstracted reality."
"I need nature," Vevera says. "But I need to translate nature, to abstract the essentials, I guess I would say — to extract the color out of it, or the shape out of it. I still consider myself a plein air artist. That's my starting point, but I go past that, I think."
"Trish's work ranges from more realistic plein air painting to non-objective abstract work," says Tom Gargiulo, who runs the Gargiulo Art Foundation with his partner Arlene Volpe. (Together they are among the most generous and influential nurturers of Flagler County's art scene.) "Her representational (realistic) work has that very contemporary abstraction to it, too. She's not held down by what she sees. She goes beyond it."
Vevera's "Drive Along the Loop" is a classic Impressionist work, a palm tree-laden, Florida nature-scape that would convince anyone north of the Mason-Dixon Line that the Sunshine State, even with its swamps, must be a balmy, Edenic paradise.
"And a River Runs Through It," with its array of rainbow colors – but very little blue — is a far more Expressionist, if not Surrealist, landscape.
Speaking of Surrealism, one of Vevera's latest works, a pastoral scene of goats – yes, goats – employs a trick akin to what Dali pulled off with his "Swans Reflecting Elephants": Those clouds in Vevera's work are actually the images of the goats painted upside-down in the sky.
"Let There Be Light," a 2017 acrylic/mixed media work on canvas, finds Vevera moving further afield from plein air Impressionism: Its flock of seagulls swirling and circling amid a cresting wave was inspired, Vevera says, by Dutch graphic artist M.C. Escher and his creatures that metamorphose into infinity.
"Out of the Shadows" is a counterweight to the postcard image of Vevera's beatific "Loop": With its depiction of palmettos in muted greens, blue-greens and ochres in front of a gray pond and gray skies, it recalls the lesson of Charles Burchfield, the great 20th-century American landscape painter whose scenes of Western New York were just as likely to feature stormy skies and wind-whipped flora. That lesson: Nature is not always beatific or sunny.
That lesson plays out even more strikingly in a series of paintings Vevera did a year ago when she revisited her abstract phase.
"I had these rolled-up abstracts and said, 'What can I do with these?' " she recalls. "So I made up little poems, haiku stuff, on three-by-five cards and stuck them next to sections (of the abstracts)."
Those writings and the "abstracted" portions of the abstracts became new, 11×17-inch paintings.
"Abstract expressionism, per se, is not there, but it's an underlying current," Vevera says. "For me it goes beyond."
"Hurricane Winds," one of those paintings, is an abstract-esque landscape, with its rising wave of blue an ominous tsunami, while lighter slashes of blue look like scalpels and the work's many triangle and trapezoid shapes summon subconscious images of glass shards and razor blades.
"Night Thinking" succeeds in being that rarest of landscapes: a work that captures both the true physicality as well as the mystical aura of a night scene, in this case a moon rising amid palms cloaked in deep twilight.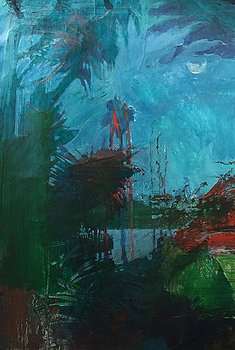 Another of these works, "Ocean Waves," echoes the misty water-scapes of J.M.W. Turner, the early 19th-century English Romantic watercolorist.
"The Visual Artist" was spawned after Vevera wrote "If eye cannot see, I cannot be" and tacked that notecard on one of her abstract canvases. The resulting Surrealist self-portrait so connected with area artist Peter Cerreta, who was named the Gargiulo Art Foundation's inaugural Flagler County Artist of the Year in 2000, that he acquired it for his own collection.
Gargiulo notes that, as in past years, the foundation's Artist of the Year award recognizes more than just artistic ability – being active in the local arts community and working to benefit other artists also factor into the selection process.
"Trish is a very active professional artist," Gargiulo says. "She exhibits in many shows in Volusia, Flagler and St. Johns counties in addition to exhibiting elsewhere. She's well-known. She has a lot of energy. Seeing her as Artist of the Year is going to make artists in other counties aware of the arts we have in Flagler County, such as the Flagler County Art League and GOLA (Gallery of Local Art). She collects other artists' works. She's supportive of them."
Vevera's upcoming arts events, detailed below, testify to Gargiulo's assessment. Meanwhile, she has no plans to slow down her creative pursuits.
"I hate when people say 'Oh, there's nothing here to paint,' " Vevera says. "I'm like. 'Oh my God, are you kidding me?' One thing about plein air: You pick a spot. You look here, you look there. I can show you where I stood in one spot and I did six paintings. You just do different views."
–Rick de Yampert for FlaglerLive

Here's a list of Trish Vevera's upcoming events:
* "Fresh Works 1: Color" exhibition by the Florida Women's Art Association at the Casements, 25 Riverside Drive, Ormond Beach. Opening reception 5-7 p.m. Friday Feb. 1. Vevera will be in attendance from 5-6 p.m. Information: 386-676-3216.
* Vevera will be at GOLA (Gallery of Local Art), 208 S. Central Ave, Flagler Beach, from 6:30-8 p.m. Friday Feb. 1 as part of First Friday. Information: 386-439-6659.
* Gargiulo Art Foundation Artist of the Year exhibit and opening reception, 1-3 p.m. Sunday Feb. 3, GOLA (Gallery of Local Art), 208 S. Central Ave., Flagler Beach. Vevera will give an artist talk at 2 p.m. Information: 386-439-6659.
* Vevera will be part of the Volusia County segment of the Off the Beaten Path Florida Arts Tour from 10 a.m.-5 p.m. Feb. 9-10. It's a free, self-guided tour featuring 32 artists and 21 home studios. Information and a map are available online at floridaartstour.com.
* Gargiulo Art Foundation Artist of the Year exhibit and opening reception, 6-8:30 p.m. Saturday Feb. 9, Flagler County Art League, 160 Cypress Point Parkway, Suite A208, Palm Coast. Free admission. Information: 386-986-4668.