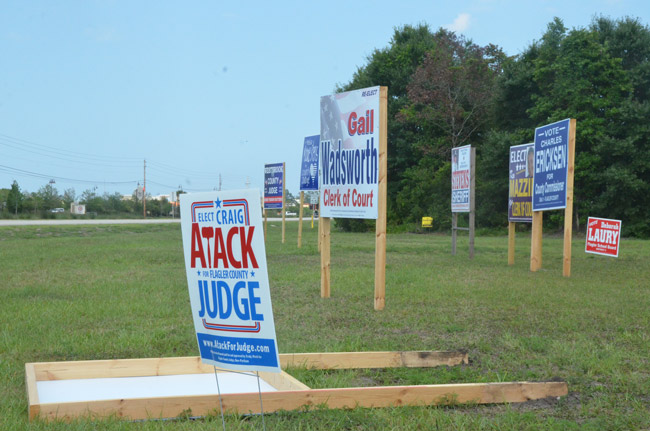 Steven Paskewich is a 65-year-old resident of Rocking Lane in Palm Coast. He works out at Thriv, the fitness center  Fitness on Commerce Boulevard. That may be relevant, considering what a Flagler County Sheriff's deputy saw Paskewich doing Tuesday evening.
It was about 8:30 p.m. Paskewich was in shorts, shirtless, when, according to a police report, he took out a can of black spray paint and smeared the word "asshole" on a campaign sign in the small forest of signs at the intersection of State Road 100 and Belle Terre Parkway. Then he got in his car, drove down to SR100 and Seminole Woods Parkway, and did the same thing to a sign there.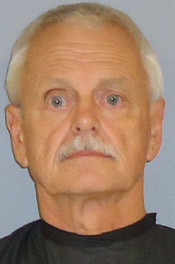 Both signs belonged to Trey Corbett, one of four Republican candidates vying to challenge incumbent Supervisor of Elections Kimberle Weeks.
Corbett doesn't exactly know Paskewich. He recalls seeing him three times at Thriv, where Corbett works out. He has not had conversations with the man. He has no idea why the man did what he did. But Corbett relayed what a deputy told him after asking Paskewich about the spraying. "He said yeah, he works out at the same gym that you do and he said that you're an ass because you cut him off a couple of times at the weight machine," Corbett said, quoting the deputy.
"I never use the weight machine by the way because at home I use a $2,800 Bowflex," said Corbett, who prides himself on being fit ("I'm a workout machine, I'm 45 years old, I guarantee I'm in the best shape of anybody running").  He uses other fitness equipment at the gym that he doesn't have at home. "So either this man is very unstable for some reason and is projecting a lot of anger at me," Corbett said, "or he knows some other candidate" and he's directing his anger at Corbett.
Paskewich did not return a call and a message left at his home. Weeks said she did not know Paskewich, and that he is not a registered voter in Flagler County.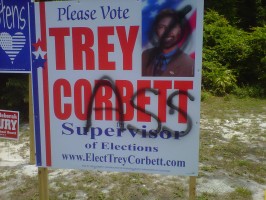 Corbett said a third sign was defaced similarly near Old Kings Elementary, and was immediately removed to prevent children from seeing it. The two other signs were felled in place face down until they were to be replaced. The signs are valued at about $60 each, though that includes the wooden frame, which was not damaged.
When Paskewich was pulled over by a deputy along SR100, he was arrested for criminal mischief. A Smith and Wesson firearm was found in his vehicle, along with 18 live .38-caliber rounds. Paskewich refused to provide a written statement on the incident, though he spoke to a deputy. His SUV was towed by Roger's Towing.
Signs are frequently vandalized at election time. They're usually torn down, stolen, or thrown in the bushes. While candidates and their supporters will make allegations about who's messing with their signs, culprits are rarely fingered, because they have to be seen in the act. In this case, Sheriff's detective Brian Finn saw Paskewich spray-painting the signs along SR100—one of the busiest locations in the city.
Last August, a similar-sized campaign sign for then-Palm Coast City Council member Holsey Moorman was defaced with a coat of brown paint applied to most of the sign's surface. No culprit was found.
"Nearly every election, regardless of whether it's state or local, we receive complaints of political signs being vandalized," said Flagler County Sheriff Don Fleming, whose own sign stood near Corbett's, unmolested. "We will continue to be vigilant in protecting these signs."
Beyond what Paskewich told deputies, Corbett was still curious why the man would go to such lengths to literally smear his face (though Corbett, who'd been contacted by numerous news organization, clearly was not unhappy about the publicity). "People should operate in the arena of ideas than vandalism," he said.