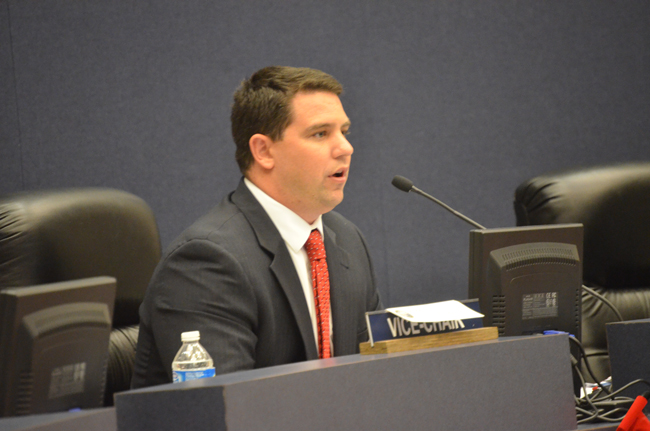 Rep. Travis Hutson, whose district includes all of Flagler County, is calling for the abolition of all red-light cameras. Absent that, he says he will support a proposal before the Legislature that would slash red-light camera fines from $158 to $83, to eliminate the cash incentive ticketing currently represents for cities like Palm Coast.
"First and foremost, I am in complete opposition to the use of red light cameras in Florida," Hutson said.
Hutson, a first-term representative, issued a lengthy statement on the matter late Friday, attributing his decision to the "continued concern" that red-light cameras have represented in communities like Palm Coast, "and with the recent spotlight put on the issue locally by Judge Dennis Craig."
On Thursday, Flagler County Circuit Court Judge Dennis Craig appeared before a Palm Coast hearing officer to challenge a red-light camera ticket citing Craig for a violation in September. Craig was in court that morning. But the violation was signed by a Palm Coast code enforcement officer, stating clearly that Craig was the violator, even though the officer conceded at the hearing that he had "no idea" who was at the wheel of the car that was cited. Palm Coast and American Traffic Solutions, the Arizona-based company that runs Palm Coast's red-light camera system, routinely issue euch violations to car owners without knowing whether the accusation is accurate or not, leaving it to car owners to prove their innocence.
Craig, in a withering series of legal attacks on Palm Coast's methods, concluded that the city was acting "in bad faith," was misreading the law, and was turning vehicle owners into involuntary informants when the city erred in accusing owners of violating red lights. The city's hearing officer eventually dismissed the violation against Craig, but only by declaring that the vehicle had made a "prudent" turn on red, even though the vehicle had been going 16 miles per hour. Craig was not satisfied with the ruling, because the city refused to address the false accusation against him, as written in the citation, or any of the questions he raised.
The city's lawyer at the hearing said Palm Coast was merely following state law.
Craig, and now Hutson, disagreed. Hutson, in an attack on a local government unusually direct for a legislator, endorsed Craig's appearance at the hearing. "I applaud Judge Craig for providing a voice for the many citizens who have been unduly punished by this burdensome practice," Hutson said in his statement. "I will continue to support the repeal and the curtailment of red light cameras here in Tallahassee this session. To that end, I will work to move legislation that addresses the ambiguity between driver and owner that Judge Craig brought up and ensure that you do not have to pay a fine for another driver's mistake."
Hutson's declaration and Craig's case are only the latest in a series of rebukes of red-light cameras by prominent individuals and governments. Two weeks ago, St. Petersburg's city government voted to end its red-light camera contract. Thursday evening, Tampa's city government did the same, though Tampa officials may reverse curse if they're certain that the revenue from the cameras is not diverted to the city's general fund, but rather assigned to traffic and pedestrian safety exclusively.
Hutson cited the two red-light camera measures currently before the Legislature. One bill (HB4009) would repeal local authority to install red-light cameras altogether. But that bill has not moved forward, thanks in large part to the red-light camera lobby, which spends heavily in Tallahassee. Another proposal (HB7005) would reduce the red-light camera fines from $158 to $83 by eliminating the $75 portion that goes to local governments. That, in essence, would eliminate local governments' incentive or ability to have cameras, because they need that portion of the revenue not only to feed their general fund, but to pay the companies that run the systems for them.
ATS runs most of the systems in Florida. In Palm Coast, 47 cameras have been generating close to an annualized $3 million. Only $400,000 of that goes toward Palm Coast's general fund. The rest is shared by ATS and state government.
The measure that would cut fines to $83 would still give local governments the option to add a surcharge to fund existing cameras, "but it would have to be discussed at a public hearing and approved by majority vote of local officials," Hutson said. That measure will be heard in the Transportation and Economic Development Appropriations Subcommittee on Monday.
The Palm Coast City Council has consistently voted in favor of red-light cameras, with one exception (Jason DeLorenzo).
"In the meantime," Hutson's statement concludes, "if you would like to see them go away sooner, please let your local city and county officials who have put them up know that you want them down. If you would like to contact me regarding this issue or any other, please do not hesitate."

The Pal Coast City Council members' email addresses are listed here. Travis Hutson can be reached at 386/446-7644 and by email here.