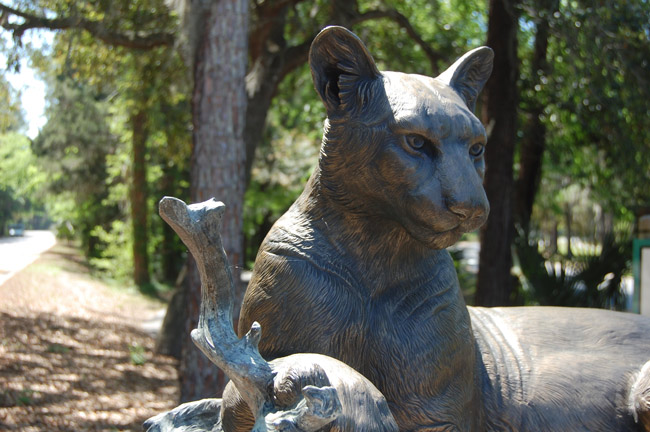 The Palm Coast City Council today signaled approval, with little discussion, of $30,000 in proposed grants to 11 non-profit cultural organizations that produce shows within the city limits. City Manager Jim Landon called it "kind of a housekeeping item, pretty standard."
It was anything but. The real news, unnoticed by the city council and unmentioned at this morning's workshop, was buried on page 254 of the arts grants' 378-page document, a laborious reproduction of all 11 organizations' budgets, applications, non-profit paperwork and, lost within it all, the planned uses for those grants.
For Tom Gargiulo, the CEO and president of the Gargiulo Art Foundation, the proposal is as simple as it is ambitious: to use the $3,000 grant from the city to market and build awareness for a planned sculpture garden around Town Center's Central Park, behind City Hall. It's not just words: Gargiulo's foundation is committing $100,000 to the project over the next four years. The foundation by itself plans to spend almost as much money on that project alone as the City of Palm Coast spends every year on all cultural arts grants combined. (The city has historically been stingy in that regard.)
Just to show how serious he is, Gargiulo is kicking off the effort by seeding it with $25,000 of his own–not from his foundation, but from his own pocket. Next he's going to look for 25 people to match his donation with $1,000 each to get to the halfway mark of the $100,000. "I'm hoping people are going to be excited by it and we get some support. I'm committed anyway," he said this evening.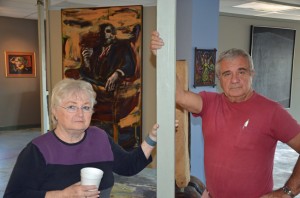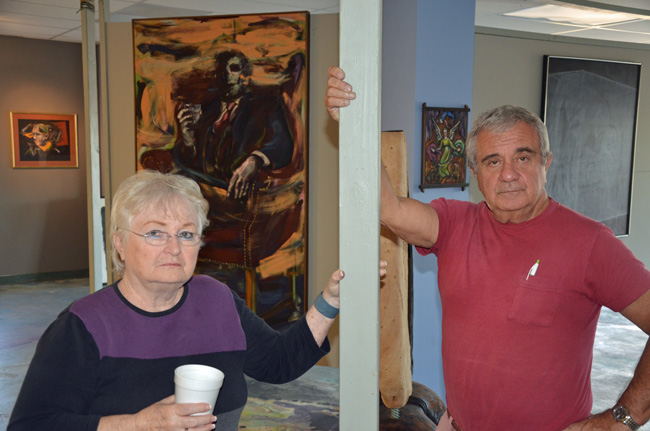 Gargiulo's commitments are not empty promises. Previous commitments' imprints are all over town. The Foundation is behind the annual Flagler County Artist of the Year award (the reigning artist is Judi Wormeck). The Foundation has sponsored dozens of major shows, most notably in recent years at Hollingsworth gallery, which became, most recently, Salvo Art House. It's been behind the annual Bike and Poetry Shows. Just as significantly, Gargiulo is behind the Art in Public Places movement responsible for 14 outdoor public sculptures in Palm Coast (so far), among them Paul Baliker's great Khan of a bronze panther at the eastern entrance of Palm Coast, off the Hammock Dunes Bridge, and the eight soaring stainless steel birds at Palm Coast's Waterfront Park, the work of sculptor Anthony Gargiulo, who is no relation to Tom.
In other words, Gargiulo is serious, and he says he can get things done the way larger, board-leaden organizations may not be able to do as swiftly.
"I just go out and do it," he said, crediting his long-time companion and partner in all things art, Arlene Volpe. "One of the reasons Arlene and I are able to do things is because we don't have a board, we just do it. We face opposition, I have thick skin. For example that panther at the eastern end of Linear Park, that took us over two and a half years to get that sculpture installed there. The city didn't want it there. The city wanted it in town center. At the time town center wasn't really secure. But we hung in there and we were able to get it installed where we want, and today no one understands where the problem was."
The big-name artist he's already secured is Harry Messersmith, who'd be commissioned for at least the first two works. "Then we'll probably in four years have at least half a dozen sculptures. We're going to use sculptures that will look good with the landscape and the lake behind it," Gargiulo said, though he anticipates some resistance as well because the work he envisions will not be absent of daring. (One sculpture he's proposing, "Peace," by artist Joan Baliker of Ormond Beach, currently on display in DeLand, seems beyond all controversy.)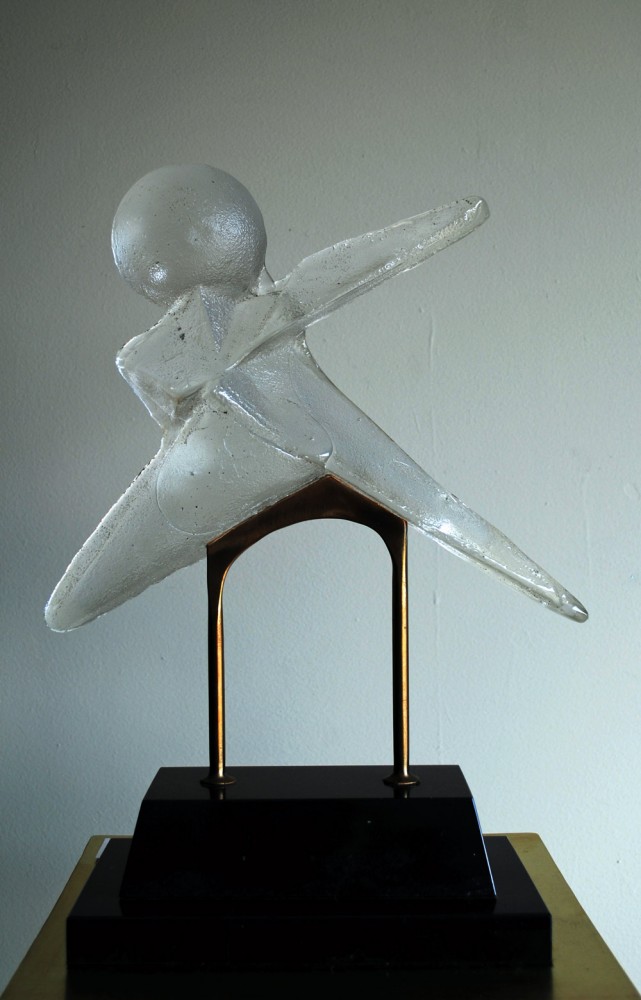 For several years, the Palm Coast Arts Foundation, now growing roots at its home in Town Center East of Epic Theaters, has been planning a sculpture garden there. And last August, Nancy Crouch, executive director of the foundation, submitted a plan to the Palm Coast Beautification Committee–the same panel where Gargiulo's projects have streamed through in the past–that closely mirrors Gargiulo's arts-in-public-places idea: she wants to promote the arts in the community and make Palm Coast an arts destination (words Gargiulo echoes, almost word for word, when he talks about making Town Center one such destination, stretching from the sculpture garden near City Hall to the arts foundation's venue.)
Crouch provided celebrated examples from Marseilles' "Les Voyageurs" to Robert Glenn's "Mustangs at Las Colinas" in Irving, Texas, before turning to "realistic large art" examples such as public art in Vancouver or the aquatic figures of Clearwater and the birds of Pensacola. (See Crouch's powerpoint here.)
The theme she is proposing for Palm Coast? Turtles.
The large sculptures would go up in several places around town or the county, in groups of five locations per round, financed through business, non-profit and individual donations, as the cost for each turtle would be "upward of $5,000," according to Crouch, with about $500 of that going to the artist.
The committee voted 4-0 to approve the concept and see it go forward.
For now, there's been little to no interaction on the two concepts between the two foundations, though the ideas seem to merge in concept and intentions. To Gargiulo, once the area of Central Park is filled up with sculptures, it'll be time to spill over and create a sort of art walk all the way to the arts foundation's grounds. "We want to work with everybody," he said.
Crouch could not be reached Tuesday evening, but Sam Perkovich, president of the Palm Coast Arts Foundation, called Gargiulo's plan "wonderful," and noted that while there'd been discussions of using a strip of land across the street from PCAF's grounds for a sculpture garden, "PCAF never went forward with any plans thinking it would be better to wait until we were a bigger presence on the site and there was more development in that section of town center."
Gargiulo intends to start seeking financial supporters for the project. "Of course to do this I have to forego some of the things we've been doing like art shows and things," he said. "Arlene and I have to do some sacrifices to be able to do this, and I'm hoping other people will do some sacrifices too." The display of sculptures could be a way for sponsors, whether businesses or individuals, to get permanent recognition through identifying plaques. "I think we're going to get the support because it's going to be good for Palm Coast."
Gargiulo isn't unaware of the big price tag, and the context of spending as lavishly on art in a community that has its struggles. "We have homeless people, we have children that are living in cars and are not being fed adequately and we're putting this money toward a sculpture garden, you know? We've been through this," he says. "But art to me is my main focus, I'm an art addict, I need it, I've got to have it, I've got to have it in front of me. We get a lot of good feedback from people that really appreciate the sculptures we have around the city."
As for the other 10 recipients of Palm Coast's art grants, which are around $3,000 each or a little less, the list of recipients is little changed from previous years and includes two additions: the Palm Coast Garden Club and the Flagler Performing Arts Academy. The council did not vote to approve the grants today but merely indicated that it would do so when it meets next week.
The full list and associated documents are available here.