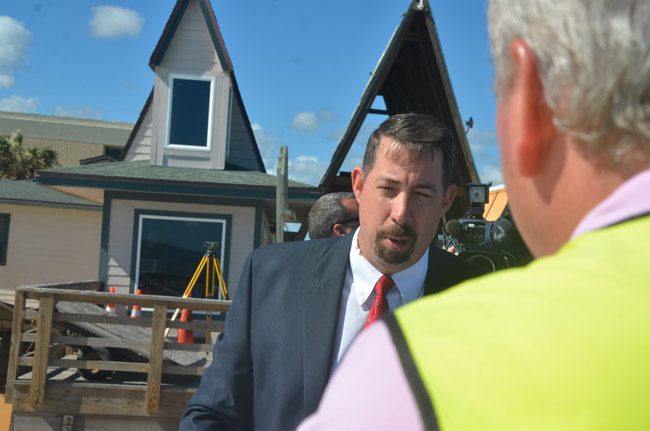 With an apology for rushing the process last week, many defensive comments from County Administrator Craig Coffey, and 75 minutes' worth of details from the tourism staff and its new vendor, Flagler County's administration this morning defended the switch to a new tourism website as part of a four-year, $284,000 contract.
The commission was slated to approve that contract last week but commissioners delayed it and asked for this morning's workshop because the proposal lacked detail, had not gone before the Tourist Development Council–the advisory board that oversees the county's tourism marketing budget–and was slipped into the commission's agenda with scant explanations or call for discussion.
The method mirrored the way the administration tried to slip through the use of Princess Place Preserve for an extreme-sport event three years ago, provoking a small revolt among commissioners, who eventually rejected the event from the preserve. Then as this morning, Tourism Director Matt Dun spoke of the stumble as a miscommunication.
Dunn apologized to commissioners this morning "for not providing you more information in the staff report" last Monday, he said. "That had to do with me and me trying to push this forward." The reason: the current website vendor's contract expires in September, and the tourism division is in a hurry to line up a replacement vendor so the tourism site is not running optimally through the period. As it is, the two vendors will overlap for several months, and both will get paid at the same time before the new, redesigned site is up early next year.
Ultimately the new vendor, Simpleview, will be charging the county almost as much money as the previous vendor: the difference is a matter of a few thousand dollars less in Simpleview's favor (or a few thousand dollars more, when search-engine-optimization costs are included), but the advantage, county and Simpleview officials say, is a website produced by a company entirely dedicated to "destination" type websites. Two of Simpleview's officials–Scott Stanislav, a senior director of account services, and Cara Frank, a marketing executive–Skyped in from the west coast to explain how their company can provide "always the most updated platform."
And for the first time since any of the discussions began, Amy Lukasik, the tourism division's marketing director, noted what would have seemed to be one of the more important reasons to switch–and a reason commissioners and the public would have understood instinctively: the new design will have a "mobile-first mentality," she said. In other words, the site will be designed from a mobile-use perspective (60 percent of users navigate the site on their phone). It will also make it much easier for tourism staff to update content.
"I have never been to a successful meeting that started out with the party having to defend itself against snide remarks and stuff like that," Commissioner Charlie Ericksen said. "We've taken the last 20, 30, 40 minutes defending ourselves to get to two intelligent people here on the screen, telling us what these new things are going to be. If you had started out and said, the contract is expiring, we have to go out to bid, that's what it starts with. And bring up the things that the new website is going to do for us to make us even more successful than we are today. We've got a great thing going. We're probably ahead of ourselves. That's why we need a new system."
And the new system will be "an extension of our advertising efforts," Lukasik said. "we are trying to be seen more on Google pages, and investing more in SEO will help us with that." SEO is the acronym for search-engine optimization: the county will pay $24,000 a year to optimize the website and a few articles a month. ( "Some people think they do SEO, but they do rudimentary SEO," Coffey, who always drafts platoons of straw men when on the defensive, said, providing evidence neither about "some people" nor about what he means by "rudimentary." Only last week he confessed his ignorance about SEO.)
With information of the sort provided by Lukasik, Dunn and the Simpleview officials, Commissioner O'Brien said the initial resistance was "maybe a misread on the communication upfront." He said he had no issues with the numbers once he dug into them. "There's really not that much of an increase in cost," he said. "We wasted a lot of time here because of a simple miscommunication issue maybe." He said the tourism division can also use commissioners better to their end: by ignoring Commissioner Greg Hansen, who chairs the Tourist Development Council, Dunn missed an opportunity to use Hansen as a "champion" once the issue came before the commission. ("Apparently I was there and I was not notified, I knew nothing about this deal," Hansen said of TDC meetings.)
Hansen derisively referred to criticism of the deal ("90 percent of the criticism we received on this is not worth discussing," he said) and pointed to a chart in a FlaglerLive article last week, outlining the $1-million costs of the county's various websites over the past 9 years, as "good news," saying it showed "how little it had cost us over 10 years."
The commission is expected to approve the new contract with Simpleview at its June 4 meeting.