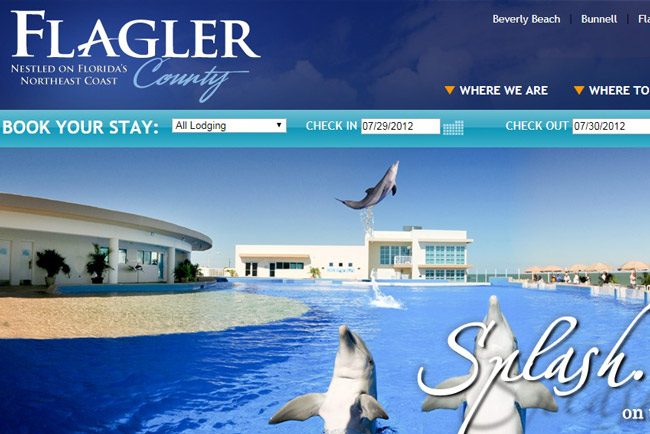 Any way you look at it, Flagler County government has been spending a lot of money on its websites.
Since 2010, county government spent just under $1 million between its three websites—county government's, economic development, and tourism. Tourism is by far the heaviest cost, accounting for 80 percent of the total.
Over the next four years, the three websites are projected to cost $327,600 between them, though that's a baseline: the tourism website's costs have been notoriously unpredictable, and more expensive than projections year after year.
The county administration is proposing to switch to a new vendor for its tourism website, the third since 2010. County Administrator Craig Coffey attempted to quietly slip the four-year, $284,000 contract through the county commission's meeting agenda last Monday, without discussion: the item, never vetted or approved by the Tourist Development Council, was slated on the "consent" portion of the agenda, which commissioners adopt wholesale without discussion, unless one of them pulls the item.
Commissioner Dave Sullivan did, and spoke in strong terms that reflected several commissioners' displeasure with Coffey and Matt Dunn, the tourism director, over the manner in which the $284,000 contract was placed before them, without prior discussion, and without so much as adequate background material even on Monday.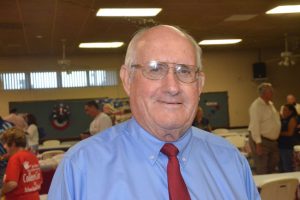 "What I would like is information from the staff on the cost of all the websites that the county supports so we can make some idea of what is the total cost, first of what it costs to establish the website, and then what it costs on a regular yearly basis," Sullivan said. "I just like to know how much money is going into website here out of the county budget, no matter which piece of it it is."
A FlaglerLive tally and analysis of those numbers provides a breakdown of the costs going back to 2010. (See the chart below.)
The costs have risen sharply over that span, peaking at $193,402 in 2016, and dropping only slightly since, to $175,000 the following year and $168,000 this year (assuming the cost includes $30,000 to be spent this year as part of the latest switch-over for the tourism website.)
The bills have all been paid with tax dollars. But the pots from which the bills were paid differ. The county's and economic development's website costs are paid out of the county's general fund, which draws the bulk of its revenue from local property taxes. The tourism website is paid for out of the tourism surtax charge on the sales tax, which has gone from 3 to 5 percent since 2010, and that is overwhelmingly, but not entirely, paid by visitors–and that remains public tax dollars even as local officials often strive to make it sound as if it were not tax revenue like any other.
Contrary to Coffey's claims, the county's switch to a different vendor last year for the county's website has not been less expensive than its predecessor, at least not according to what the county has actually been paying (as opposed to what it projects to pay in its budget). The county pays $6,400 a year to a company to run that website. The previous five years under a different company, costs had averaged $6,580, not counting the additional dollars it cost the county to switch over. That's not because the new company charged much to redesign the site: it didn't. But because the previous company kept getting paid for two years of overlap—just as will happen when the county switches over to a new tourism website.
Coffey defended the proposed contract for the new tourism website as he addressed unhappy commissioners, but also made a series of false or misleading statements.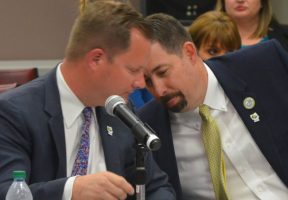 "First off, I know this number and people like to say oh that's a shocking number. It's really not $50,000-something a year for the website. It is actually $33,000 a year for the website," Coffey said. "There's some additional services on top of that that get you up to the bigger number, and those additional services are really specific to tourism and tourism activities."
Actually, it is, at a minimum, $56,000 in annual costs to run the website, according to the new company's proposal and a Dunn email on Thursday to tourism council members. The "cost for services" for the website is $32,000, but that's excluding a $24,000 annual cost for search-engine optimization, which is an integral part of those services, a disingenuous exclusion from the base total. Further, the cost excludes thousands of dollars expected to be spent on Google Adwords, because that's considered "a media buy," in Dunn's word—but is still an part of the contract, and of the website's running: excluding that cost is also disingenuous.
The design of the website will cost $46,475. That's not a recurring cost. But the $56,000 a year is.
"Also it's been mentioned that there was no competition for the current program we have, Just Program," Coffey said of the current tourism website contractor. "That is not correct. That is not correct. That company we use, Just Program LLC is also known as Soledav, and that's who we competitively bid that, we competitively brought it to the board, it didn't go to the TDC council."
Coffey is conflating the matter. He is correct about the initial contract with Soledav seven years ago. He is being misleading about the renewal of the contract in 2016, which went to the commission specifically as a request for a "single-source procurement," which by-passes the normal procurement process (county policy allows it) while still meaning that additional services would be purchased, but under the umbrella of Soledav. The county decided it was simpler and less disruptive to avoid bidding the contract.
Finally, Coffey in comments to county commissioners was flat wrong about his claim regarding Palm Coast's website designers.
"It's been said that Palm Coast paid zero for their website," Coffey said (obliquely referring to Monday's FlaglerLive article on the county's website plans. "But that's not true, because they have a whole team of staff that they pay, and there's probably over $100,000-something a year for their website between the professionals they hired to keep up their website."
No, that's not true: Palm Coast developed its website with one IT hand, Doug Akins, whose official duties don't include website creation, with help from Cindi Lane (the equivalent of the county's Julie Murphy) and a Lane associate. None were hired to "keep up their website." In fact, according to Lane, they had considered hiring a contractor, then opted to do it in-house.
None of Monday's discussion touched on the broader costs of county websites over the past several years.
With the focus on the tourism website, several commissioners wondered why, with the division's much-touted success in recent years, the need to switch. "If they're doing a super job with what they've got now, why is it we need something additional? I don't understand that, and that's some of the things that I think can come out in a workshop," Commissioner Charlie Ericksen said. (The county is not asking for anything additional, of course. Just a different vendor.)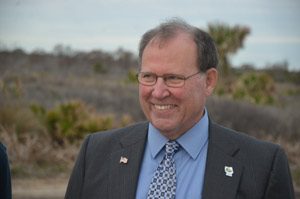 "What's being reflected here is that what was in our read-ahead for this was not adequate," Commission Chairman Greg Hansen said. "I had the same thing. I read it, and then I read it, then I read it again. There was nothing in the backup to explain. I share the frustration of my fellow commissioners. There wasn't enough there to feel comfortable about this, and I relayed that to Matt. I just didn't understand. So I think in the future when we normally have a procurement like this, there's 10-11 pages of back-up, and why this certain person was picked. That wasn't here. And I understand from Matt that maybe there isn't anymore to add. But then how did you make the pick?"
Coffey said the technicalities of a website should be left up to professionals, and called on Amy Lukasik, the long-time marketing director at the tourism bureau, to elaborate on the tourism site's different needs.
Those needs are vastly different from those of the county website or that of the economic development division. But commissioners were not so much educated about those needs as snowed under a mass of technical terms that, when parsed, don't at all explain the costs. Rather, they reflect how technical language—the intricacies of websites' back ends—can serve to perplex outsiders with incomprehensible language used to justify the high costs.
Reading from a list of services the new company will develop in the tourism website, Lukasik rattled off "some of the terminology and services that are included," including such things as "metatag management, redirect module, article modules, content ownership, RSS feeds, template generator, site search, hosting and sitewide SSL certificate, code editor for CSS, template and java script code overwrite capabilities," and so on.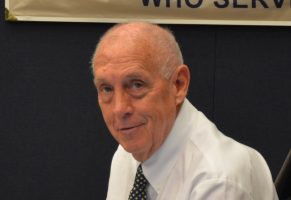 "Half those terms you said there don't mean a thing to me," Ericksen said.
Nor should they. Most of those elements are routine, one-time and relatively simple parts of most websites, like any organism's backbones, and few require much expertise, let alone thousands of dollars of set-up or recurring costs.
One of the most staggering costs of the new site is its $2,000 monthly, ongoing charge for "search-engine optimization," the technique that seeks to entice search engines to rank a website's pages authoritatively. More basic skill than science, website-design companies often prey on clients' ignorance of the technique to make it seem more expert than what it is, and therefore more expensive than it warrants—especially since, as Lukasik said, the tourism site beyond its standard pages will need SEO for barely three to four articles a month. But it appears even the tourism office's staff can be ensnared by vendors' exaggerated claims about SEO.
After Coffey and commissioners agreed to a workshop on the tourism website on May 29, the day after Memorial Day (at 9 a.m., as part of a budget workshop), Dunn and Coffey quickly went to work on Tourist Development Council and County Commission members, sending them marketing materials exclusively from the new company, along with its proposal, whose details are no less opaque than the list of services Lukasik outlined for commissioners. What the emails—or the workshop—do not include is independent analysis either from impartial web providers or other governments that could lend less subjective perspectives to commissioners preparing to sign onto the $284,000 contract, and the county's continuing $100,000-a-year bills in website costs.


Flagler County's Website Costs, 2010-2018
Year

CivicPlus
County Website

Revize
County Website

Sparxoo
Economic Dev. Website

Zgraph
Tourism Website

Solodev
Tourism Website

Simpleview
Tourism Website

Annual Totals

2010

$32,548

$16,165

$48,713

2011

$5,367.60

$8,973.75

$14,341.35

2012

$5,368.80

$5,566.25

$53,110.48

$64.045.53

2013

$5,920.80

$77,750

$83,670.80

2014

$9,716.84

$85,340

$95,056.84

2015

$6,527.68

$5,500

$128,500

$140,527.68

2016

$3,427.04

$6,400

$46,500

$137,075

$193,402.04

2017

$1,199.48

$6,400

$12,000

$155,828

$175,427.48

2018

$6,400*

$12,000

$119,934

$30,000

$168,334

2010-18


$70,336.24

$19,200

$76,000

$30,705

$757,537.48

$30,000

$983,518.72

Projected 2019-22

$25,600

$48,000

$254,000

$327,600
Click on each vendor's name to see the itemized breakdown of costs.
(*) The 2018 figure for the county's website is projected cost.
Note: In 2013 and 2014, Solodev's totals included some costs for the then-nascent economic development website.
Source: Flagler County Clerk of Court.