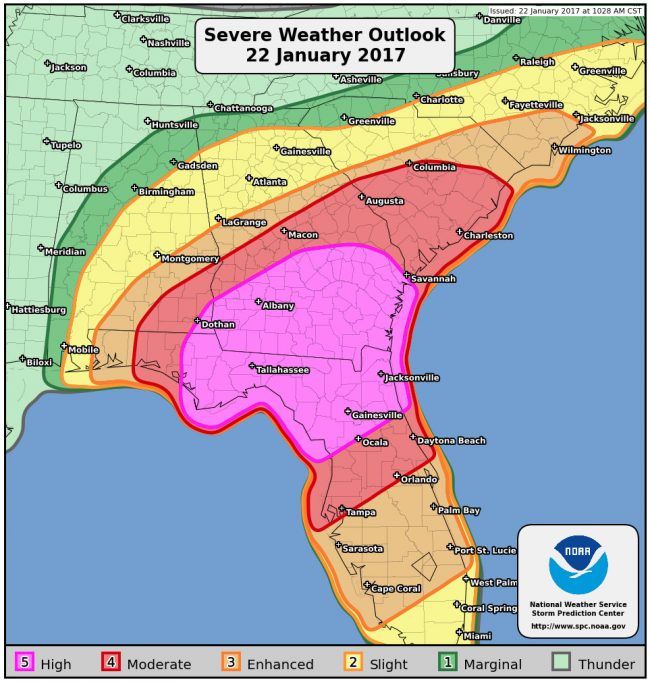 Last Updated: 8 p.m.
If you have reports or images of extreme weather events in your area anywhere in Palm Coast, please text FlaglerLive at 386-503-3808.
Keep up with details from NOAA's Storm Prediction Center here and the latest storm radar here.
After issuing a tornado warning that was in effect between 7:30 p.m. and just before 8 p.m., the National Weather Service cancelled the warning for Flagler-Palm Coast, and ended the tornado watch at 8 p.m. as the last squalls from a fearful band of storms moved rapidly east across the area and into the Atlantic.
"We're off the hook," Bob Pickering, Flagler County Emergency Management's weather specialist, who was at the county's Emergency Operations Center, said just after 8 p.m. "We've dodged a couple of real big bullets today." A couple of other counties were not as fortunate, he said.
EOC had received few reports of severe consequences from the weather. There was some dime-sized hail reported by a couple of storm-spotters in Palm Coast. Hail has been reported (but unconfirmed) in Palm Coast's F-Section and in Espanola.
The speed of the weather system was both its most dangerous aspect and its most fortunate for the area. The speed of the storm made its cells more dangerous, but also ensured that it would move swiftly past the area.
"We had some storm cells moving 55 miles per hour," Pickering said. "We did have a storm earlier today that was moving at 75 mph. That's why everyone was so concerned about today, the dynamics in the atmosphere supported some really very bad stuff, and we're fortunate that it didn't come to pass. I'm OK with that."
Fire Flight, the county's emergency helicopter, will survey the woods Monday morning to see if there were any tornado touchdowns.
"We're in a lot better shape right now," Pickering said.

The day's previous report:
In later afternoon and evening Sunday, the weather system that's been spawning tornadoes across the Deep South, pummeling communities with baseball-size hail and killing at least 15 people so far, is expected to sweep across Northeast and Central Florida, including Flagler County and Palm Coast. Much of Flagler and Palm Coast's population zones have a 30 percent chance of experiencing a tornado, according to the National Weather Service.
Overall since Saturday, there's been 30 reports of tornadoes in Alabama, Georgia, Louisiana and Mississippi, according to the National Oceanic and Atmospheric Administration. The number has been rising almost hourly.
At 2 p.m. today the National Weather Service extended a tornado watch that had been in effect for parts of Georgia and north and northeast Florida to include Flagler, Putnam and St. Johns counties. The tornado watch is in effect until 8 p.m. A tornado watch means that conditions are favorable for tornadoes to form during the next several hours. If a tornado warning is issued for your area, immediately move to a place of safety, ideally in a basement or interior room on the lowest floor of a sturdy building. Do not go looking for the storm or chasing tornadoes.
The peak of potentially dangerous activity in Palm Coast and Flagler County is currently expected between 7 and 9 p.m., and particularly in the 8 o'clock hour. The weather should be clearing after that, with temperatures falling into the 50s by early morning Monday.
"We encourage everyone to stay informed on the weather and act immediately should warnings be issued," Flagler County's Emergency Management cautioned today. "If you do not need to travel today we advise staying at home. It is recommended to secure lightweight items that are outside and review your tornado safety plan and have a safe area to go should warnings be issued. Be prepared for additional alerts and warnings."
The National Weather Center's Storm Prediction center issued a rare "high risk" alert for tornadoes. Initially this morning, the area most at risk was including only the northern edge of Flagler County. By 2 p.m., the high-risk area had been expanded to cut across half the county, with the entire northern part of the county, and Palm Coast, in the high-risk zone. And by 5 p.m., the entirety of the county was in the high-risk zone.
Either way, such boundaries are fluid: whether parts of the county are in the "moderate risk" area for severe weather, as opposed to the "high risk" area, residents should not assume that the boundary line may not shift, or that a "moderate" risk should be taken less seriously than a nigh risk. The ravages of today's storm track should be an indication to all residents that the weather system should be taken very seriously. The Weather Channel's high-risk zone extends more broadly south and includes most or all of Flagler County.
The last time a tornado touched down and caused property damage in Flagler was on Dec. 13, 2013, when one briefly swept through Palm Coast's B-Section. No one was injured or killed, but several houses were damaged and a few destroyed.
NOAA's Storm Prediction Center's Ariel Cohen this morning was predicting "severe thunderstorms capable of producing strong, long-track tornadoes" with "supercell thunderstorms later today." So far, his forecast has been accurate.
As of mid-afternoon, at least 11 deaths and 23 injuries were attributed to storms by Georgia's emergency management agency, from reports of some 20 tornado outbreaks. The storm,s in Georgia were not expected to end until late Sunday night, so the toll is expected to rise. Gov. Nathan Deal declared a state of emergency for seven counties in the southern part of the state. The Mississippi Emergency Management Agency was reporting four deaths and 20 injuries and extensive damage from an F3 tornado in Forrest County in and around the cities of Hattiesburg and Petal, where Gov. Phil Bryant has declared a state of emergency.
"Thunderstorms will continue to increase in coverage and intensity this morning," Cohen continued, "with a severe thunderstorm and tornado potential further increasing through the day. The significant severe threat is also expected to extend southward into Central Florida and northeastward into South Carolina this evening. The risk for severe thunderstorms will continue advancing across the Southeast through the overnight hours and into early Monday morning as a cold front advances eastward."
You'll frequently hear the term "long-track tornado" in today's forecasts. A long-track tornado is a single tornado that touches down and continues for many miles, . Forecasters have been warning of potentially several such tornadoes today.
It is always possible that the local effects of the storm will not be as severe as feared, and the current band of severe weather barreling toward the region appears dense but not as broad as the storm's sweep further north. The National Weather Service, even as it has issued the local tornado watch, phrases its forecast for this evening this way: "Mostly cloudy with showers and chance of thunderstorms in the evening…then partly cloudy with chance of showers after midnight. Lows in the upper 50s. Southwest winds 10 to 15 mph. Gusts up to 30 mph in the evening. Chance of rain 90 percent."
The staid language, however, can be deceiving.
See the recommendations from Flagler County Emergency below.

If a Tornado Happens, what would you do?
If a Tornado Warning is issued or if a tornado threatens your location, follow these tips to help protect yourself.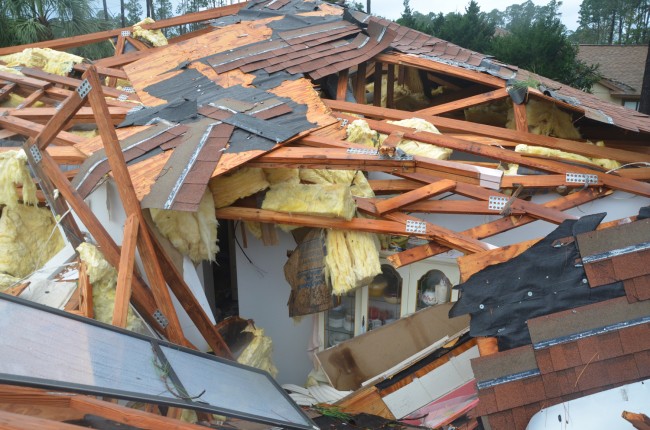 IN YOUR HOME –
– Seek shelter in a small interior room. A walk in closet or bathroom would be a good shelter.
– Bring in a blanket or pillows, any kind of protection you can use to cover yourself.
– Crouch down, protect your head and body as much as possible.
– Have a pet? Put them in a pet carrier and take them with you.
IN YOUR CAR –
– Abandon your vehicle and find suitable shelter in a sturdy building.
– If a building is not available, as a last resort make sure your deat belt is buckled and crouch down or get below windows.
– For last resort if no other options, seek shelter in a ditch or depression.
– DO NOT PARK UNDER AN OVERPASS! It is one of the worst places to be
– Best advice, if a Tornado Warning is issued or severe weather is expected, do not travel at all. Seek shelter!
IN A MOBILE OR MANUFACTURED HOME
-Abandon the mobile home for a better shelter
-Seek shelter in a ditch or more substantial building
-Most tornado fatalities occur in mobile homes. Find better shelter.
BE PREPARED
and have a NOAA Weather Alert Radio. Monitor the latest weather bulletins during threat periods.
Sometimes a tornado may quickly develop before a warning can be issued. Always be aware of the weather going on around you. Things can change very quickly!
STAY INFORMED!
Monitor the latest bulletins from the National Weather Service or your favorite media source. Remember the best sources for local weather are a NOAA Weather Radio and www.weather.gov. Be sure to sign up for Code Red Weather Warning.