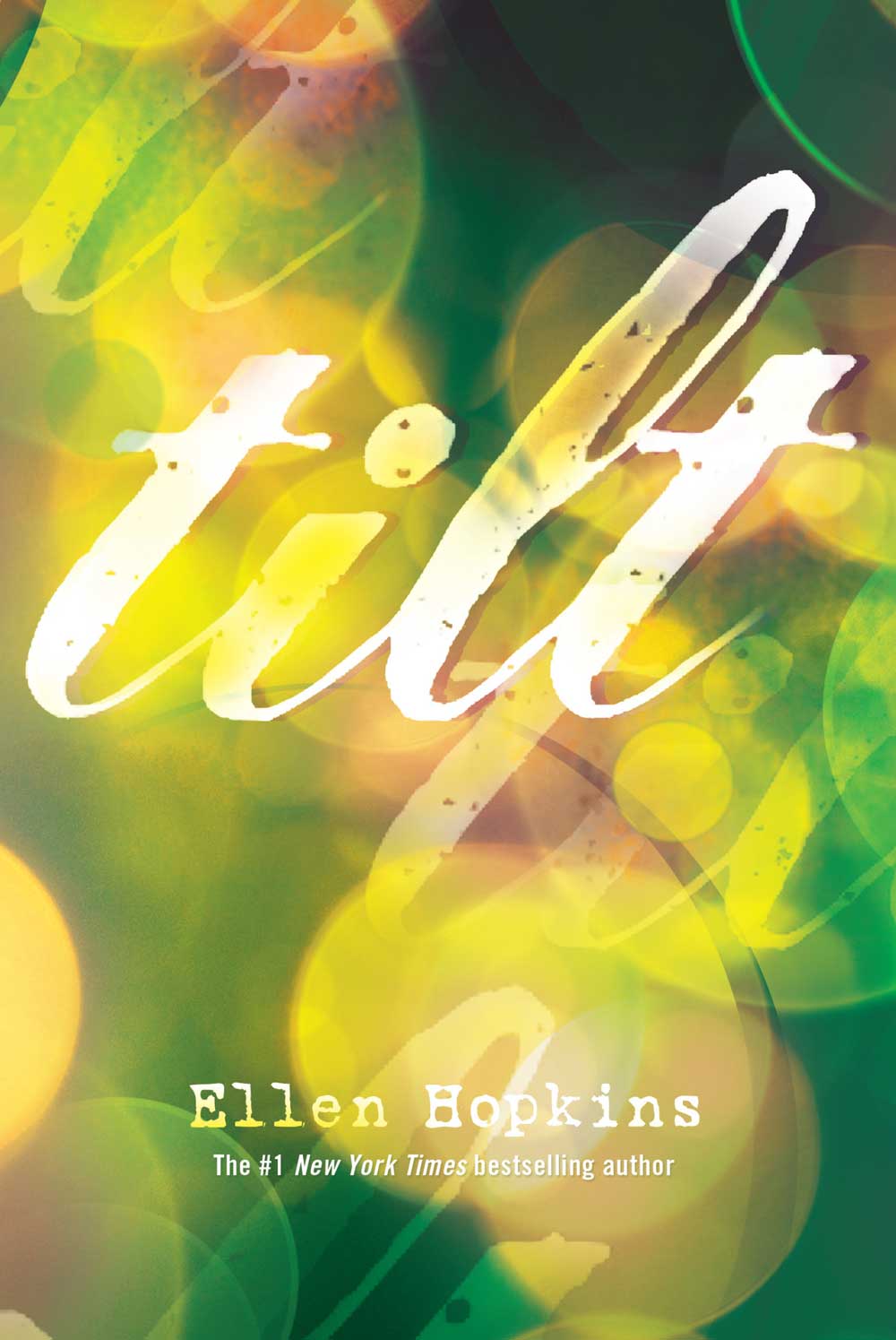 Ellen Hopkins's "Tilt" (Simon & Schuster, 2012) is among the 22 books so far this school year that a trio of individuals have sought to ban from high school library shelves. A committee of Flagler Palm Coast High School faculty members and parent representatives meets on March 30 at 8:30 a.m. at FPC to discuss "Tilt"  and decide whether to retain it or ban it. The meeting, open to the public but not to public participation, is at the school's media center. The following review by Stephen and Ann Playe is presented as a guide.

In Tilt, Ellen Hopkins gives us the powerful coming of age story of three very engaging, very different American teenagers. The book is unique in that it, as her other YA (young adult) novels, is written in free verse. This style enables her to pack many important issues into one reasonably sized read.




Hopkins's lively cadence fits the times we live in: information and ideas flow more quickly through our world than ever before. Her characters experience a long list of today's challenges: first love, sexual awakening, gender identification, pregnancy, the specter and reality of HIV infection, the bounds and bonds of friendship, drug and alcohol use and abuse, and, oh yes, the loss of a young, innocent life. Whew! Too much for one book? Not really.
---
We read the descriptions of their intimate acts as insight into their hearts, not their bodies.
---
Hopkins takes us on the  journeys of our three protagonists with the sparse efficiency of her poetic style and form. Mikayla, 17, finds, then loses her first true love and is left facing (at least at first) an unwanted pregnancy. Shane, 15, navigates coming out, falling in love, facing the risk of HIV and losing a beloved sibling. Harley,  13, is introduced to her own sexuality, and the often cruel realities of older boys, the internet and misogyny.
Sexuality plays, of course, a prominent role in this triple coming-of-age story. But the experience is never prurient, erotic or voyeuristic. The descriptions of sex leave no doubt as to what happened but they are the opposite of pornography, which is designed to excite the observer.




It is key that our often tragic heroes are all three telling us their story in the first person. We read the descriptions of their intimate acts as insight into their hearts, not their bodies. The stories develop and define their lives, their joys, their fears, their pain. In short, their coming of age.
This is powerful, important stuff for the characters, the reader and our society. We learn with the characters and what we learn will make us better friends, lovers, sons, daughters, parents and citizens.
Finally, this book is not just about three characters. Their stories are woven into a web of three generations of three interconnected families. Hopkins doesn't tell us, but she gently shows us that to raise a child, it takes a village.

The following questions in bold are reproduced here exactly as they appear on the Flagler County school district's questionnaire for media advisory committees taking up book challenges. Committees fill in their answers as they reach a decision on each challenged book, after a committee discussion. The answers below are provided as an amendment to the preceding review and are of course only the reviewers' own–in this case, Stephen and Ann Playe. Committees may reach vastly different conclusions.
Title: Tilt
Author: Ellen Hopkins
Publisher: Margaret K. McElderry Books
Basis of objection: "Materials contain pornography, Materials are not appropriate for the age of student." "This book has sexually explicit excerpts involving minors. This book also contains sexual assault, teenage pregnancy, underage drinking and illegal drug use and profanity."
What do you feel is the purpose, theme or message of the material?
This book can help teenagers see that they are not alone in their struggle to grow up, fit in and be true to themselves. They have inclinations and instincts to be enjoyed and controlled. Their choices have consequences.
Is the purpose accomplished?
Yes.
This work is suitable for which grades?
Pre-K: No.
K-5: No.
6-8: No.
9-12: Yes.




Are concepts presented in a manner appropriate to the ability and maturity of your suggested audience? Yes or no answer only.
Yes.
Does the material stimulate growth in factual knowledge, literary appreciation, aesthetic values, and/or ethical values?
Yes. Medical information regarding pregnancy and HIV is accurate and important. The unique free verse format is notable and very effective. The ethical values associated with friendship, loyalty, fidelity and tolerance are presented very clearly.
Does the material enable students to make intelligent decisions in their daily lives?
Yes. This is a major strength of the book. Advice is given that we parents too often wish we had given, but sometimes didn't, often because it was uncomfortably personal.
Hopkins's "Author's Note" concludes with: "Sex is an important part of life, but please consider delaying it until you are in a committed relationship. And please remember that an unplanned pregnancy or sexually transmitted disease will change your life forever. Be smart."
Does the material offer an opportunity to understand more of the human condition?
Yes. This book is about coming of age in a complex, changing world full of good and evil, safety and risk, loyalty and abandonment, joy and despair. We humans do our best to make the right decisions. With mixed results. But we keep trying.
Does the material offer an opportunity to better understand and appreciate the aspirations, achievements and history of diverse groups of people?
Not really. While the three main characters are of different sexes and sexual orientation, they are all white, middle class teenagers.




CONTENT
Is the content timely and/or relevant? Yes or no. Does this work have literary merit? Yes, no, not applicable. Then explain.
Yes and yes.
Unwanted pregnancy and reproductive decisions and options are extremely relevant in a rapidly changing judicial landscape. The effect of the internet on behavior and relationships is timely. HIV is becoming more prevalent.
If presented as factual, is the content accurate? Is the factual information in the book current and accurate as far as you are aware? Yes or no, then explain.
Yes, While the characters and the events are fictitious, the medical basis of the discussion of pregnancy and HIV are accurate as of 2012 and have not changed significantly to the date of this review. [Editor's Note: Stephen Playe is a physician.]
APPROPRIATENESS
Does the material take in consideration the students' varied interests, abilities and/or maturity levels?
Yes. The vocabulary is not challenging. The major themes, friendship, and love, are universal. The maturity level is, we feel, appropriate for today's high school students.
Does the material help to provide representation for various religious, ethnic, and/or cultural groups and the contribution of these groups to American heritage?
No.
Does this material provide representation to students based on race, color, religion, sex, gender, age, marital status, sexual orientation, disability, political or religious beliefs, national or ethnic origin, or genetic information?
Yes to three of these categories, sex, sexual orientation, and  disability
Could this work be considered offensive in any way? Note yes or no next to the following categories:
Profanity: N0.
Brutality: No.
Religion or portrayal of religious practices/ideologies: No.
Language: Yes.
Sexual behavior: Yes.
Manner characters are presented: No.
Violence: No,
Prurient behavior: No.
Portrayal of any societal groups: No.
Cruelty: No.
Aberrant behavior: No.
Political positions: No.
Are questionable or offensive elements of this work an important part of the overall development of the story or text?
Yes. The very topics that are important to this book could be found offensive to some people but are critical to the overall message of the book. The intended audience would find sanitizing of language to be disingenuous and thus not to be taken seriously.
Do you feel the material has a purpose for a school library collection? Yes or no.
Yes.
Comments specific to the objection:
As mentioned in our review, this is not pornography because it is not intended to, and indeed does not, sexually arouse the reader. There is nothing profane (irreverent) about using common terminology (even if some may find it distasteful) to describe prevalent human activity. High school students are certainly mature enough to benefit from reading this book.
Yes this book deals thoughtfully with and explicitly warns against decisions that could lead to sexual assault, teenage pregnancy, underage drinking and illegal drug use. All of these are pervasive in our community. If we adults prohibit our children from reading about them we do so at our own peril.
Additional comments:
This book is an important contribution to Young Adult literature. It offers reassurance to readers that they are not alone as they face the challenges of growing up. It stresses interdependence as our means and love as our goal.
The style of the writing promotes a fast pace while maintaining thoughtfulness.
The book offers no easy answers and the end of each protagonist's journey is left for the reader to decide. But in each case there is much reason for hope.
Recommendation (retain, remove, other), with an explanation of your overall reasoning for the recommendation:
Retain in high school.
This book might significantly help many high school students understand themselves, and their friends. They will be helped to safely think about issues that are often difficult to discuss with parents and friends. They will learn from the mistakes of the fictional characters and, perhaps, be able to make better  choices for themselves.

Byblos: Pierre Tristam's Reviews
---