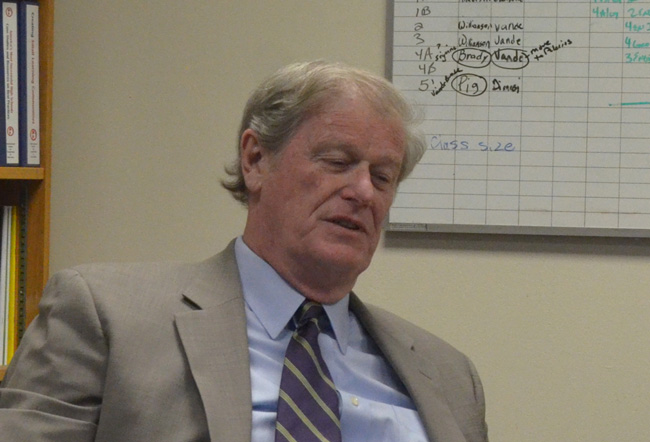 Despite vocal opposition from students and faculty, influential Sen. John Thrasher, R-St. Augustine, is among a shortened list of 11 candidates that will interview next week to be the next president of Florida State University.
On Friday, the university's 27-member Presidential Advisory Search Committee also placed interim president Garnett Stokes into the first interview round, during a meeting interrupted by a group students desiring a larger say in the process.
Two students were removed from the meeting, without force, as others chanted that the search process slated to be completed by Sept. 23 is a "sham" designed to make Thrasher the successor to former President Eric Barron. Barron, an academic with a track record in fundraising, was named president of Penn State University in February.
Supreme Court Justice Ricky Polston and Tallahassee Democrat Michelle Rehwinkel Vasilinda, whose names were among the 38 candidates put before the committee, did not make the short list.
The committee voted 18-8 against a motion to exclude Thrasher from the interview phase. The interviews are to take place Monday and Tuesday on campus. All the candidates may not appear in person; some interviews might take place over the phone.
Committee member Eric Walker, chairman of the FSU English Department, questioned the inclusion of Thrasher and Stokes because he believes their perceived inside-track for the job could cause other finalists to withdraw.
Thrasher, who holds bachelor's and law degrees from the university, is a former House speaker who is chairman of Gov. Rick Scott's re-election campaign. His desire for the job had caused the search process to be paused in the spring.
Committee member Melissa Mears, a third-year law student, added that Thrasher shouldn't be considered a "viable candidate" because he lacks the academic qualifications needed to lead the school into a desired national top 25 ranking as a research institution.
However, committee member Al Lawson, a former state legislator, pointed to Thrasher's efforts on behalf of the university as a state lawmaker and a desire by the search committee to reach out to "non-traditional" applicants.
"I think it would be devastating if we tried to eliminate a person, here in the process, if we just assume that other people (are) just going to withdrawal their names," Lawson said. "I don't think it would be to anyone's advantage to not stay in the pool."
While Walker said he's asked Thrasher to withdraw, the senator told the News Service of Florida on Wednesday he was "going to give it my best and let the chips fall where they may."
Before the committee began a review of the applicants, students had lined the room, many holding banners proclaiming "higher education is not a business" and "reset the search."
"Look into your heart and realize this is our university … and we should have a major part in that decision," Alexandra Reed, a senior in the College of Music, told the committee during public comments.
But the committee overwhelmingly rejected a motion to ask the Board of Trustees to restart the search process with more student and faculty representation.
Search committee member Seve Kim, one of three students on the committee, said in making the motion that it was only fair to ask.
In voting against the motion, FSU music professor Cliff Madsen said restarting the process could cause some of the applicants with more academic backgrounds to withdraw.
"This train has already left the station; this is not the time for this motion," Madsen said.
However, several faculty members pleaded during public comments for the committee to favor candidates who have experience teaching and running large universities.
Michael Buchler, an associate professor of music theory, implored the committee to dismiss the applications of Thrasher, Polston and Rehwinkel Vasilinda because of their lack of academic credentials.
"None of them has lived life as a full-time professor," Buchler said. "None fulfills the majority of the qualifications that this committee put online."
The committee has said it wants the next president to be able to enhance the university's academic reputation, be an "energetic fundraiser," project optimism for the school's future and provide "leadership for a highly successful intercollegiate athletics program."
Those invited to interview are: Michael D. Amiridis, University of South Carolina provost; Arthur B. Ellis, City University of Hong Kong provost; Daniel M. Fogel, former president at the University of Vermont; J. Murray Gibson, Northeastern University's College of Science founding dean; John P. Jones, University of Arizona professor of geography and development; Richard B. Marchase, University of Alabama vice president for research and economic development; Michael V. Martin, Colorado State University System chancellor; Kate C. Miller, Texas A&M University's College of Geosciences dean; and Michele G. Wheatly, who until June had been provost at West Virginia University.
All but Gibson, Miller and Jones were recommended by search consultant Alberto Pimentel.
After next week's interviews, a minimum of three candidates will be asked back the week of Sept. 15, during which time the finalists would face a second round of interviews and meet with groups on campus.
The committee is scheduled to make a recommendation to the board of trustees on Sept. 22.
The trustees, which would still have to forward the final choice to the university system's Board of Governors, are scheduled to meet Sept. 23.
–Jim Turner, News Service of Florida