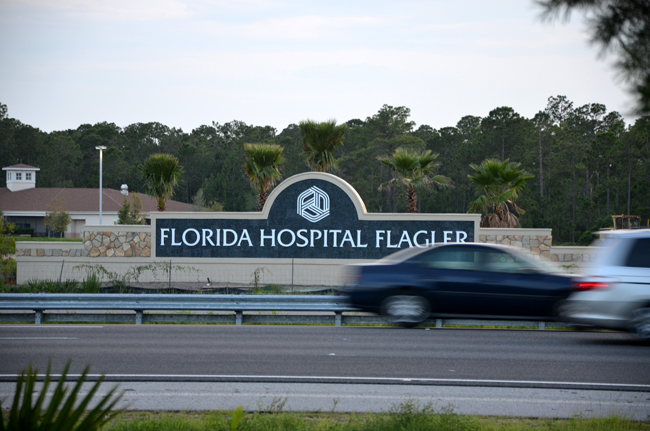 Note: all meetings are open to the public. You're welcome to send tips or suggestions to [email protected].
The Week's Quick Links


Monday afternoon, Aug. 15, at 5 p.m., Government Services Building chambers: As he did before the Flagler Beach City Commission last month, Joseph Roy will give the county commission a brief overview of Palm Coast's new Business Assistance Center. A slight irony: it's partly because of the business center, funded in part by the city and in part by the University of Central Florida, that the city got out of the business of Enterprise Flagler, as did the county, last week.
Supervisor of Elections Kimberle Weeks will be requesting $22,000 for the special Florida House District 1 elections on Sept. 20 and Oct. 18. That sounds routine. It never is when Weeks encounters a gathering of two or more commissioners. And the county administration is waving red-ripcurrent flags: "Inasmuch as the funding request provided by the Supervisor of Elections was not provided in the format generally suggested by the State of Florida, Division of Elections," the administration writes in its back-up material to commissioners, "it is somewhat difficult to validate the reasonableness of the amount being requested for each election. Whether or not this "unorthodox" approach to estimating costs will have any effect on the County's ability to obtain reimbursement from the State of Florida of the costs of conducting the special elections is unknown at this point, nevertheless, staff believes it is possible that the amount requested may slightly overstate the actual costs of conducting the special elections."
The commission is also expected to ratify a decision of the Tourist Development Council to award $145,000 to Flagler Beach to repair public bathrooms at the pier and build a deck for the privately run but city-owned Pier Restaurant, now under new ownership. There's also a potentially interesting item toward the end of the meeting: whether the county should accept a portion of Durrance Lane, at the southern end of the county, as a county road. That's the latest ripple from the Hunters Ridge development that's been busying commissions and staffs since the late 1980s.
See Also:

Flagler County Commission Agenda and Back-Up, Aug. 15, 2011 –


Tuesday morning, Aug. 16, at 9 a.m., Palm Coast Community Center: This is the meeting where the council should be deciding whether to bid out its $7.7 million annual garbage contract, now held by Waste Pro and expiring in December, or to let City Manager Jim Landon skip the bidding and go straight to a negotiated five-year extension of the contract with Waste Pro. Landon wants the extension. The council is divided. Here's the background; the agenda is below:
The council meeting has its share of ironies, too: the city has not been lathering free love on its firefighters since the rank and file successfully unionized, and relations between management and workers have been tense since, but on Monday, the city will recognize September as "Firefighter Appreciation Month." Note: it's really not the city volunteering the appreciation, but the Muscular Dystrophy Association, which so designates September.
The council is also expected to approve the annexation of Graham Swamp.
See Also:

Palm Coast City Council Agenda, Aug. 16, 2011 –


The school board is holding a special workshop on redistricting with the Flagler County Commission at 4 p.m. Tuesday, Aug. 15, Training Room 3, 3rd Floor of the Government Services Building. This is the school board's first open discussion on redistricting, which may affect who will run in the next election. Two seats are up in 2012: that of Colleen Conklin and that of Sue Dickinson, both of whom were elected in 2000, and both of whom, as of now, plan to run again.

Flagler Schools Redistricting Agenda and Back-Up, Aug. 16, 2011 –
The board holds its regular meeting at 6 p.m. in the board chambers of the Government Services Building. It will spotlight its Graduate One program, the initiative that sought to inform parents and students about a slew of new graduation requirements in coming years, and find ways to involve more parents and others in keeping students in school through graduation. The board hosted Graduate One public sessions at nine locations on Aug. 4, drawing out considerable crowds in some of them and generating quite a bit of back-patting. "All your dedication and hard work paid off, to the tune of overflow crowds at almost every location. I was out at Hidden Trail Community Center in Daytona North, and the community members said that was the largest community turnout they had ever seen!," Board Member Andy Dance wrote the following day.
It's not yet clear whether the nine sessions were preaching to the choir. That lack of clarity elicited the following response from jerusha Logan, one of the district's most-involved community members, who played a big hand in organizing the Graduate One initiative with the district's Sabrina Crosby. "A number of us are anxiously awaiting an evaluation of our efforts," Logan wrote. "Did we reach the parents of the students who are in need of the support necessary to improve our statistics or did we preach to the choir? What did we do that met our expectations? What could we have done better? What more must be done to accomplish our goals?
And last but not least, when will we be able to get together to evaluate our efforts?"
Look for some of those questions to be asked Tuesday evening, and hopefully answered.
In a routine item, the school board is also scheduled to approve the governing board of the Flagler Auditorium, which is below: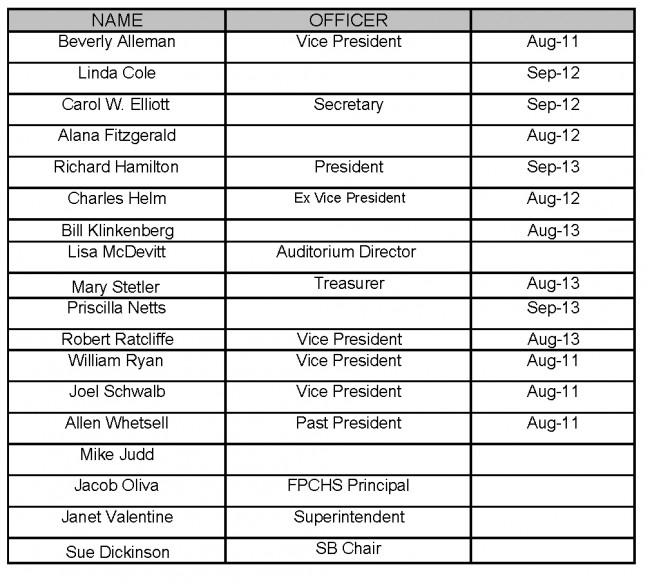 See Also:


The city commission will again hold a day-long budget workshop, Thursday, Aug. 18, beginning at 9 a.m. at City Hall, what will be the third or fourth budget-related meeting (we've lost count). There is no agenda, but there is an undertow to the proceedings: these workshops continue to be Acting City Manager Bruce Campbell's now-nearly-yearlong job interview.
See Also:


Commission members themselves are happily taking the week off from seeing each other, after last week's minor traumas and melodramas over City Manager Armando Martinez's job hunt and Mayor Catherine Robinson's seven-minute homage to Margaret Thatcher. The city's planning board, however, is meeting at 7 p.m. on Tuesday, Aug. 16, at the old Bunnell City Hall, and will be discussing the city's proposed special events ordinance, which Martinez put forward. At the July 19 meeting the board voted unanimously to keep the conversation going, with requests for more input from the business community.
See Also:

Bunnell Planning Board Agenda, Aug. 16, 2011 –


The council is scheduled to hold its monthly meeting at 9 a.m. Wednesday, Aug. 17, in the Government Services Building's chambers. The agenda, usually ready before the weekend, will be posted Monday morning. The council has a new secretary who's learning what can be intricate ropes.

[Many more items not listed here are in the community calendar.]
Yes, it's actually meeting again: the Coalition of Flagler Cities, created by Bunnell City Manager Armando Martinez with Flagler Beach in a supporting actor's role, will holed its second meeting on Aug. 19 at 3 p.m. at the Beverly Beach City Hall, 2735 North Ocean Shore Blvd.. Sally Sherman, county government's deputy administrator, will give a presentation on economic development, presumably updating the coalition on matters it already knows: Enterprise Flagler is dead, and the county will now create its own Economic Development Council, with Bunnell and Flagler Beach at the voting table, if the two cities ante up a few dollars ($5,000 from Flagler Beach, $3,000 from Bunnell: both cities have agreed to do so). Martinez may also update the coalition on his job hunt.
Also:
Marineland Marina Grand Opening, Saturday, Aug. 20. See the details here.
Free Hurricane-Preparedness Seminar at the Palm Coast Community Center on Aug. 16 from 3 to 5 p.m. Meteorologist Dave Marsh will lead a team of experts to give you all the information you need to stay safe during hurricane season. No pre-registration required. Free raffle for safety prizes.
City Council Member Holsey Moorman's Town Hall Meeting at the Palm Coast Community Center, Aug. 16 at 7 p.m.
County Commissioner Nate McLaughlin's Town Hall Meeting, Thursday, Aug. 18, at 6 p.m., at the Hidden Trails Community Center in Daytona North.
Freshman Orientation at Flagler Palm Coast High School and Matanzas High School, Thursday, Aug. 18, both at 6 p.m. at freshmen's respective schools.
Sea Turtle Talk at Gamble Rogers State Park, Friday, Aug. 19, 5:30 p.m. The Florida Department of Environmental Protectionis hosting a Children's Sea Turtle Program at the beachside pavilion on the day use side of the park. With Park Ranger Tony.


Legislative committees return next week, entirely focused on redistricting. The House and Senate committees that will redraw lines for House, Senate and Congressional districts take their meetings this week, however, to South Florida, with meetings in Martin, Palm Beach, Broward, Miami and Monroe County.
Lobbying disclosure filings are due Monday.
Also this week, the Supreme Court returns from its summer recess.
MONDAY, AUG. 15, 2011
REDISTRICTING COMMITTEE: The Florida Senate and House committees on state House and Senate and congressional redistricting meet Monday in Stuart to take public testimony. Lawmakers get back into their redistricting meetings as interest groups complain about the compacted nature of the state's redistricting process, with lawmakers not scheduled to formally meet to look at formal plans until January. (Monday, 6 p.m., Blake Library, 2351 SE Monterey Rd., Stuart.)
BULLARD FORUM ON EDUCATION: Rep. Dwight Bullard, D-Miami, hosts a forum on the "future of public education" for constituents in his Miami-based House District 118. (Monday, 6 p.m., Southridge Sr. High, 19355 SW 114 Ave., Miami.)
LOBBYISTS FILE COMPENSATION REPORTS: Monday is the deadline for Florida's legislative and executive branch lobbyists to file reports on how much they were paid in the second quarter of this year, from April to June. These reports should cover the second month of the legislative session, the busiest time in the Legislature. These reports will only show income in ranges, not precise billing amounts. (Monday, 11:49 p.m.)
NEW STATE ECONOMIC DEVELOPMENT AGENCY: This year's SB 2156 requires that the new head of the new Department of Economic Opportunity report to the governor, the Senate and the House by Aug. 15 on the transition of changes made in state agencies this year, when lawmakers folded various agencies together into the new DEO. Parts of Workforce Innovation, the Office of Tourism, Trade and Economic Development, and the Department of Community Affairs, will now be in Darling's DEO. The agency isn't actually created until Oct. 1, but the transition report is due Monday.
TUESDAY, AUG. 16, 2011
GOVERNOR AND CABINET MEET: Gov. Rick Scott and the Cabinet meet on Tuesday, and while they have several agendas, most of the items aren't particularly high profile or controversial. The most closely watched item may be a briefing for the Cabinet on Personal Injury Protection insurance, or PIP. That's on tap to be a major issue in the coming legislative session, with insurers hoping to get out from under some of the fraud costs they say hurt their bottom line. Otherwise, the agenda ranges from routine PECO bond approval, to approval of budget items for the Florida Department of Law Enforcement, from the mundane like a pickup truck to the high tech, like a micro X-Ray Fluorescence Spectrometer and forensic firearm comparison microscopes. (Tuesday, 9 a.m., Cabinet Room, The Capitol.)
PROGRESS GOES NUCLEAR: The Public Service Commission will start hearing arguments in Progress Energy Florida's request to pass along costs for adding new nuclear reactors in Levy County. (Tuesday, 9:30 a.m., Betty Easley Conference Center, 4075 Esplanade Way, Tallahassee.)
REDISTRICTING COMMITTEES IN BOCA: The Legislature's Redistricting Committee road show moves Tuesday to Boca Raton, land of condos, retirees, the tony Boca Raton Resort and Club, and generally, quite a bit of money. In Census data from 2006 (city-level data for 2010 isn't out yet), Boca was more than 90 percent white, and well-educated, with 44 percent of residents of the city having a college degree, double the state percentage. With a median household income over $60,000, a more than 75 percent home ownership rate, and median home values even now in the midst of the bust still topping $225,000 in many neighborhoods, the area is the picture of affluent stability. (Tuesday, 10 a.m., Florida Atlantic University, 777 Glades Rd., Boca Raton.)
HOSPITALS GET EXAMINED: The Commission on Review of Taxpayer Funded Hospital Districts will continue looking at potential changes for public hospitals. (Tuesday, 10 a.m., Agency for Health Care Administration, 2727 Mahan Dr., Tallahassee.)
REDISTRICTING IN DAVIE: The discussion of where to draw the state's political boundaries moves later Tuesday to the western Fort Lauderdale suburb of Davie, home to Broward College, Nova Southeastern University and the Miami Dolphins training camp. Western Broward County grown quite a bit since the last time lawmakers drew districts. The suburban part of Broward County west of Fort Lauderdale, with areas like Weston and Coral Springs in addition to Davie, is younger than much of South Florida, and fairly affluent. It's also much whiter than much of South Florida – the town of Davie is nearly 90 percent white, considerably more than the state as a whole, which was 75 percent white in the 2010 Census, and Broward County, which was 63 percent white in 2010. (Tuesday, 6 p.m., Broward College Gym, 3501 SW Davie Rd., Davie.)
WEDNESDAY, AUG. 17, 2011
MODEL MEETING: The Florida Commission on Hurricane Loss Projection Methodology will discuss hurricane-modeling issues. (Wednesday, 9 a.m., 1801 Hermitage Blvd., Tallahassee.)
REDISTRICTING COMMITTEE IN MIAMI: The largest college in the nation hosts Wednesday's redistricting meeting in Miami. Lawmakers will look at political boundaries in a unique political city. Miami-Dade County, with 65 percent of residents saying they're Latino, is Florida's only majority Hispanic county, one of just 82 such counties in the nation. Florida's Hispanic violation has increased since the last Census in 2000, when there were 2.6 million Hispanics to 4.2 million Hispanics in the 2010 Census, representing 22.5 percent of the state's population. The city of Hialeah, which is in Miami-Dade County, is 94.7 Hispanic, making it the third most Hispanic city in the nation in percentage terms, behind East Los Angeles, Calif., and Laredo, Texas. The city of Miami is 70 percent Hispanic, according to the Census Bureau, and the city of Homestead is just over half Hispanic. (Wednesday, 10 a.m., Miami-Dade College, 300 NE 2 Ave., Miami.)
NO LIP SERVICE: The Low Income Pool (LIP) Council will meet to discuss a program that provides money to hospitals and other health providers that care for large numbers of poor and uninsured people. (Wednesday, 10 a.m., Agency for Health Care Administration, 2727 Mahan Dr., Tallahassee.)
REDISTRICTING MEETING IN SOUTH MIAMI: Later Wednesday, the redistricting committees reprise their act in South Miami. (Wednesday, 6 p.m., Florida International University College of Law, 11200 SW 8th St., Miami.)
THURSDAY, AUG. 18, 2011
DETAILED FLA CENSUS DATA RELEASED: Following up on summary population data released earlier this year, the U.S. Census Bureau will release more detailed information based on the 2010 Census. The release will include cross-tabulations of age, sex, households, families, relationship to householder, characteristics of owners and renters, detailed race and Hispanic or Latino origin groups, and group quarters. (Thursday, 12:01 a.m.)
MODEL BEHAVIOR: The Florida Commission on Hurricane Loss Projection Methodology will discuss hurricane-modeling issues. (Thursday, 9 a.m., 1801 Hermitage Blvd., Tallahassee.)
HIGHER EDUCATION COORDINATING COUNCIL MEETS: The Higher Education Coordinating Council, which brings together representatives from universities, colleges and private schools, meets on Thursday. The council will discuss the results of a survey sent to Florida universities and colleges asking for input on how to achieve the goals of the council. This newly-formed council is tasked with identifying unmet needs and minimizing program duplication across the different higher education systems. (Thursday, 9 a.m., 1753 W. Paul Dirac Drive, Tallahassee.)
SUPREME COURT OPINIONS: The Florida Supreme Court releases regular opinions. The court returns this week from its summer recess, though there are no calendared oral arguments until early September. (Thursday, 11 a.m.)
COLLIER LEGISLATIVE DELEGATION: The Collier County legislative delegation will meet on Thursday to discuss the upcoming legislative session and redistricting. The meeting will coincide with the Economic Development Council of Collier County's pre-legislative luncheon. (Thursday, 11:30 a.m., Vergina Restaurant, 700 5 Ave., South, Naples.)
REDISTRICTING KEY WEST: The hearings on redistricting move to the famed Southernmost point in the continental U.S. on Thursday. You may think there's not really much you can do with political boundaries in the Keys, being a narrow island chain sticking down off the bottom of the state. It's not like you could link up Sugarloaf Key with say, downtown Jacksonville. But maybe somebody figured that if they have to sit through a meeting on drawing of lines, communities of interest and discussion of the federal Voting Rights Act, the least they could do was to have it someplace nice to spend an evening, like Key West. We wonder if there are maps accounting for racial, income and partisan differences between crowds at Captain Tony's vs. Sloppy Joe's. (Thursday, 4 p.m., Florida Key Community College, 5901 College Rd., Key West.)
SR 40 WIDENING: The Florida Department of Transportation holds a public hearing on Thursday to ask the public their thoughts as it considers whether to widen State Road 40 to four lanes between Silver Springs and US 17 in Volusia County. (Thursday, 5:30 p.m., Ocklawaha Bridge Baptist Church, 14100 E. State Road 40, Silver Springs.)
FRIDAY, AUG. 19, 2011
JULY UNEMPLOYMENT: The state releases unemployment figures for July on Friday. Florida's jobless rate in June was 10.6 percent, same as in May. The Agency for Workforce Innovation reports the July figure on Friday. (Friday, 10 a.m.)
CONFERENCES
WEDNESDAY – FRIDAY 2011 Associated Industries of Florida annual conference
Highlights of the AIF annual conference this week in Palm Beach include a panel discussion on Thursday on changes to Florida's regulatory climate with Department of Community Affairs Secretary Billy Buzzett, Deputy Environmental Protection Secretary Jeff Littlejohn, and Rep. Jimmy Patronis, R-Panama City. The lunch keynote speaker on Thursday is Agriculture Secretary Adam Putnam. Also speaking at the conference on Thursday is pollster Jim McLaughlin. On Friday, the breakfast keynote speaker is Lt. Gov. Jennifer Carroll, and there's a redistricting briefing from AIF chief political officer Ryan Tyson. Sen. Jeremy Ring, D-Margate, speaks on the future of the state's economy, and national experts on unemployment compensation and immigration will speak. The lunch keynote speaker on Friday will be Republican U.S. Rep. Allen West. http://aif.com/2011_conference/2011_conf_index.shtm
(Weds-Fri., The Breakers, Palm Beach.)
RIGHTS RESTORATION: The Florida Rights Restoration Coalition (FRRC), a non-partisan statewide organization formed in 2003 with national, state and local member organizations – including the American Civil Liberties Union of Florida – will host its 2011 Annual Convening this year in Orlando. The keynote speaker is Marc Mauer, executive director of the Sentencing Project. The meeting will focus largely on new clemency rules. (Friday and Saturday, Aug. 19 and 20, Doubletree by Hilton, 60 Ivanhoe Blvd., Orlando.)
–Tallahassee calendar Compiled by the News Service of Florida.