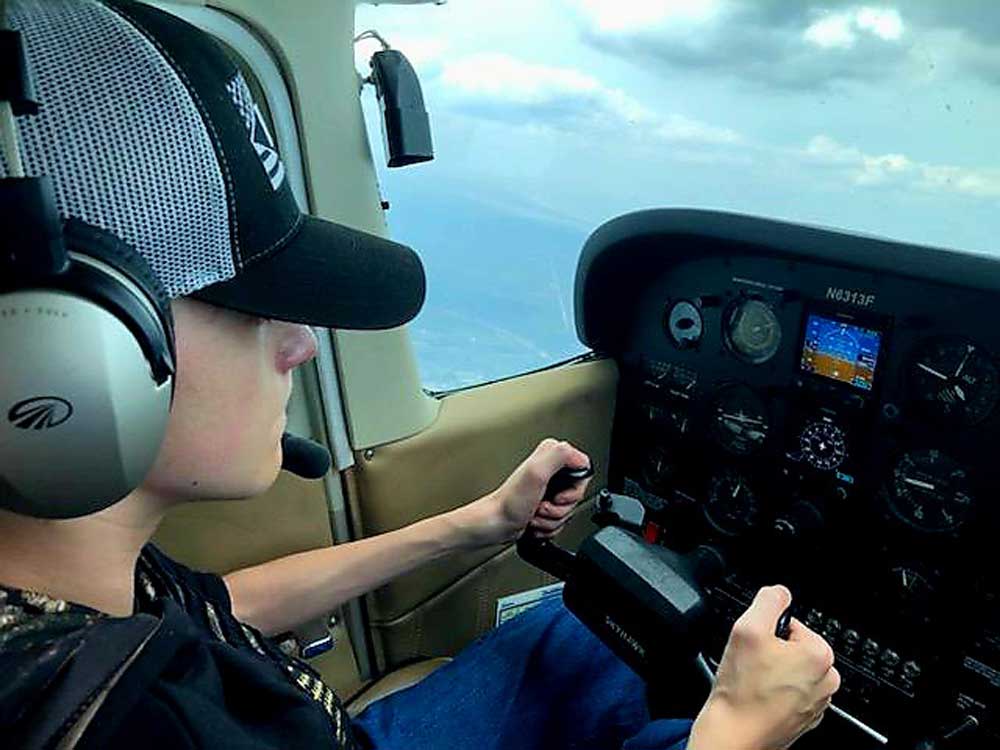 To say that Austin Booth was dealt a lousy hand in life is a major understatement. But he keeps finding ways to fly over a lifetime of calamities, defying verdicts of crushing gravity and soaring to his own horizons.
The 16-year-old, who lives in Keystone Heights, was born with multiple illnesses that affected his whole body.
These include rarely-seen medical conditions known as Tetralogy of Fallot (TOF), a combination of four heart defects, including ventricular septal defect (VSD), pulmonary stenosis, a misplaced aorta and a thickened right ventricular wall (right ventricular hypertrophy).
In plain English, Austin has only one main blood vessel supplying the proper amount of blood and oxygen to his brain, instead of the normal two. He also suffers from heterotaxyd , which means he has two right lungs, and the positioning of his organs are reversed from that of a healthy human.
This and other maladies have resulted in many, many hospital visits and surgeries. Doctors told Austin and his mom his life expectancy was eight or nine years.




He's doubled that now, and despite illnesses and a near-death experience in March, 2021, he's a high school student who laughs with his friends, plays video games, and oh yeah, has gotten to be at the controls and fly an airplane.
Austin has always been fascinated by air travel; he said since he was a little kid playing Flight Simulator games on his XBox, he's wanted to soar through the skies.
Now, thanks to Palm Coast-based Teens-in-Flight, Austin is getting to live his dream.
"For a little guy, he's got a mountain of heart, that's what I can tell you," says Jack Howell, founder of Teens-in-Flight and still its president. "He sure loves to fly. When he smiles, when he has control of the aircraft, oh my God, it's contagious, from what I've heard. I've seen the smile on the ground. Despite all the things he has to deal with, he's just a passionate young man, and we're going to fly him as long as we can. If it brings a little happiness into his life, then we've done our job."
Austin first took a flying lesson in December 2020. Last week (on March 3), Austin and instructor Will Patin climbed into a four-seater Cessna 172 and spent an hour among the clouds, with Austin controlling the instruments the whole way.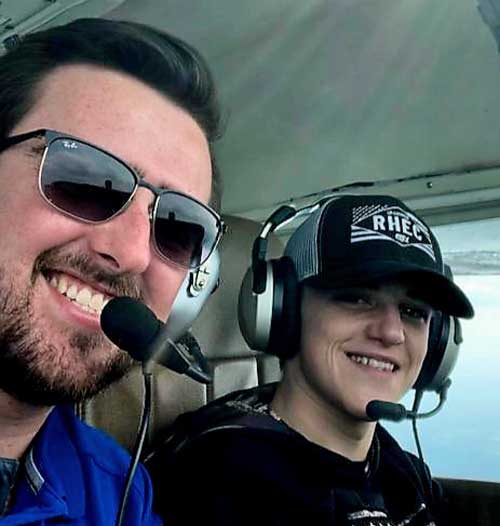 "It was amazing," Austin said in a phone interview a few days after his flight. "It's a big jolt when you first lift off, but then once you're up there, it's so great. I was able to handle all the controls and just do almost everything myself. It was so, so cool."




Teens in Flight is a non-profit that was started in Flagler County in 2006 by Howell, a retired U.S. Marine Corps Colonel and former Palm Coast City Council member. He began the program to help survivors of military men and women killed in battle, soon expanding it to include the children of first responders. The goal was to teach teenagers whose parents were killed or wounded in battle or in the line of duty how to fly. Teens-In-Fight also instructs at-risk youths and children from low income families.
Ric Lehman, the Executive Director of Teens-in-Flight, said helping a kid like Austin achieve his dreams is part of what makes the job so worthwhile.
"If we can take a kid like Austin up in an airplane a few times and improve his quality of life, when he's had to overcome so much, that's a very small ask of us," Lehman said. "Austin isn't able to do some of the things other kids do, but now he's got serious bragging rights among his friends: he can fly an airplane and they can't."
Austin's mom, Angelina, explained that they found out about Teens-in-Flight almost by accident. They were on vacation in Palm Beach a few years ago when they encountered the Punishers, a worldwide motorcycle group. The bikers befriended the Booths and when they learned about Austin's love of flying and his dream to be a pilot, they got to work.
The Punishers contacted Teens-in-Flight and found a donor to pay for the fuel and lessons (around $150, Lehman said), and Austin was given a sendoff by the Punishers at the Flagler County airport.
Since then, Angelina, a single mom who also has a 21-year-old daughter, Savannah, said Austin has been "bugging me constantly" to go up for another ride.
"He defies the odds every day," Angelina Booth said. "We are truly blessed with the amazing opportunities that have been given to Austin, and the amazing life he has lived. He wasn't supposed to still be with us."
Austin said that learning to operate the controls alongside instructor Patin wasn't as difficult as fitting his body into the pilot's seat. Because of severe scoliosis, "it's very painful for him to be in that seat," Angelina said. "But he kept saying he was fine, nothing was going to bother him while he was flying."




"It's interesting to watch them," Howell said, drawing on his experience of watching innumerable students the first time they take control of a plane. "First there's a hesitancy for them to actually put their hand on the yoke." When they do, Howell shows them the basics and they get a feel for it all. Once he has the plane trimmed, or steadied in a way that lets the plane maintain a certain speed, he turns to the young pilot: "Here, let me see you take the plane over there. They turn a little but, I always keep a finger on my side, but once they realize they're in control of the plane, oh my God, they give me that Cheshire cat smile."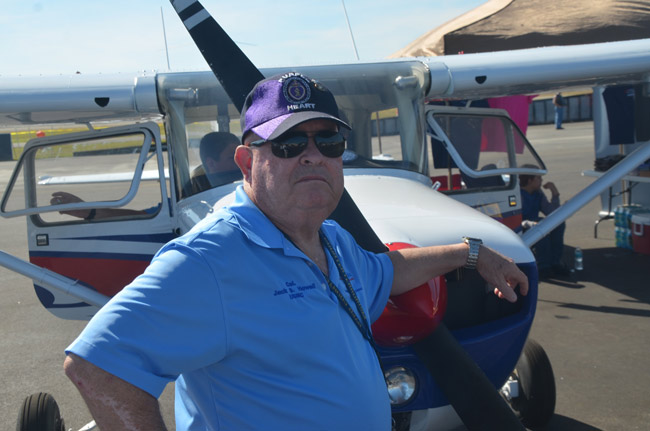 That's when he finds the most satisfaction of teaching a young person how to fly. He sees it: "This kid is hooked, I know they're hooked on aviation," Howell said. He saw it when a Matanzas High School student was first at the controls of a plane and Howell told him to take a swing over the school. "He was just in awe that he could do this and that the aircraft was in total control of his direction. That's what makes it a whole lot of fun for me and the other instructors," Howell said. One of those instructors was a Teens-in-Flight student. Two graduates of the program are flying commercial planes now.
Lehman, who said Teens in Flight works with Make-A-Wish Foundation and other organizations throughout Florida, said since a person like Austin would never be able to get a pilot' license because of his health issues, flying lessons is a way to stoke the passion he has.
"He did an amazing job, handling all the controls and flying along the coastline toward St. Augustine," Lehman said. "I can teach anyone to fly a plane in 10-15 minutes. It's when there are complications that come up, with weather or the plane, that you need all that training."




A Teens-in-Flight donor has paid for two more lessons for Austin, and the teenager said he can't wait to get up in the skies again.
"This was awesome, definitely my favorite thing I've gotten to do," Austin said. "I love having full control over an airplane."
For Angelina, seeing her son get to experience such joy, given how much he's had to endure, was priceless.
"This is a kid who smiles and jokes around all the time, and acts like nothing is wrong with him," Angelina said. "But I know what he goes through, and to be able to see him up there and smiling and having so much fun, is just so great."
"That goes back to the premise I had in establishing Teens-in-Flight," said Howell, who nearing 80 and despite a long list of health challenges of his own, still teaches a few classes. His two decades' work with the organization has all been on a volunteer basis. "I wanted to provide an opportunity to teens that in their wildest imagination they never thought it possible, because of the cost, and I made it happen."
For more info on Teens-In-Flight, click here.
Reader Interactions