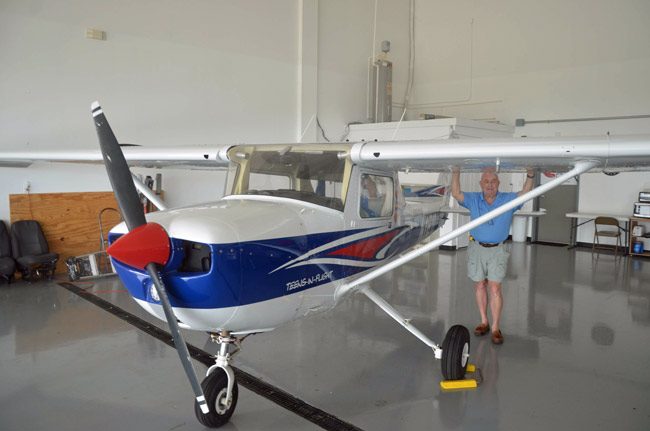 During the ribbon-cutting ceremony marking the opening of Teens-In-Flight's new home at Flagler County Executive Airport this afternoon, Jack Howell, the organization's founder, held up one of those red college-edition dictionaries he says he's had since his days with the U.S. Marines. "I've crossed all the negative words. They don;t exist in my dictionary," he tells a crowd that by then had swollen to nearly a hundred–some of them still outside, as it had gotten too crowded inside.
He wasn't kidding. As sacrilegious as it may seem to a lexicographer, Howell had actually taken a thick red pen to words like "won't" and "can't," as a leaf through the volume proved later. "My students know this is the book of knowledge," he'd said, brandishing the dictionary.
He's needed the negation of negatives lately, because Teens-In-Flight, the 10-year-old non-profit devoted to providing flight lessons to the children of servicemen or cops who've been severely injured or killed, went through a rough patch for the past year: it was surviving out of Howell's garage after losing its previous spot at the airport, when his partnership with Lunsford Air ended.
Then came Ken Ali of Daytona Aviation, the flight-training school at the airport, and the development of a new partnership: Ali's company was operating out of the equivalent of two storefronts at Old Moody Boulevard, toward the west end of the airport, with Daytona Aviation's plane in the hangar. Ali offered Howell to house Teens-In-Flight at 275 Old Moody Boulevard, and Howell's trusty Cessna 152, which he's had since 2008 in the same hangar. Rent-free, as a form of large, in-kind donation by Daytona Aviation. Howell is responsible for utilities.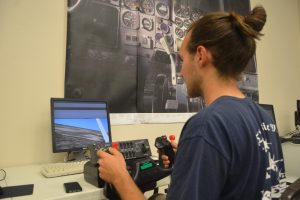 Now Howell's Cessna sits next to Daytona Aviation's larger Cessna (one seats two people, the other four), which Daytona Aviation is also making available to Teens-In-Flight's students (they meet on Tuesdays and Thursdays, fly on weekends). All that with the roomy space that Howell's operation can put to use with the several flight simulators and other classroom equipment, in time for an aviation summer flight camp that starts June 18. (Unlike Teens-In-Flight's mainstay program, the camp is not free: registration is $495.)
This evening Micah Iverson, 21, was demonstrating one of the simulators to anyone who asked, and staying aloft of course after flirting with the runway's edges on take-off: simulators can be more challenging than actual flying, he says. Iverson is a bit older than a teen, but Howell is allowing him to complete his flight training after he left the state for service trips in California and elsewhere, after finishing high school.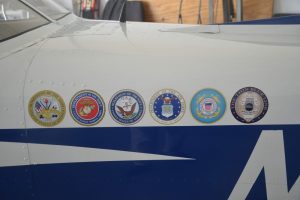 The emblems on Howell's Cessna illustrate the mission of the organization: "Most of these kids in the program have a parent that earned the Purple Heart, either died or were injured," he says, of the large Purple Heart emblem and five insignia representing the armed forces–and one for police's "thin blue line." Of the Cessna itself, he says, his hand resting on one wing–the way someone might put an arm around a beloved–"to me this is the equivalent of having a 1965 GTO Pontiac."
Four county commissioners (five, if you count a former one), two of them who serve on the Teens-In-Flight board, two school board members, an ex-sheriff, a few candidates for office (Howell is one himself, though thankfully the subject did not come up), Roy Sieger, the airport director ("Roy was helpful in keeping us alive," Howell says) and many others had gathered for the ribbon-cutting and Howell's big chant: "We're here!"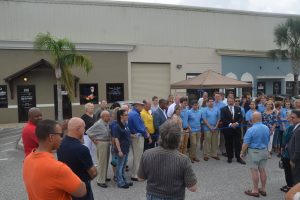 "That's what Teens-In-Flight is all about, it's having a positive mentor," said Ric Lehman, the organization's director of fund-raising for the past four months. "Tonight we just celebrate the new chapter in that program."
The idea for Teens-In-Flight came to Howell, he says, when he was in the Marines and at time responsible for one of the most difficult jobs: delivering death notices to families. He would do so, but he'd also see how after all the solemnity and the ceremonies, the families, the children especially, were left to themselves. "I felt bad and I wanted to do something for the teens," he says, "to lessen some of the grief." Teens-In-Flight was it. He became something of a parent to some of the participants–despite his toughness, his well-known crustiness–some of whom made it through to earn their license.
"That's my paycheck," he says. "Nobody in Teens-In-Flight gets a paycheck. All the money we make goes to sustain it."
Not a bad way to celebrate the organization's tenth anniversary: soon it'll be a teen itself, presumably less at risk now that it has a more solid anchor at the airport.