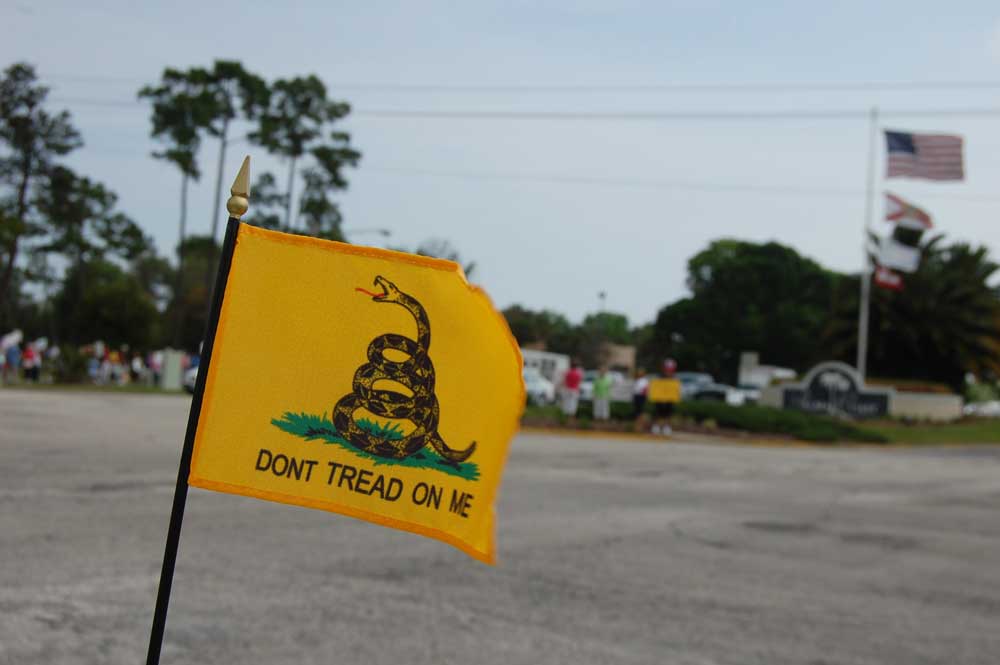 Among the nation's founders, none was a greater advocate of small government than Thomas Jefferson. Ronald Reagan used the Jefferson Memorial in Washington the weekend of July 4 in 1987 to unveil his "economic bill of rights," a 10-point exaltation of privatization and balanced budgets. By then Reagan had enlarged the federal government more than any president before him, he'd more than doubled annual federal budget deficits, nearly tripled the national debt and turned the United States from the world's greatest creditor to the world's biggest debtor. Jefferson prized good manners and despised confrontation. But if he was slightly more brawn than bronze that day in 1987, he might have asked the audience out loud, as Christopher Hitchens finally did in a Reagan obituary a few years ago, how "such a smart country would put up with such an obvious phony and loon."
And that was before the "tea parties." That movement's foot soldiers, fruitfully propagated by the likes of Glenn Beck and Tina Fey's body double, are again invoking Jefferson and Reagan in the same breath in their war on "big government." They couldn't be more wrong. The misuse of Jefferson's small-government philosophy is due for a reality check, because what Jefferson intended by small government is the diametric opposite of what his phony disciples are inventing in its name.
For starters, there was no such thing as a welfare state in Jefferson's time — no government assistance for the poor in a country that still enslaved almost a fifth of its population, no Social Security or Medicare at a time when life expectancy wasn't much more than 35 years. The very definition of government was different. When Jefferson railed against government, he had in mind the predatory tyrannies of old Europe. "Under pretence of governing," he wrote, "they have divided their nations into two classes, wolves and sheep." He didn't want the American government to become another pack of wolves, or an enabler of wolves. He opposed exploitation of the governed by any form of power — government or corporate.
Jefferson's enmity to European-style oppression was equal to his enmity to Alexander Hamilton, the conservative movement's true hero and champion of centralized power in the service of business. What Jefferson wanted, in historian Daniel Boorstin's words, was "a government too weak to aid the wolves, and yet strong enough to protect the sheep." In other words, government exercising the just powers of a regulatory state — not, as Hamilton craved, as a national security state or a government of the corporations, by the corporations and for the corporations. The transformation of government from an exclusively predatory force that oppressed people to an occasionally benevolent force that at least attempted to improve people's lives was an American invention, selective and slow though the benevolence was (and still is).
It's that benevolence today's tea-stained reactionaries call "big government." Medicare, Medicaid and Social Security, among the largest segments of government spending, aren't instruments of government power. They're means of insuring health and a measure of dignity in old age. Reactionaries want those "reformed," with debt — never their concern for 30 years — as their smokescreen. The $44 billion Department of Homeland Security, the $700 billion Department of Defense, the $50 billion complex of 16 spy agencies, and the colossus of federal and state police and prison forces — those are instruments of classic and often abusive government power, not to mention debt. Yet those are the sacred cows, or wolves, of the conservative theology that wants to "take back our country."
The slogan is the tea party movement's favorite, although calling it a movement is a misnomer. It's an everything-but-kitchen-sink convergence of an overwhelmingly white, resentful, evangelical populism with denialists of all sorts (vaccines, global warming, swine-flu), tax abolitionists, "birthers" (Obama is a Manchurian Muslim implant from Kenya), anti-immigrants, militia-type survivalists, neo-Confederates and garden-variety racists who can't stomach a "negro" as their president. Deride these gun shows on speed at your own risk: They're resetting the political agenda. There's more of them in Florida than anywhere, and Marco Rubio is their mascot.
Rubio looks poised to win the GOP's U.S. Senate primary against Charlie Crist. You'd think he'd provide more coherence to the ideas behind the movement. But three profiles in the conservative National Review ("Yes He Can!") and one in The New York Times Magazine add up tot his: Rubio is against decaf coffee ("what's the point?"), against immigration reform, for a balanced budget amendment, for the abolition of all but a flat or sales tax, for term limits and, of course small government. All words, no governance (which sums up Rubio's era in the Florida Legislature). He is the child Ronald Reagan and Newt Gingrich never had, though tea party sheep happily brandish that birth certificate.
Put Rubio on the steps of the Jefferson Memorial and it's 1987 all over again, with one difference. We at least have the hindsight to see the ruin these guys left in their wake, in Washington and Tallahassee. Yet here we are again, giving credence to phonies and loons. Maybe we're not such a smart country after all.