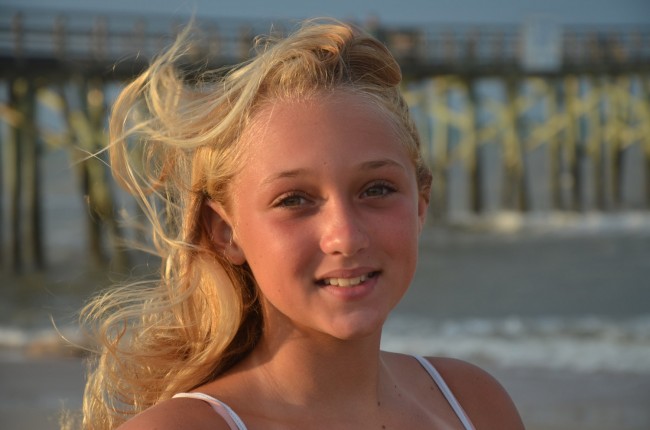 Taylor has blonde hair and hazel eyes. She stands at 4 feet 10 inches tall and is the 13 year old daughter of Joe and Tina Eddy of Flagler Beach.
Taylor will attend Buddy Taylor Middle School as an 8th grade student this August.
Taylor is sponsored by Cover Brothers Painting. In her free time she enjoys staying active surfing and is a member of the Flagler Surf Club. In the future, Taylor plans to graduate high school and pursue modeling.

The Complete Miss Flagler County Pageant Image and Portrait Galleries
2013
Little Miss Flagler County 2013 Contestants, Ages 5-7
Little Miss Flagler County 2013 Contestants, Ages 8-11
Miss Junior Flagler County 2013 Contestants, Ages 12-15
Miss Flagler County 2013 Scholarship Pageant Contestants, Ages 16-23
2012
Meet the 2012 Miss Flagler County Contestants: The Overview
Little Miss Flagler County 2012 Contestants, Ages 5-7
Little Miss Flagler County 2012 Contestants, Ages 8-11
Miss Junior Flagler County 2012 Contestants, Ages 12-15
Miss Flagler County 2012 Scholarship Pageant Contestants, Ages 16-23
2011
Meet the 2011 Miss Flagler County Contestants: The Overview
Little Miss Flagler County 2011 Contestants, Ages 5-7
Little Miss Flagler County 2011 Contestants, Ages 8-11
Miss Junior Flagler County 2011 Contestants, Ages 12-15
Miss Flagler County 2011 Scholarship Pageant Contestants, Ages 16-23
2010
Meet the 2010 Miss Flagler County Contestants: The Overview
Little Miss Flagler County Contestants, Ages 5-7
Little Miss Flagler County 2010 Contestants, Ages 8-11
Miss Junior Flagler County 2010 Contestants, Ages 12-15
Miss Flagler County 2010 Scholarship Pageant Contestants, Ages 16-23